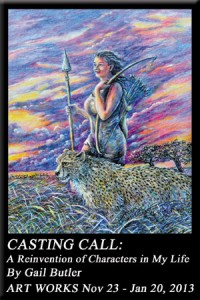 It's almost time for the free Day After Thanksgiving Art Affair at Art Works in Manchester.
From noon-10:00 p.m., you can shop a special selection of holiday gifts priced under $50 & as well as the works in Art Works' 75 artist studios. Plus, there'll be cookies, cider, & music all day long, and kids can make crafts while their parents shop.
At 7:00 p.m., the event doubles as a reception for the 4th Friday Art Show, featuring the following exhibitions: "Discordance: A Play on Music" by Liz Schafer, "Frankly Prussian Blue" by Ernest J. Ranspach, "Casting Call: A Reinvention of Characters in My Life" by Gail Butler, "Nocturnes" by Chris Semtner, Landscapes: See the Beauty by Alexis Shockley, and the November All-Media Show.
Art Works is located at 320 Hull Street, Richmond. Free parking is available in the 4th Street parking lot. 804-291-1400
–Jennifer Maciejewski