People have been coming up with creative ways to celebrate birthday milestones under difficult and unusual circumstances, utilizing creativity and down home resourcefulness that many are exercising these days. This article on various ways to celebrate birthdays gives the impression that the state of the world is making many of us focus on the basics and the importance of relationships.
Be sure to subscribe to email updates, follow @rvacheap on Twitter or like RVA (Richmond) on the Cheap on Facebook to stay in the know about the latest freebies & deals.
One friend "attended" a birthday party in London for a friend who ran the Zoom party as a folk concert/benefit for her folk musician friends who aren't going to be able to perform at all the festivals this summer. But not all the ideas are that elaborate and exotic, some are as simple as a nice dinner and a movie. Lots include Zoom or video chat gatherings  and drive-bys. Cakes are still involved. Many of these ideas were crowdsourced by social media. Thanks to the RVA Moms and RVA Social Moms Facebook groups and others for sharing their ideas and  for making birthdays special in this unique time.
Birthday party ideas during socially distant times:
"We drove up to my mom's house with a decked out car and blared bday music out the windows. She is high risk so we couldn't get out of the car." – Katherine Jordan
Related post: Birthday Freebies
"My husband threw me a 60th birthday parade and the last car popped the hatch with a puppy in it for my birthday!" – Lisa Dearden:
"The Houseparty app is lots of fun!" – Dara Rosenblatt
"Gifts (purchased in advance) cake (awesome Publix lady from this group helped 💓) Singing and FaceTimed with our family members" – Sylvia Thomas Gomez
"We are celebrating my husbands tomorrow. It will just be him and I and our 4 kids but we have a meal planned and he asked me to make cheesecake with double crust. We all made him homemade cards and posters and I ordered a few items off amazon for him. I don't have any candles for the cheesecake but we have sparklers so maybe we will light those outside and sing Happy Birthday." – Nichole Jenkins
"My mom arranged a parade for me and I have so many sweet letters/ packages in the mail and FaceTime calls." – Jessica Jarrell
"We just celebrated my sons 5th birthday this past Monday. Thank goodness I have 4 kids so he had his brother and sisters in attendance. We FaceTimed grandparents in for the birthday song, but I made his favorite flavor cupcakes and we played all the cheesy birthday games and some ( i even made him a piñata!). He had a blast!" – Jennifer Albanese
"My birthday is Monday and I told my husband that I just wanted plants (indoor and outdoor), maybe social distance visits, normal or virtual calls, or in general just kind words of encouragement from my friends and asked if he could make that happen. I know he will do his best to make that happen, and we will see how it goes. Since Monday is supposed to have bad weather, we are planning on getting a Bottoms Up pizza and taking it up to church hill for a family picnic tomorrow. I'd like to enjoy some of my favorite pizza looking at my pretty city." – Joanna Landrum
"We only have parties for milestone bdays (you'd go broke otherwise with 4 kids 😅) so we usually celebrate at home with family anyway. Our next bday isn't until August, if we're still distancing we'll have kiddie pools, slip n slides and outdoor play in the yard, cake and decor inside. Relatives will probably drive over and share from their cars." – Bri Michelle
"We had a cookout last night and some family pulled into the driveway to wave and chat from their car, we gave them plates of food and they went home."
Related post: Birthday Freebies
Services:
"A Sharper Palate has a great dinner for two! We're having it dropped off for in-laws birthday." –
"For my birthday, my mother in law just got a cookie cake that says "Happy Spring" from Wegmans for me 😂💖 so cute." – Hana Acbd Kirchhoff
"We had Amelia B. Photography do front porch photos. Had a fire pit and take out!" – Lizz Billings
"We used Card My Yard Midlothian. Our neighborhood has also organized a google doc of kids birthdays between now and June 10. We do a drive by parade for the child's bday!" – Lindsey Dixon Eades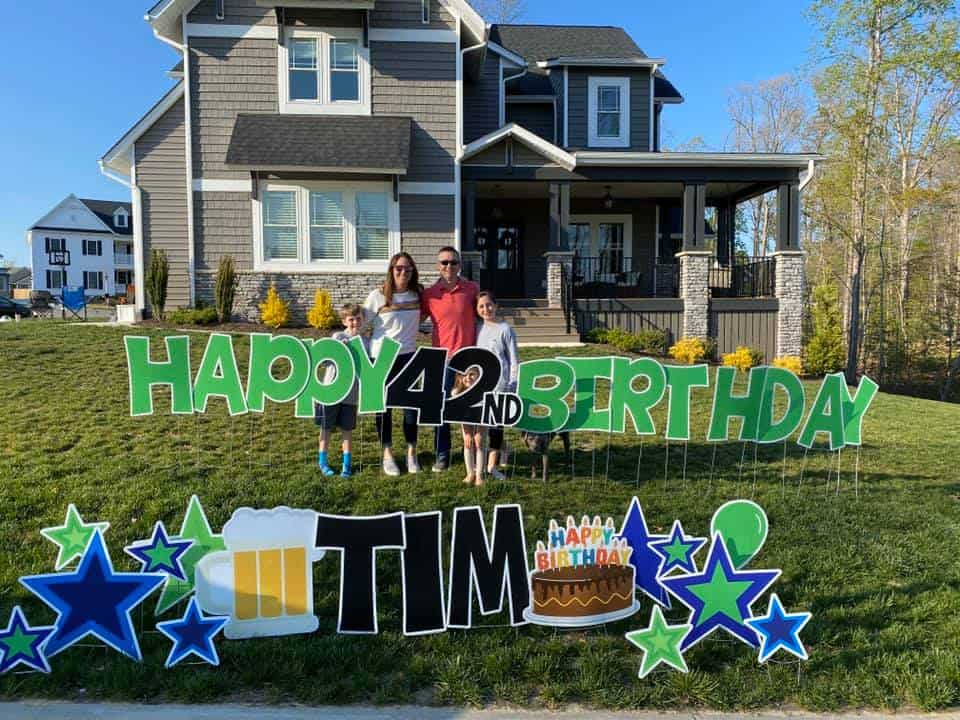 "We used Card My Yard Midlothian. Our neighborhood has also organized a google doc of kids birthdays between now and June 10. We do a drive by parade for the child's bday!" – Lindsey Dixon Eades
Crowdsource
"I made a post asking if anyone would be willing to send my son who was turning 9 and has autism a card in the mail! He loves mail. The amazing women in this area ended up sending him 138 cards, 60 dollars total as a bunch of people put 1-5 dollars in their cards, businesses brought him baskets of goodies and presents and a bunch of people sent him gifts off Amazon! I was so amazed! This was last weekend! My son felt so loved and excited on his birthday that he forgot about all the original plans being ruined! It was a birthday he will never forget!♥️" – Jamie Mitchell
"Two kids on our street had birthdays last week. Our neighborhood did 2 fun things to help celebrate:
1 – at 2:00pm we all came outside and sang Happy Birthday together from our lawns.
2 – we all came back out at 7:30pm and lit sparklers (in our own yards) and took turns lighting little fireworks from the street. One neighbor had delivered the sparklers and fireworks to each of our porches earlier in the day. These were a surprise to the kids and they loved it! We were able to fully maintain social distancing but feel like we were celebrating together." – Alexis Shannon
"Celebrated my 14-year-old with present purchased online. New HS spirit wear and a leather bound journal. Friends of hers texted and send video messages. Family sung Hb via zoom as a surprise. She said it may have been her favorite birthday." – Mary Brinkley Han
"Wishing through zoom ….making birthday videos and sending cards in snail mails." -Isha Singh
"We had a "nailed it" themed virtual party where everyone had to make a cake that looked like a sushi. We had a panel of judges and a cut throat competition 😂" – Rachel Zaslow
A virtual paint party brings friends together from afar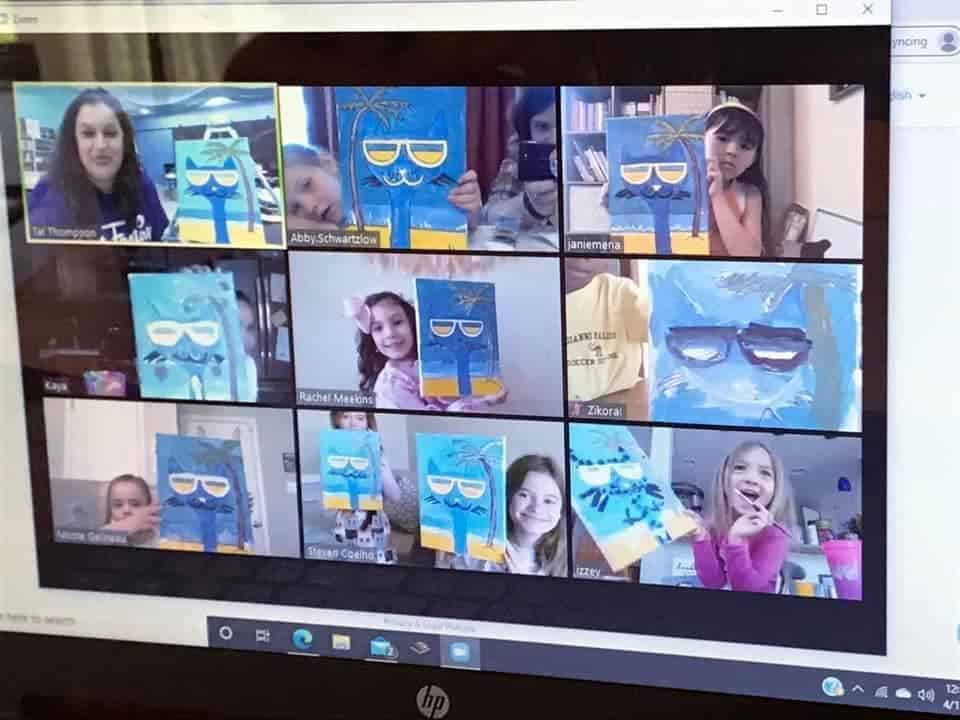 Related post: Birthday Freebies
Mobile & community minded
"Linda Lamb Hahn Neighbors had a horn honking caravan drive around with balloons and streamers while the 8 yr stuck up through the sunroof and waved. People doing yard work waved and cheered." – Aimee Leigh
"I organized a Birthday drive by parade for my daughter. So far we have 10 cars coming!" – Aimee Leigh
"I had my friends from fb text my son happy birthday messages, family drove by and met with him from the curb, we had s'mores, music, backyard games, cooked out and legal VA fireworks oh and cake :)" – Lynn Seay
Keep it small
"My birthday was last Tuesday. We watched my favorite movies, ordered Cracker Barrel takeout, had a dance party and let me paint. It's a perfect birthday for an introvert😊" – Silvia Gray
Wishing everyone good health and a very special day!
Related post: Birthday Freebies
Be sure to subscribe to email updates, follow @rvacheap on Twitter or like RVA (Richmond) on the Cheap on Facebook to stay in the know about the latest freebies & deals.