When a website for an amusement park says "PARENTAL DISCRETION ADVISED" you know they mean business. Walking into Busch Garden's Howl-O-Scream is like entering a Grimm Fairytale. Fog machines are everywhere, silhouetting witches, ogres, and butchers. Gasoline fumes waft through the night air from the grinding chainsaws wielded by masked murderers. Shrieks from visitors caught off guard and hysteric wails cut the night filling it with an unsettling aura. It is clear that this Halloween is not Bush Garden's first, and the atmosphere that they provide is one of a kind. There are only three weeks left, so make it there while you can.
With the four Terror-tories and five haunted houses, Busch Gardens does not disappoint. As you walk into the park, it feels like a place you should not be. The dimly lit Tudor style buildings at the entrance create dark alley ways that are ideal locations for jump scares. A crumbling medieval castle seems like it was plucked from Dracula. I was fortunate to make it through three of the five haunted mazes and all were exceptionally well done. Good lengths and excellent staging with the jump scares and props. Noteworthy haunted houses are Nevermore, where a gruesome plague has taken hold, and Killarney Diner, where the burgers are made from an unusual type of meat. For those of you who have been to Kings Dominion Halloween Haunt, Busch Gardens turns up the fear factor.
Avoiding jump scares isn't exactly possible here, so please know what you are getting into. But if you would like to take a break, be sure to check out the Live Shows and the BOOze Bars (if you are of age, of course). The shows were a pleasure to watch and you can listen to mixes of popular tunes with a Halloween twist. Drop by the Control Bar, located in Ireland, to control scares across the park!
What's a review without criticism? First, price is not cheap if you are going as a single. For the best deal, buy 2 or more adult tickets and go on a week day. Second, I am no cartographer, but I know that maps without big red stars that say "You are here!" are more difficult to use, especially at night when it tends to be harder to see. If it is your first time visiting the park, I would suggest studying the map provided online so you don't waste time huddled around the first park map you see. Be sure to familiarize yourself with the map legend as well. This will allow you to locate the various attractions. The park layout is interesting but certainly not intuitive. Everything is just a bit more difficult at night as well and it is not made any easier with thick fog and jump scares. Makes for a great experience, just be prepared!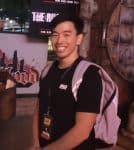 Richmond on the Cheap contributor Zach Perkins works as a developmental biology research technician at University of Richmond and volunteers as an EMT at CrossOver clinic. He's a U Richmond graduate who studied biology and philosophy. You can catch Zach whitewater kayaking on the James River, but only until early October because he gets cold easily. Cheap credentials: try eating ramen, Walmart low-sodium black beans, and raw vegetables every day for lunch. Low cost (~$1.00), healthy, nutritious, delicious.
Be sure to subscribe to email updates, follow @rvacheap on Twitter or like RVA (Richmond) on the Cheap on Facebook to stay in the know about the latest freebies & deals.
More Halloween fall fun around Richmond:
Richmond's Farmers Markets

Richmond area scenic drives

October Festivals, Halloween Fun & More

Fun events in October around Richmond – concerts and more!

The Ultimate List of Richmond-area Halloween Events and Activities

Richmond area Pumpkin Patches, Corn Mazes, and Fall Fun Farms

Apple picking fun, plus apple donuts, apple pie, apple cider, and wine