The Day of the Dead or Dia de los Muertos is a pre-Hispanic celebration coinciding with All Saints Day on Sunday, November 1st and All Souls Day, Monday, November 2nd, stemming from the indigenous cultures of Mexico that believed that the souls of the dead return each year to visit with their living relatives – to eat, drink and be merry. Just like they did when they were living.
"There are several days of offerings and candles," explained Lizz Dwayne Johnson, a Mexican born-folkloric dancer who currently resides in Chesterfield, Virginia. "October 28 is for the souls who walk alone and have not found the light. October 29 for the forgotten and helpless souls. October 30 for those who died in an accident. October 31 is for grandparents, great-grandparents, and great-great-grandparents. November 1 is called All Saints' Day and is dedicated to children. November 2 day of the faithful departed who are adults. November 3, all the dead are dismissed and the altar offering is dismantled."
In the Day of the Dead observances, the deceased are not to be feared but rather celebrated and enjoyed as they were in life.
Be sure to subscribe to email updates, follow @rvacheap on Twitter or like RVA (Richmond) on the Cheap on Facebook to stay in the know about the latest freebies & deals.
Here in Richmond, the significant Mexican population allows anyone to partake in the cultural, religious, commercial and culinary observances. You can observe Day of the Dead by:
1. Enjoying the Latin Ballet of Virginia Day of the Dead online or in person performance on Oct. 31, 2020.
2. Eating Pan de Muerto – sweet Bread of the Dead which is available from La Milpa, La Sabrosita Bakery or Panaderia El Globo.
3. Seeing the Ofrendas or alter at the Sacred Heart Center (1400 Perry St, Richmond, VA 23224) and Sacred Heart Church or La Milpa
4. Paying your respects to the dead by visiting your ancestors or learn about Richmonders who have passed away at an area historical cemetery.
5. Creating your own alter with items made or bought from places like La Milpa, La Sabrosita Bakery, Candymania or Jefferson Davis Flea Market.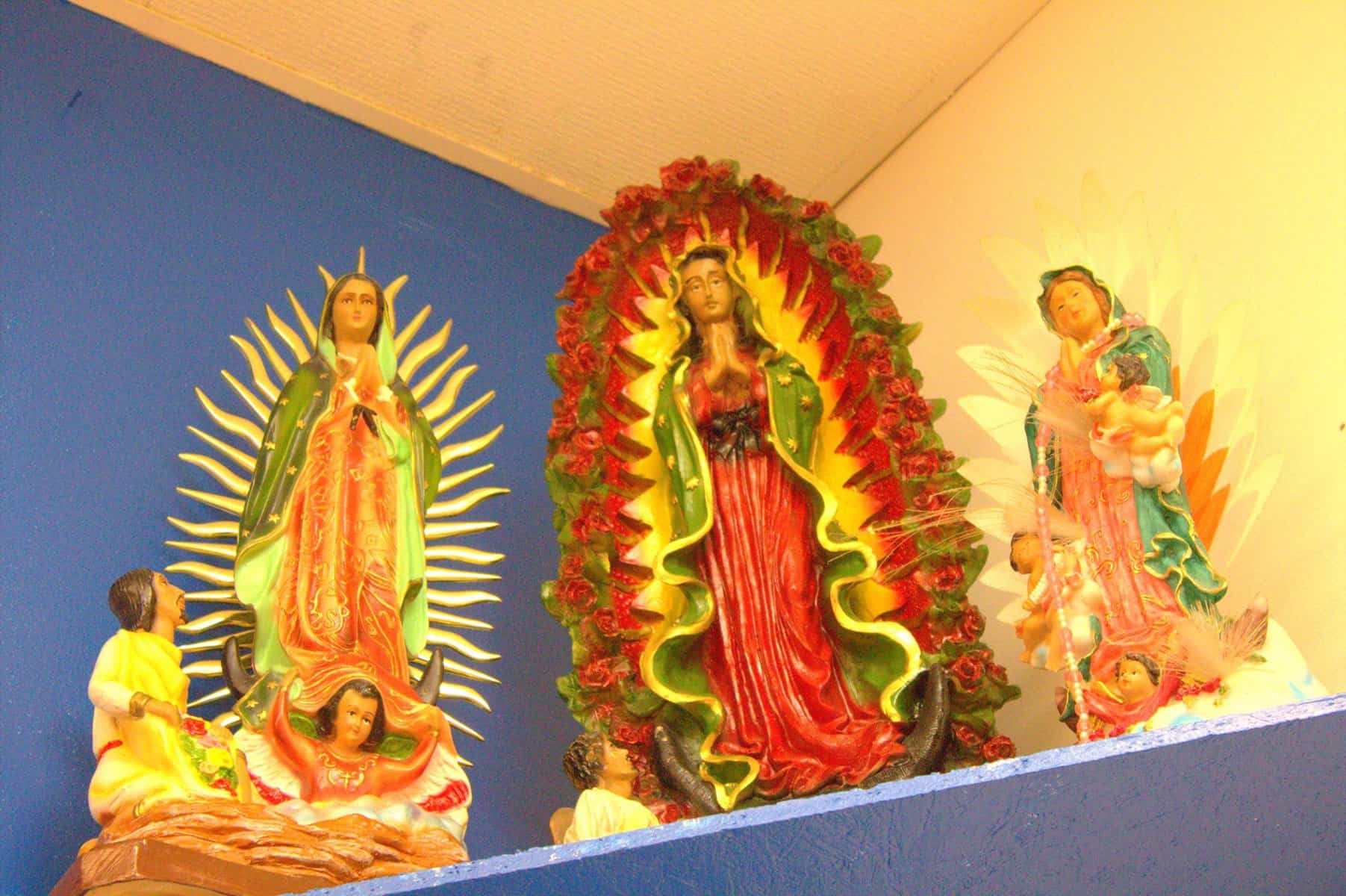 Be sure to subscribe to email updates, follow @rvacheap on Twitter or like RVA (Richmond) on the Cheap on Facebook to stay in the know about the latest freebies & deals.
An original Day of the Dead altar has 7 steps or 7 levels and each one has something different, Lizz Dwayne Johnson explains:
saints such as the Virgin of Guadalupe or San Judas Tadeo.
Images of the soul souls in purgatory,
salt for purification,
traditional bread and fruits
food
photo of the deceased
a cross made of seeds, fruits and incense.
Indispensable things in all altars:
fresh or handicrafted orange marigold flowers.
Traditional Pan de Muerto or Bread of the Dead, tangerines, sugar cane, tamales, mole, chocolate, atole, etc. and the traditional sweet skulls.
candy skulls and not with skulls of other materials.
You should use a white tablecloth in the background and decorate with crepe paper or rice paper with figures, known as Papel Picado. These aspects are important to make a 100% Mexican altar of the dead.
If it is modified, it is no longer an altar of the Dead and can become an altar to death or Halloween. The altars generally have two or three levels,.The alters must always have candles so that the animas find the light that will lead them to life and eternal rest.
Lizz Dwayne Johnson explained how to make an alter or ofrenda for the dead in your home that looks spectacular:
USE ONE TABLE TO PLACE EVERYTHING – Traditionally, offerings are made of different levels: two (to represent the division of heaven and earth), 3 (heaven, earth and the underworld) and seven (which represent the levels that the soul passes to finally rest). Of course doing that in our homes can be a bit complicated, so you can opt for a simple one-tier offering to put your loved ones' favorite things.
FOOD AND DRINK – The Day of the Dead offering is placed by the belief that the spirit of our loved ones will visit us and will take a little of everything they liked when they lived, so you should put their favorite food and the occasional seasonal snack . Bread of the dead, stews, sweets … everything they liked so much! And as a good celebration, don't forget to put your favorite drinks, from juices to alcohol (the most popular are wine, tequila, mezcal and beer). Is it fair!
SUGAR AND CHOCOLATE SKULLS – Decoration is essential in a Day of the Dead offering, which is why they are so beloved for their joviality and beauty. The sugar and chocolate skulls are essential elements in an offering, because they bring that traditional touch to the altars. Do you want it to look even prettier? You can decorate the skulls with the names of your loved ones. CANDLES – According to tradition, the candles will help your loved ones to cross into our world and to return, as they will illuminate their path. Light a candle for each of your loved ones, but there is also the tradition of lighting an extra candle, for those who do not have relatives who can do it for them (this candle is known as "single soul").
Related post: Richmonders' favorite Mexican restaurants
Related post: Spotlight on Mexican culture in Richmond and the folkloric dance troupe at the Sacred Heart Center
Related post: Taco Tuesday deals at Richmonders' favorite restaurants
Be sure to subscribe to email updates, follow @rvacheap on Twitter or like RVA (Richmond) on the Cheap on Facebook to stay in the know about the latest freebies & deals.