Juneteenth is now a state holiday in Virginia. Elegba Folklore Society describes The History of Juneteenth as a freedom celebration that became a tradition when, on June 19, 1865, General Gordon Granger sailed into Galveston harbor and issued a proclamation that gave freedom to a quarter of a million blacks in Texas who were still in bondage 2 1/2 years after the Emancipation Proclamation that President Abraham Lincoln issued was enacted on January 1, 1863. The tradition is so firmly rooted in Texas that it was made a state holiday in 1980, and Juneteenth has come to be regarded as the earliest African American holiday.
The freedom message reached different parts of America on various dates between 1863 and 1865, such as January 1 in Virginia, but migrated black Texans continued the Juneteenth celebration as they moved to cities in the North and across the country. Today, this holiday is observed from California to New York. Therefore, an instructive way of uniting these commemorations in a day of national importance is through Juneteenth National Freedom Day.

There are numerous events in Richmond to celebrate Juneteenth that are open to the public.
Saturday Salutations: Juneteenth Celebration for All, June 19, 9-11 a.m.
In partnership with Project Yoga Richmond, Lewis Ginter Botanical Garden in Richmond presents a very special Saturday Salutations: Juneteenth Celebration for All on the terraced lawn. The event will invite healing, cultivate community, and unify intentions with others.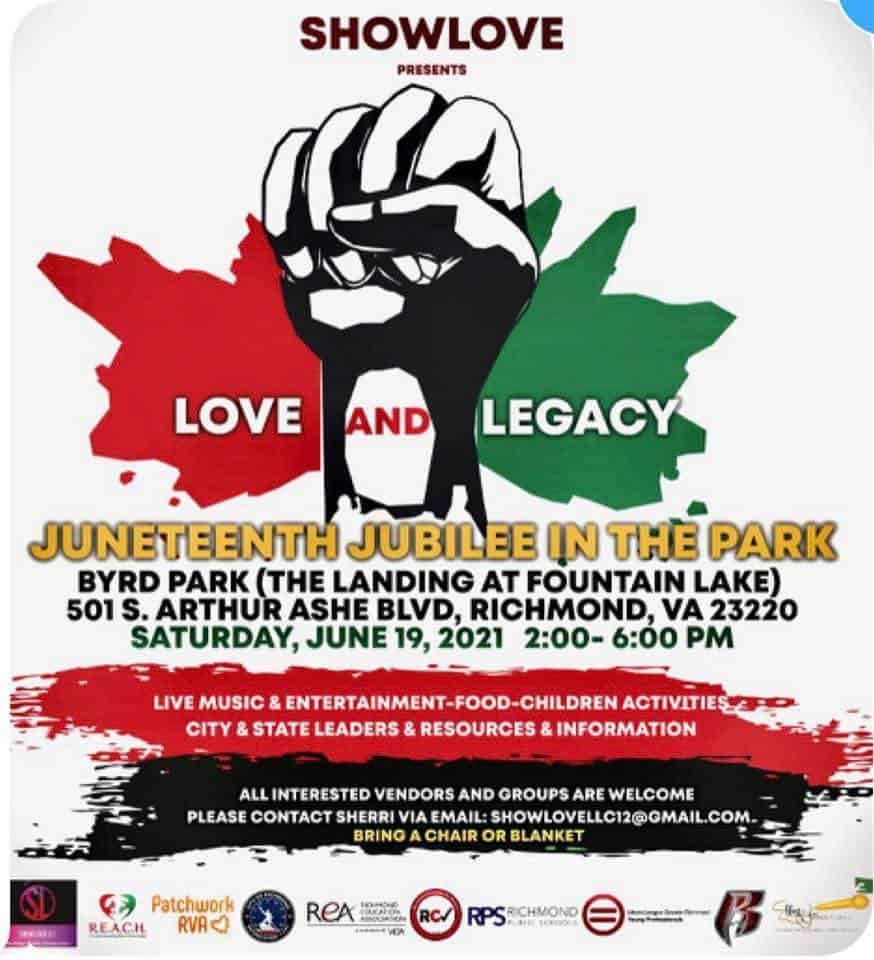 Henrico County's Juneteenth Celebration, June 19, 1-10 p.m.
Join Henrico Recreation & Parks at Dorey Park for fireworks, live music performances featuring Plunky & Oneness and Bak N Da Day, food trucks, a vendor fair, live history interpreters and games for kids. Vendors, exhibits, food trucks, music, fireworks. It's going to be a huge block party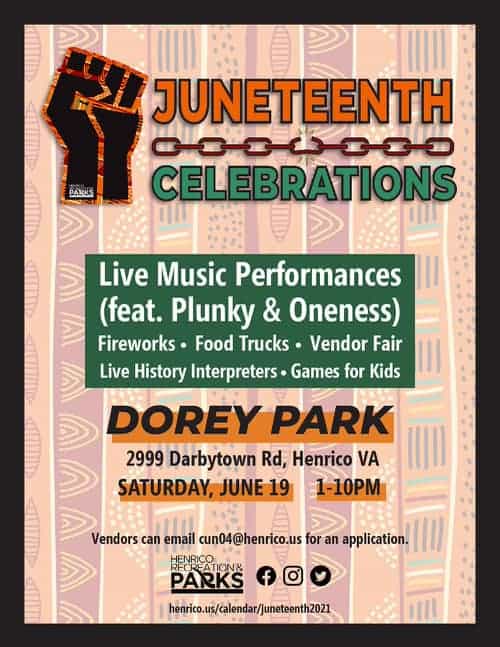 Juneteenth Celebration in Appomattox, June 19, 11 a.m. – 3 p.m.
This family friendly event will take place in Courtland Field in Historic Downtown Appomattox and features live entertainment, local vendors, food trucks, giveaways, and more.
⭐️ Sat., June 19 from 8 PM – 10 PM Kenneka Cook + Ms. Jaylin Brown at Gallery5 on Juneteenth Gallery 5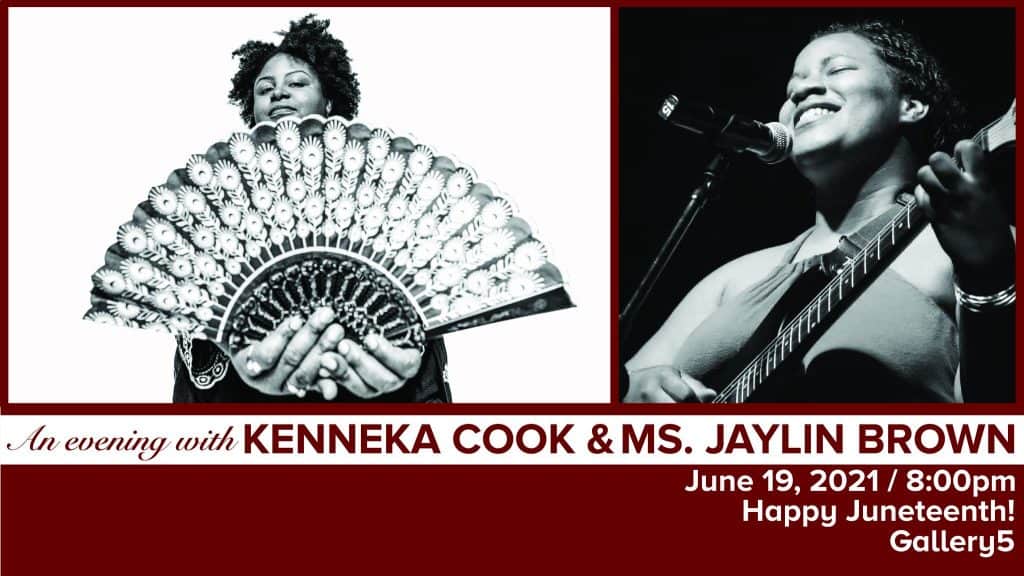 Join
Pocahontas State Park
,
10301 State Park Rd Chesterfield, VA 23832,
for a time of celebration and to learn more about Juneteenth and the experience of African-American Virginians at Pocahontas State Park and within the Virginia State Parks system generally. There will be food trucks, entertainment, vendors, self-guided activities that can be completed at your own pace, and much more from 11 a.m. to 3 p.m.
8 a.m. – Hidden Histories Hike: Group Camp 7. Discover more about the once segregated portion of the park. Hike is about five miles. Wear sturdy shoes and dress appropriately for the weather. Meet at Bright Hope Parking Lot. Email rebecca.whalen@dcr.virginia.gov to register
11 a.m. & 12:30 p.m.-Storytelling with Sheila Arnold
10 a.m. – 4 p.m. – Pop Up StoryWalk. Follow the pages of a storybook as you explore a 1 mile, stroller-friendly trail at your own pace. Story will be about Juneteenth and geared toward 5th grade and under.
James Madison's Montpelier, 11350 Constitution Highway Orange, VA 22960, will be celebrating Juneteenth all month long including: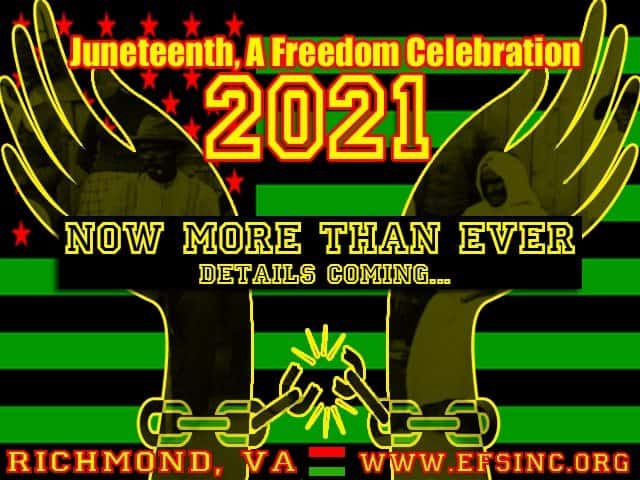 Juneteenth, A Freedom Celebration 2021, JUNETEENTH 2021, A FREEDOM CELEBRATION – 25TH ANNIVERSARY, Sunday, June 27th 1-6p, African Burial Ground, 1540 East Broad Street, Richmond, VA – Tickets Now On Sale: https://bit.ly/3yT7lXO Presented by the Elegba Folklore Society, Juneteenth, A Freedom Celebration is Richmond's flagship Juneteenth holiday commemoration. First presented in 1996, it is reflective of Richmond and Virginia's particular and poignant stories of enslavement and emancipation, and it highlights the resolve and resilience of Africa's children in America. Attendees can engage in performances, healing cyphers, the Get Woke Youth Summit, the Freedom Market, historical perspective, and ancestral homage at Richmond's African Burial Ground.


Ways to celebrate Juneteenth on your own, with friends or as a family in Richmond:
•Visit important public art and learn about the people or stories – Arthur Ashe, Maggie Walker, Richmond Slavery Reconciliation statue, or Rumors of War.
•Visit the Self-guided Richmond Slave Trail that details the events and atrocities during the brutal and savage time of slavery and the emersion out of
•Check out resources at the Black History Museum and Cultural Center ,
•Read the Richmond Free Press.
•Read about the history of Juneteenth from the archives of the Library of Virginia as well as other documented experiences from the LoVA's collection including the curated Virginia Untold: the African American Narrative Digital Collection.
•Visit the Richmond Slave Trail.
•Visit the African Burial Ground or one of Richmond's other cemeteries with an African American heritage.
•Listen to podcasts by Black Richmonders to hear their point of view.
•Visit in real life or online presidential sites in Virginia to learn about the people of African descent who they enslaved.
•View the many vibrant murals in Richmond that depict the Black experience in Jackson ward and beyond.
•Support a Black owned restaurant by enjoying a meal there or for take out.
•Visit, support and patronize a Black owned business. Check out the members of the Metropolitan Business League.
Wishing everyone a joyous Juneteenth!
Be sure to subscribe to email updates, follow @rvacheap on Twitter or like RVA (Richmond) on the Cheap on Facebook to stay in the know about the latest freebies & deals.