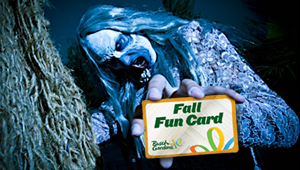 Last season, I went to Busch Gardens to check out Howl-O-Scream. Since I had an annual pass, I didn't need a coupon code or discount tickets to check it out on the cheap; most activities during Howl-O-Scream are included with admission. It proved to be a rather fun day at the park. I didn't bring the girls (tweens) because intense zombie-ish monsters freak them out. That said, I think they would have been fine exploring most of The Dark Side of the Gardens even once the creatures began roaming about at 6:00 p.m.; their costumes & makeup are rather mild (in comparison to some haunted attractions), and they tend to practice the art of startling you vs. instilling fear.
If you're planning to go, be advised: Saturdays are high-volume days, and Busch Gardens tends to reach capacity by mid-afternoon; they'll often re-open the gates an hour or two later when people start to leave. Fridays are the second-most crowded days, and Sundays are generally lightest. I went around midday on Sunday, and the ride lines moved quickly all day. Once the haunted attractions started opening up at 5:30 p.m. & 6:00 p.m., those lines moved quickly, too, but by the time I made my way over to the Root of All Evil, I was trapped in a very long line.
Another thing to note: With indoor haunted attractions, you can explore as soon as they're open for the evening. However, haunts with outdoor elements, like Root of All Evil, are best experienced when it's dark. This year, I hope to make it back to Howl-O-Scream so I can check out the newest haunt: the pirate-themed Cut Throat Cove.
Want to get into Howl-O-Scream on the cheap? Take advantage of one of these deals:
–Jennifer Maciejewski