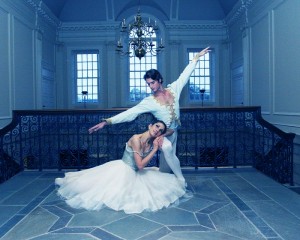 It's almost time for the Richmond Ballet's production of Cinderella. I've see a ballet version of the familiar story before, and it's a fun way to introduce kids to the art form. My girls were fans of the step-sisters.Per the summary, "This magical production of Cinderella was inspired by the Brothers Grimm and Perrault fairy tales, and features the dramatic music of Prokofiev, performed by Richmond Symphony."
Want to see it on the cheap? If you use coupon code "CINDERELLA" when you order tickets to the 7:00 p.m. performance on Thursday, February 13, 2014, you'll save 30% (excluding Price Level 6 tickets). Tickets to Cinderella start at $20.
UPDATE: The Richmond Ballet just announced that they're rescheduling the Thursday night performance to 6:00 p.m. on Sunday, February 16, 2014. All other performances are expected to go on as scheduled.
The Richmond Ballet's Cinderella runs from February 13-16, 2014. The Carpenter Theatre at Richmond CenterStage is located at 600 East Grace Street, Richmond.
–Jennifer Maciejewski