Monday, January 17, 2022 marks Dr. Martin Luther King, Jr. Day. King was an American Baptist minister, Nobel Peace Prize winner and activist who became the most visible spokesperson and leader in the civil rights movement from 1955 until his assassination in 1968. As a voice of conscious, King made a national impact and passed through Richmond numerous times to impart his message of equality and take on discrimination that plagued and continues to plague our society. This year, the numerous commemorative and service events in Richmond continue to highlight King's key efforts.
Richmond area Dr. Martin Luther King, Jr. Day commemorative and service events:
⭐️ Keep checking back as events are announced.
While many students and workers having the day "off," Dr. Martin Luther King, Jr. Day is a great time to embrace the opportunity to engage in a Day of Service. Alternatively, all National Parks are FREE on MLK Day, offering a peaceful or educational way to connect with nature and history.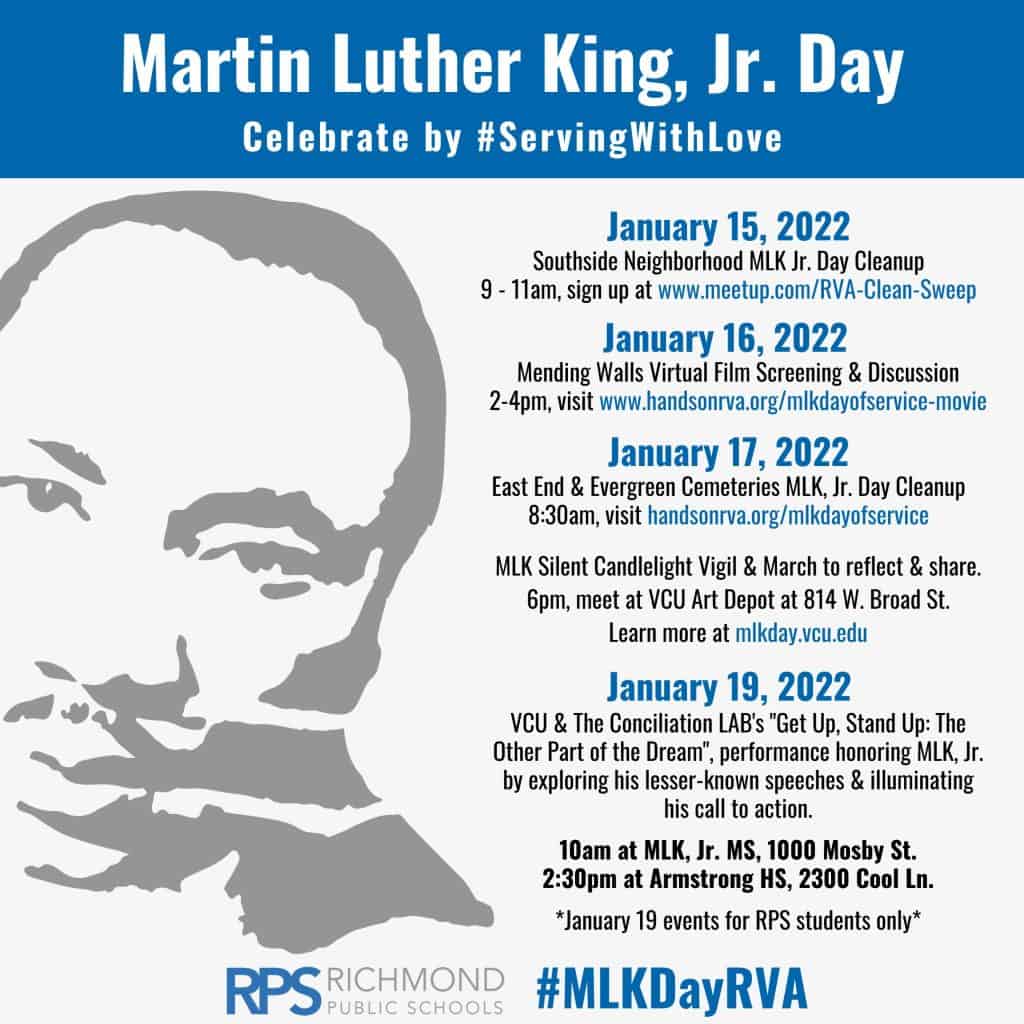 "
Mending Walls: The Documentary
" explores the groundbreaking public art project Mending Walls RVA which aims to establish empathy and connection through art. On Sun., Jan. 16 at 2pm, lead artist Hamilton Glass will join us on Facebook Live to discuss the project with artists Kevin Orlosky and Sir James Thornhill. Prepare for this event by watching the full documentary (run time: 56 minutes) at
https://www.handsonrva.org/mlkdayofservice-movie
This event is co-hosted by Virginia Center for Inclusive Communities, the University of Richmond Bonner Center for Civic Engagement, and VPM
•Rally for Virginia's children, youth, and families where recognizing the past and mobilizing present-day solutions to mobilize Dr. Martin Luther King's dream. This event is for allies, advocates, and activists in the pursuit of racial healing and social justice to come together in solidarity in re-imaging a world true to Dr. King's vision outlined in the I Have a Dream speech. Join us in taking action to re-invigorate policy priorities during the General Assembly Session. Bring your family! Children and youth are welcome to attend. Sponsored by
Voices for Virginia's Children
and
Racial Truth & Reconciliation VA.
⭐️ At Virginia State University:
Be sure to subscribe to email updates, follow @rvacheap on Twitter or like RVA (Richmond) on the Cheap on Facebook to stay in the know about the latest freebies & deals.
⭐️ At Virginia Union University
⭐️ At Virginia Commonwealth University
•Mon., Jan. 17, 2022 at 5:45 pm – 8:00 pm Martin Luther King Jr. Celebration of Life and Drum Major Service Awards at LUX Church. The service and awards program will be both in-person and virtually online and will take place at LUX Church located at 22 E Leigh St, Richmond, VA 23219. Urban Financial Services Coalition, Boaz & Ruth, Fifth Street Baptist Church, and LUX Church welcome you the to celebrate the life and legacy of the
Dr. Martin Luther King, Jr. Attendees will listen to soul searching musical presentations, be inspired by presentations from today's youth, and celebrate the accomplishments of the leaders and organizations that receive this year's MLK Drum Major Awards for making a difference in the lives others. The 2022 Honorees are:
Linda Hickman-Pearson, Torino Jennings, MD, John H. Horton. III, Desire Roots, Hamilton Glass / Mending Walls RVA, HKS Inc., Patricia Woolridge, The Success Foundation, Virginia Reperatory Theatre. Performances will include: Signs of Praise, the 5th Street Baptist Church Choir, and Richmond Poet Laureate Roscoe Burnems.
•Black History Museum – open Fri. & Sat. 10am-5pm
•Join Hands on Greater Richmond for a Weekend of Service,
•Jan. 15-22, 2022 – Virginia Commonwealth University MLK Celebration
•Jan. 17, 2022 – Entrance to all national parks is free in honor of Dr. Martin Luther King, Jr. Day. Numerous National Parks are located in and around Richmond as well as within driving distance.
•Often there is an MLK Day of Service at the East End Cemetery, 3820 Nine Mile Rd, Richmond, Virginia 23223
•James Madison's Montpelier is offering special tours this Saturday, Sunday, and Monday, January 15, 16 & 17 for the Martin Luther King holiday weekend. Montpelier is currently offering guided Outdoor Walking Tours. Reserve your property pass or tour tickets online at https://buff.ly/31ffYOa, Montpelier is temporarily suspending tours of the house.
Be sure to subscribe to email updates, follow @rvacheap on Twitter or like RVA (Richmond) on the Cheap on Facebook to stay in the know about the latest freebies & deals.
More things to do in and around Richmond: