Richmond has a ton of food trucks with very varied types of food. The advantage of the trucks is that they are not bound by place or four walls. You can find the trucks at farmers markets, church parking lots, neighborhoods, intersections, construction sites, recreation associations, festivals or swim/athletic clubs. Active area residents are organizing the food trucks to visit their areas for additional culinary options. See where to find trucks this weekend, how to invite trucks to your event, neighborhood or business and the variety of options in Richmond.
⭐️ Sat., April 9 at 9 am-12pm Monique's Crepes at RVA Big Market Monique's Crepes – RVA Big Market
See more Richmond on the Cheap food and drink posts.
Be sure to subscribe to email updates, follow @rvacheap on Twitter or like RVA (Richmond) on the Cheap on Facebook to stay in the know about the latest freebies & deals.
*****
Since mid-March 2020, the Canterbury Recreation Association has been having food trucks daily, sometimes more than one. In this post we tell you where to find food trucks this week, how to invite a food truck to your neighborhood and the gamut of cuisines to enjoy. Keep scrolling and Bon Appétit!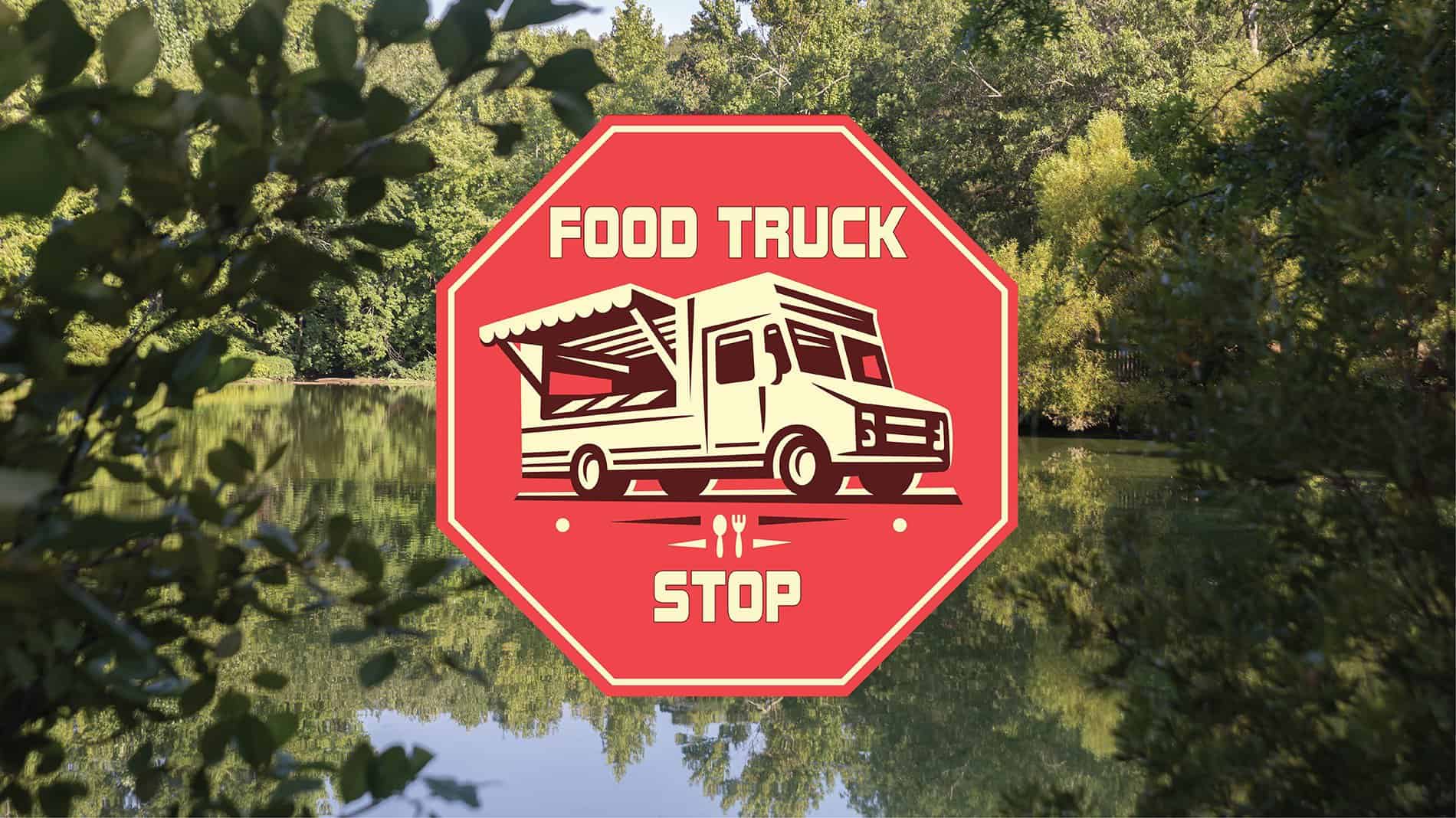 To find out where to find food trucks this week go on Street Food Finders.
Be sure to subscribe to email updates, follow @rvacheap on Twitter or like RVA (Richmond) on the Cheap on Facebook to stay in the know about the latest freebies & deals.
FOOD TRUCKS IN THE HOOD – Allie Harris has organized food trucks to park at the 5500 block of Noble Ave. every Friday in the Lakeside neighborhood. Harris was motivated to organize food trucks to support businesses, enjoy a variety of food, lessen the cooking/cleaning demands at home and build community in the new neighborhood.
"Our neighborhood is relatively new and I thought it would be fun to promote and meet some new neighbors!" wrote Harris.
Heather Hicks Garrett lives in Hanover Farms and her motivation for organizing food trucks in her neighborhood was multi-fold.
"I am a naturally social person and wanted to find a way to still "socialize" safely with my neighbors. I also wanted to make sure that we were supporting small business as I believe that they are some that have been hardest hit by this pandemic situation," said Hicks Garrett. "And of course, having something cool and fun to look forward to allowed us all a distraction from all the negative. We started having trucks coming out every weekend early April but not before. I made same awesome contacts and friends, got a chance to try some new foods and definitely gained at least 5lbs, lol!"
Hicks Garrett said it was easy to invite them out to her neighborhood to bring good eats.
"I coordinated with the Richmond Food Truck Association. Barry, the scheduler owns the Grateful Grill truck- specializing in gourmet grilled cheeses and he was amazing at making sure that we (our neighborhood) had a variety of vendors, that everyone had each other's contact and made it so seamless," said Hicks Garrett. "It was really fun and we plan as a community to continue to host food trucks on a monthly basis throughout the summer. I've really enjoyed getting to know my neighbors better and also feel like I'm doing a VERY tiny part in helping small business in Richmond. It's been a great thing."
Many of these trucks come out of Hatch Kitchen, culinary incubator and commissary kitchen. Check the Street Food Finders website and app that should give you a good idea of locations and serving times. Monitor websites and social media to keep track of locations of these culinary gems.
Be sure to subscribe to email updates, follow @rvacheap on Twitter or like RVA (Richmond) on the Cheap on Facebook to stay in the know about the latest freebies & deals.
Have you tried these Richmond area food trucks?
•ArrozRVA (Tex-Mex)
•Auntie Ning's – Authentic Filipino Food, Beef lumpia, vegetable lumpia, pancit, adobo, sinagang, ginataang gulay, bistek, afritada, longanisa bowls
•Beaunuts – https://www.facebook.com/Beaunuts-113300643651332/?hc_location=ufi
•Bikini Panini – Bikini Panini is a Richmond, Virginia-based food truck offering Mediterranean and Cote d'Azur-inspired pressed sandwiches, Paella, Ratatouille with Curried Couscous, Moussaka, fresh baked goods and ice cream treats. Taste the sunshine! Available for lunch, dinner, festivals, corporate events, private parties, brewery & winery events, farmers' markets, construction sites, or any other food truck needs you might have!
•Brekkie
•Boka Fusion Tacos – Asian Mexican American Fusion Takos
•Breedlove's Seafood RVA – Your Local Mobile Seafood Food Truck
•Café 804 – Comfort Food. Café 804 features Philly Style Cheese Steaks, Po' Boys, Burgers & Baskets
•Cary St. Café
•Cheesaggadon Food Truck offers a wide selection of gourmet grilled cheese sandwiches
•Dank Eats Serving Funky Fresh Pitas in RVa
•DeVoe Did Events offers weekly dinners to go and catering options for all types of events
•El Guapo Latin American food – tacos, burritos
•Firesides – chicken, tacos, fries
•First Stop Donuts – Hot apple cider donuts and locally roasted coffee served out of a school bus named Flubert
•Good Doggie To Go
•The Grapevine – Greek & Italian food
•Grandpa Eddie's Alabama Ribs & BBQ
•Grateful Grill features grilled cheese sandwiches and sides
•Grilled Meats and Treats
•Haley's honey meadery
•Haulin' Balls RVA – All manner of meatballs, falafel, eggplant parmejan balls, sausage balls, baskets of fries.
•Hibachi mobile serves Japanese food
•The Hungry Turtle, Vietnamese cuisine is known for its fresh ingredients and distinct flavors. Yet many have never tried a Vietnamese dish. Our goal is to take the two most common dishes, pho and banh mi
•Hungry Hungry Arrow
•Intergalactic Tacos
•Ironclad Coffee Roasters
•Jiji's frozen custard – hand-dipped frozen custard, aka ice cream's super smooth cousin
•Lowco Eatery – Low Country cuisine
•Momma's BBQ – slow-cooked, pit-smoked barbecue and homestyle sides to 10th and E. Cary streets. Find us weekdays from 11 a.m. to 2 p.m. around the James Center.
•Monique's Crepes hand craft authentic French sweet crepes and savory galettes in a mobile trailer. We have been trained in crepe making in Brittany, France, the birthplace of crepes so that we can bring you the "real thing". We primarily use area growers and suppliers to provide the tastiest ingredients while supporting local farmers and businesses. We are also committed to using environmentally conscious packaging so that the only impact we make is on you – with our delicious crepes!
•Mrs. Yoder's Donuts – Sourdough donuts made fresh while you wait
•Opa Food Truck serves Greek cuisine
•The Pickup
•Pulp RVA – European inspired coffee shop + smoothie truck. Handcrafted smoothies, specialty coffee, bagels, wraps, pastries.
•Redemption BBQ – True farm-to-table barbecue and Southern comfort food. We specialize in humanely raised and environmentally sustainable meats slow-cooked with wood.
•Return of the Mac
•River City Wood Fire
•RVA woodfire pizza
•Saladworks, Fresh, made-to-order salads, sandwiches, soups and more
•Sammich
•Salt & Forge, Gourmet, made from scratch sandwiches, salads & breakfast.
•Shakedown Eats Food Truck offers something for both meat eaters and vegetarian/vegans! Open daily noon-7pm right beside Cary St. Cafe •Slideways Mobile Bistro, gourmet sliders and fresh hand cut fries.
•Simply Tea
•Smokie Joe's, mobile food unit specializing in Carolina Pork and Texas style Beef Brisket
•Southern Spud, loaded gourmet baked potatoes, creative salads, french fries, and potato bowls
•Tiffany's Food truck
•Taqueria Panchito, Authentic Mexican food: Tacos, Fajitas, Burritos, Quesadillas, Guacamole, Mexican Subs, Enchiladas, Pozole, Menudo, Birria, Carnitas, Pupusas, Gorditas, Huaraches, Carne Asada, Al Pastor, Cabeza, Mexican Barbacoa, Shrimp Cocktel,
•Zorch pizza New York style pizza by the slice
Bon Appétit! This list was current as of May 30, 2020. A number of food truck options have joined the food scene since then.
See more Richmond on the Cheap food and drink posts.
Be sure to subscribe to email updates, follow @rvacheap on Twitter or like RVA (Richmond) on the Cheap on Facebook to stay in the know about the latest freebies & deals.
More things to do in and around Richmond: