We're going to try & make it out to this on Saturday morning: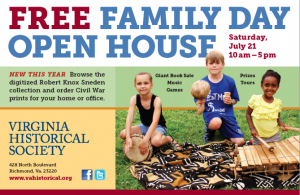 From 10:00 a.m.-5:00 p.m. on July 21, 2012, the Virginia Historical Society will host a free family day open house. There'll be games, historical demonstrations, children's crafts and activities, music, trivia contests, scavenger hunts, behind-the-scenes tours, and more.
The activities are free, but I expect to spend a small fortune at the book sale, which features more than 4,000 gently used fiction & nonfiction books related to history.
The Virginia Historical Society is located at 428 North Boulevard, Richmond. 804-358-4901
–Jennifer Maciejewski