Some nonprofit organizations and businesses are going the extra mile to provide Thanksgiving meals for those in need in the Richmond community with traditional feasts, thanks to donations and volunteers.
If you know someone in need please spread the word about these resources and if you are able to donate time or resources, you will make an impact on many people who will benefit.
See details below about Thanksgiving Day meals with The Giving Heart, Diversity Richmond, Your Place Sports Bar & Grill and Mr. Girlee's Kitchen.
1. The Giving Heart Community Thanksgiving Feast is a Richmond tradition, providing food and fellowship to all who need with the help of donations and volunteers on Thanksgiving Day, Thursday, November 26, 2020.
For those in need and with the help of those able to give donations and time, The Giving Heart will offer Carryout Meals and Curbside Meals on Thanksgiving Day. The carryout hot meals along with donations (clothing, blankets, toiletries) will be served to those who come into the Greater Richmond Convention Center (403 N 3rd St, Richmond, VA) from 11 am to 2 pm. This will be a pass through service – no seating. Masks are required of all who enter the convention center.
2. Thanksgiving meals at Diversity Richmond (1407 Sherwood Ave Richmond, VA 23220) on November 26, 2020 from 11:30-2:00pm. Come on down to Diversity and pick up a hot Thanksgiving meal to feast on. FREE AND OPEN TO THE COMMUNITY. SPREAD THE WORD. Catered by @msgirleeskitchen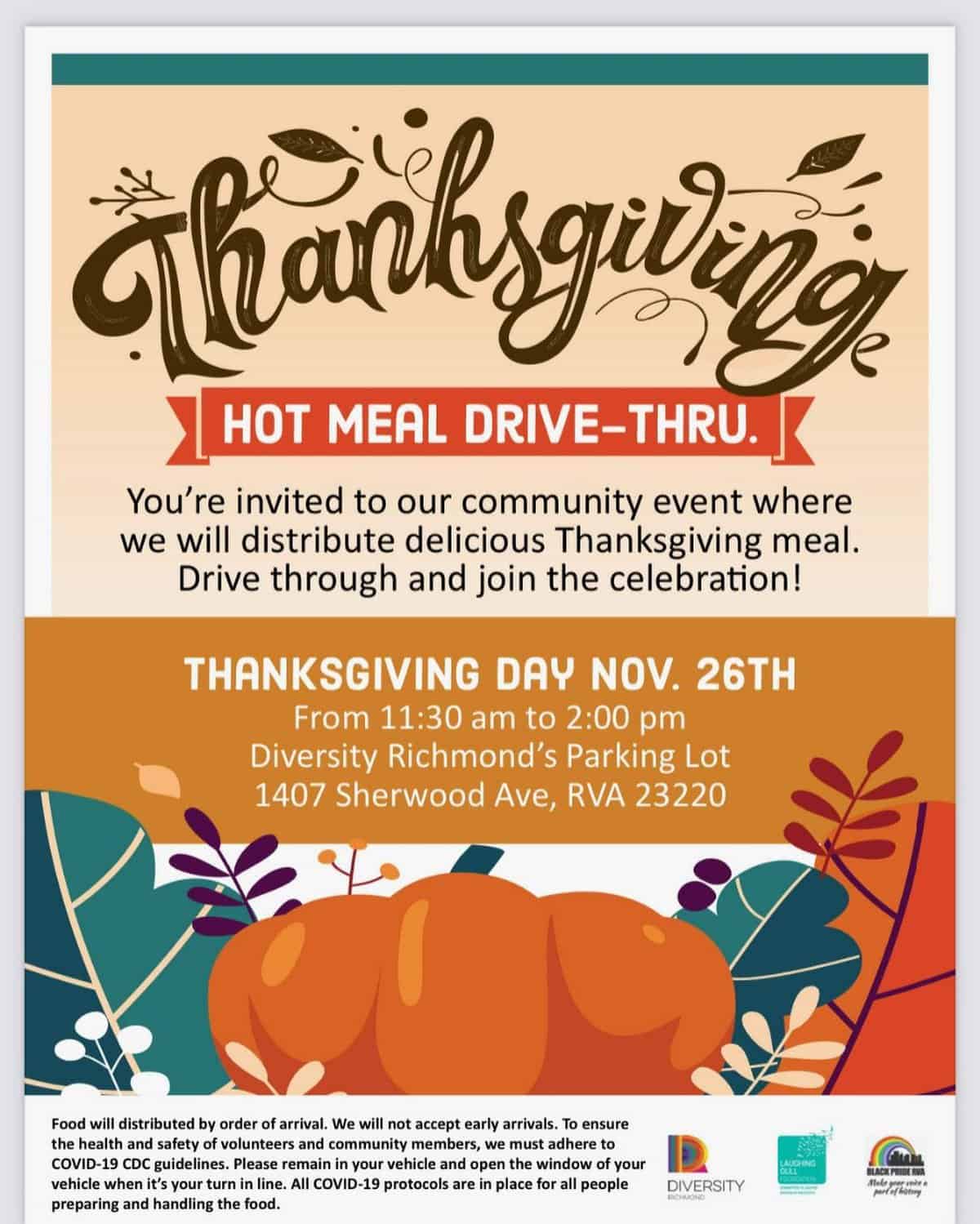 3. Ms. Girlee's Kitchen alongside @community_5050 will prepare 200 meals to feed our community. If you or anyone you know are in need of a meal stop by 4809 Parker Street RVA on Thursday, November 26, 2020 from 1-3pm.
4. Your Place Sports Bar & Grill (101 Wadsworth Dr Richmond, VA 23236) on Midlothian Turnpike offers a completely FREE Thanksgiving meal on Thanksgiving from 2-6pm. "Just show up and eat."
⭐️ If you know about other FREE meals on Thanksgiving to add to this list please email: news@rvaonthecheap.com
We can also help you dine out at Richmond Restaurants open on Thanksgiving and find places to volunteer and make donations to help those in need.
Be sure to subscribe to email updates, follow @rvacheap on Twitter or like RVA (Richmond) on the Cheap on Facebook to stay in the know about the latest freebies & deals.
More things to do in and around Richmond: