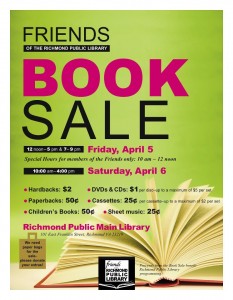 Books are a weakness in my family, and it's even worse when prices are low. Sales like this are a blessing & a curse:
The Friends of the Richmond Public Library Book Sale will take place on April 5 & 6, 2013. It's worth heading out, as you can't beat the prices:hardbacks are $2, paperbacks are $0.50, DVDs & CDs are $1 each, children's books are $0.50, & more.
Members of the Friends get the best selection, as they can shop from 10:00 a.m.-noon on Friday, April 5. The public sale hours are noon-5:00 p.m. & 7:00 p.m.-9:00 p.m. on April 5 and 10:00 a.m.-4:00 p.m. on Saturday, April 6.
I haven't shopped this particular sale yet, but if it's like most Friends of the Library book sales, it's wise to bring cash + bring a box/bag to hold your books.
The Richmond Public Main Library is located at 101 East Franklin Street, Richmond.
–Jennifer Maciejewski