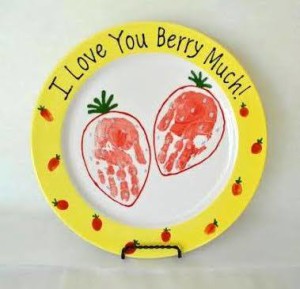 If you have children or grandchildren, this is a fun deal in July.
All month-long in July, All Fired Up is offering a Tiny Prints special on their adorable "I Love You Berry Much" keepsake plate design.
Their friendly staff will help you get the perfect foot or hand prints from your infant or toddler on a large rimmed dinner plate, and turn them into a giant strawberries.
All-inclusive cost is only $30.
Interested in another design? Check out their new Tiny Prints Catalog and choose from tons of great designs our staff can help you create. Not only is this a great deal, it's a great way to keep treasured memories close for many years to come.

Visit the Facebook page or website to learn more and head out to All Fired Up before the deal vanishes. It's good only in July.