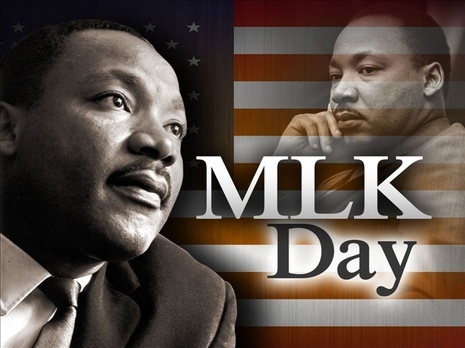 The Martin Luther King Jr. Federal Holiday is a National Day of Service, and a time to recommit ourselves to serving others. Americans across the country honor Dr. King by helping their families, friends, neighbors and communities on this day. This Day of Service is a way to transform Dr. King's life and teachings into community service that helps solve problems and brings us all closer together. It is celebrated each year on the 3rd Monday of January, near Dr. King's birthday which is January 15th.
Ways to remember and celebrate Dr. King's Life on January 15, 2018:
FREE admission to national parks. National parks across the country will waive their entrance fees to commemorate Martin Luther King, Jr. Day. Visit site to find a participating park near you.
The 23rd annual Freedom Classic Festival returns to Richmond from January 8th – 14th! Join us in commemorating the life and legacy of Dr. Martin Luther King, Jr. and the Civil Rights Movement with a week of programming highlighted by the marquee matchup between Virginia State University and Virginia Union University men's basketball teams.
The City of Richmond is proud to celebrate this national day of remembrance and service, engaging in meaningful volunteerism, viewing this day as

"A Day On, Not A Day Off"

. To learn more about this national holiday and day of service, please visit the MLK National Day of Service website.
Richmond Mayor Levar Stoney will address the Randolph-Macon College community to help celebrate and honor the life of Dr. Martin Luther King Jr. – Blackwell Auditorium, R-MC Center for the Performing Arts (205 Henry St.). Free and open to the public Monday at noon.
Join HandsOn Greater Richmond, th Virginia Center for Inclusive Communities and University of Richmond's Bonner Center for Civic Engagement for a special MLK Day weekend showing of the movie "Hidden Figures." Sunday, January 14 at 4:30 – tickets.
Network JCFR celebrates

Martin Luther King, Jr. Day, as Network JCFR partners with Repair The World to act now and have open and honest conversations about racial and social justice.

Martin Luther King, Jr. Celebration Week includes keynote speaker Martin Luther King III at 7 p.m. Wednesday, Jan. 17, at 7 p.m. in the VCU University Student Commons, Commonwealth Ballrooms. Celebrations throughout January 15-21st.
Little Nomad remembers January 15th 10am-6pm.

In observance of MLK Day of Service, they will be collecting food items to donate to the Feed More food bank at Little Nomad. Things kick off with donations. They are offering 20% off your total sale when you donate an item from Feed More's Most Needed Item's list – peanut butter, canned tuna and chicken, low sodium veggies, fruit packed in juice, canned spaghetti sauce (no glass), canned or dry beans, hot and cold cereal, and whole grain snacks.

Join AfroEconomics for Brunch at the Marriott commemorating the life and legacy of Dr. Martin Luther King, Jr. and the Civil Rights Movement. A morning filled with FINANCIAL EMPOWERMENT. AfroEconomics: Bridging the Gap for Economic Equality. Members free; future members $20. Join today and attend for free!
PMDoS is a one-day community service event in which project managers provide pro bono project management skills to nonprofit leaders requiring assistance in assessing and planning projects for their organizations to succeed. Volunteering is a great way to give back to your community. As project managers, you will have much to gain from volunteering at PMDoS, including opportunities to expand your network, gaining/enhancing your skills, earning PDUs, and having fun.Participate in an activity to honor Dr. King such as a book collection drive, writing letters to service members overseas, volunteering at a local shelter, cleaning a neighbor's yard, or other acts of service.
Donate to the VCU Service Collection Project. They need winter accessories such as hats, scarves, gloves, and coats. Or provide travel sized toiletry items such as toothpaste, mouthwash, deodorant, shampoo, hand sanitizer, and other items.
Come up with your own creative way to remember Dr. King and his legacy. Share it on Facebook, Instagram, or other social media with #mlkday2018.
Screening of the film, "Selma." Come early for pizza and a drop in service activity making birthday cards for underserved youth between 6 p.m. and 7 p.m. Monday January 15th at University of Richmond.
Sign Up for These MLK Events – Register Here or visit for more information on these events.
Service Event: Blankets of Warmth and Love, for Elk Hill Residential Program – FULL
Imagine walking into a strange room and being told you live here now. You're disoriented, anxious, thirteen, and alone. This is reality for teens entering Elk Hill's residential programs through foster care. Volunteers will be making no-sew fleece blankets and handwriting welcome cards that will be given to each youth upon arriving at Elk Hill. You can learn more at www.elkhill.org. This project will be in the Carl E. Davis Room, UR Law School from 10:00 am -12:00 pm.
Service Event: Clearing the Overgrown Landscape at East End Cemetery
A traditional African American cemetery in Henrico County, East End has suffered decades of neglect and counts on volunteers to clear brush and restore pathways, often discovering mislaid grave markers along the way. There is room for 20 individuals to accompany two classes doing service at the cemetery from 9:30 am – 12:00 pm on Saturday, January 20. Transportation will be provided.
Service Event: Arts and Crafts with the Residents at Commonwealth Senior Living
Join members of URPD as they bring students to this senior care facility which houses both assisted living and memory care patients. 1:00 pm departure on Saturday, January 20 to return no later than 4:00 pm. Transportation provided.
"Slow Journalism and the Beloved Community" a workshop and walking tour of historic Jackson Ward
Don Belt, National Geographic writer and editor, Friday afternoon, January 19 from 3:30 – 5:30.  Slow journalism, based on the Out of Eden Walk – a 7-year, 22,000-mile trek around the world launched by two-time Pulitzer Prize winner Paul Salopek in early 2013, invites writers and storytellers to slow down and get to know communities more deeply. Jackson Ward, once known as the "Harlem of the South," is rich in African-American history and a dynamic downtown neighborhood today. Participants traveling from campus may take the 3 p.m. shuttle from Tyler Haynes Commons to UR Downtown and return on the 5:25 p.m. shuttle. Registration is required.