The Science Museum of Virginia continues its track record of outstanding exhibitions, with its newest: Hot Wheels: Race to Win. The exciting exhibit features a variety of Hot Wheels and racing related hands-on activities, and learning opportunities.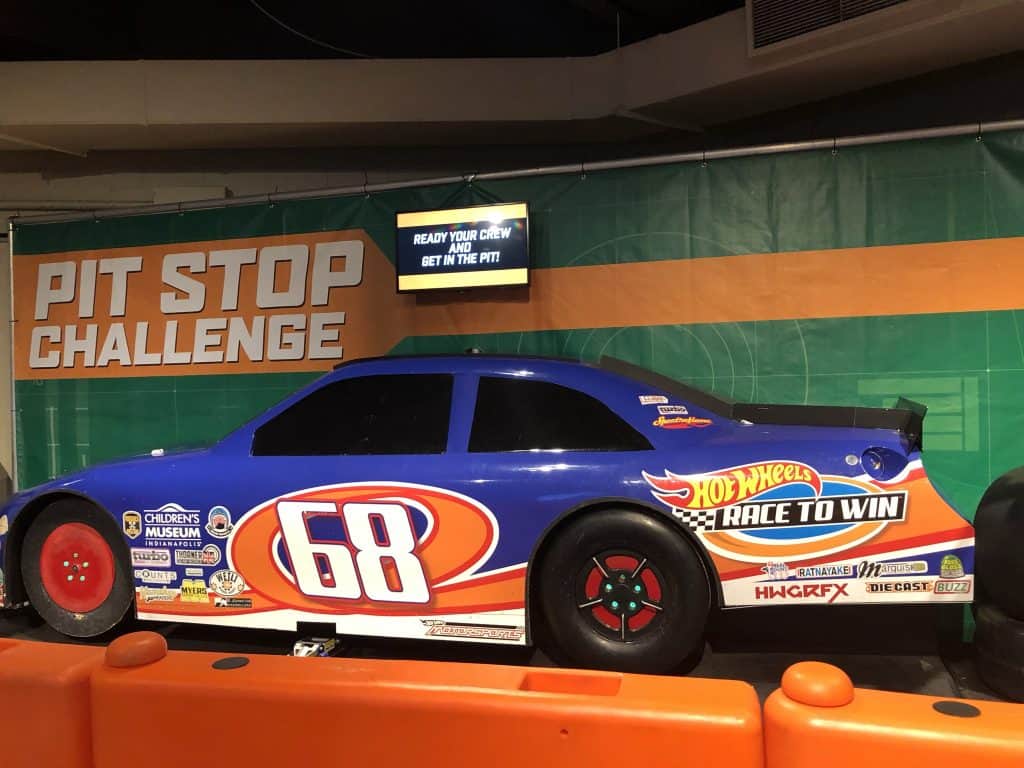 My 4 year old son, Gus and I had a terrific time at the various stations. And, while Gus is a Hot Wheels fanatic, that is certainly not a prerequisite to enjoy and appreciate the exhibit. Parents and educators like myself, will be thrilled with the interactive ways to learn through play. For example, Gus got an introduction to physics today, as he learned that the toy cars roll downhill via gravity, versus real cars that need an engine. He also absolutely loved sending two cars down the track and discovering (repeatedly!) that the one with the booster would go faster.
We did other experiments; trying to avoid crashes, by sending cars down the ramp at just the right moment. Testing our timing at this station turned out to be one of Gus' favorite activities of the day!
A must-see for all is the Pit Stop Challenge, where you can race against the clock to change the tires and refuel the car. Between the cacophony of automotive noises and being able to use a "real tool," this was definitely the highlight for Gus. Younger children will need a hand holding the tire in place, so the Pit Stop Challenge is a chance for the whole family to work as a team!
Hot Wheels: Race to Win is an exhibit that incorporates all modes of learning: auditory learners, kinesthetic, visual and reading. Gus loved learning what different sounds various race cars make, and why (hint: it's related to their speed). He loved engaging with the hands-on exhibits and tracks, using the gears to change the placement of the tracks. Of course, he had to try racing himself, and came in a close second to SMV Volunteer, Genesis!
As a safety minded Mom, I was quick to point out all the safety information infused throughout, including fire safety, protective racing gear, like helmets. Thanks, SMV, for showing that even race car drivers have to be safe!
From counting with the timer as his cars flew down the track, to checking out actual race car parts, the Hot Wheels: Race to win created an unforgettable learning experience for both Mom and son today.
The exhibit is at the Science Museum of Virginia until January 23, 2022 and is included with regular admission to the Science Museum. Admission prices: $15.50 adults; $13.50 seniors; $13.50 youth 6-12; $10 preschool 3-5; free 2 and younger. Teachers are free; active and retired military and veterans are free. SMV participates in the Museums for All Initiative and the ATSC Travel Passport Program.
— By Lindsay Garrison
Richmond on the Cheap contributor Lindsay Garrison is a Richmond, Virginia based mom to two young children. A graduate from Chesterfield Schools and Randolph-Macon College, Lindsay is proud to call Richmond home. In the years prior to planning activities and outings with her own children, she was a French teacher. During her tenure she earned accolades for her creative teaching style and ability to connect with her students. Lindsay now applies the skills she learned when she was planning student trips to France, to her own family adventures. She can't wait to take her own children to France one day! Follow the Garrison's family adventures on Instagram: @thegarrisonsrva
Be sure to subscribe to email updates, follow @rvacheap on Twitter or like RVA (Richmond) on the Cheap on Facebook to stay in the know about the latest freebies & deals.