It's the Rassawek Spring Jubilee celebrating the art of Virginia crafts on June 6 and 7, 2015. There will be plenty of art, music, wine, beer, and food. Children under 12 are FREE! Adults admission is just $10.
The Rassawek Spring Jubilee celebrates the local, the handmade and the homegrown. They spotlight those people and their passion for craftsmanship and creativity, which contribute to strong communities, pride of place and heritage, and a vibrant culture where they live, work and play.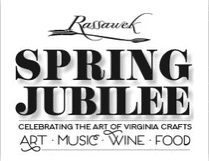 Purchase tickets online click here.
All wine tastings tickets include the price of general admission.
FREE – ages 12 and under
$10 General Admission Ticket (Saturday or Sunday)
$20 Wine Tastings Tickets ($25.00 at the gate)
$35 Couples Wine Tasting Tickets ($40.00 at the gate)
Active duty military with current military ID will be admitted at a 10% discount.
Veterans awarded the "Purple Heart" will be admitted at no cost.
If you would like to support a community non-profit with the purchase of your ticket please click on the logo on this page and the organization will receive 25% of revenue for each advance ticket purchased.