Monday, January 18, 2021 marks Dr. Martin Luther King, Jr. Day. King was an American Baptist minister, Nobel Peace Prize winner and activist who became the most visible spokesperson and leader in the civil rights movement from 1955 until his assassination in 1968. As a voice of conscious, King made a national impact and passed through Richmond numerous times to impart his message of equality and take on discrimination that plagued and continues to plague our society. This year, the numerous commemorative and service events in Richmond continue to highlight King's key efforts.
While many students and workers having the day "off," Dr. Martin Luther King, Jr. Day is a great time to embrace the opportunity to engage in a Day of Service. Hands on Greater Richmond is organizing a weekend of Service January 15-18, 2021. Alternatively, all National Parks are FREE on MLK Day, offering a peaceful or educational way to connect with nature and history.
*WARNING* The governor of Virginia and the City of Richmond are monitoring the status of ongoing unrest in our nation's capital. Like other capital cities, they are also monitoring activity in and around Richmond around MLK Day because of a credible threats of violence related to planned demonstrations. That includes a ban on weapons of any kind in Capitol Square during that time.
⭐️ Mon. Jan. 18, 2021-from 9am–1pm-5th Annual Brown Virginia Dr. King Day of Action – Virtual Day of Action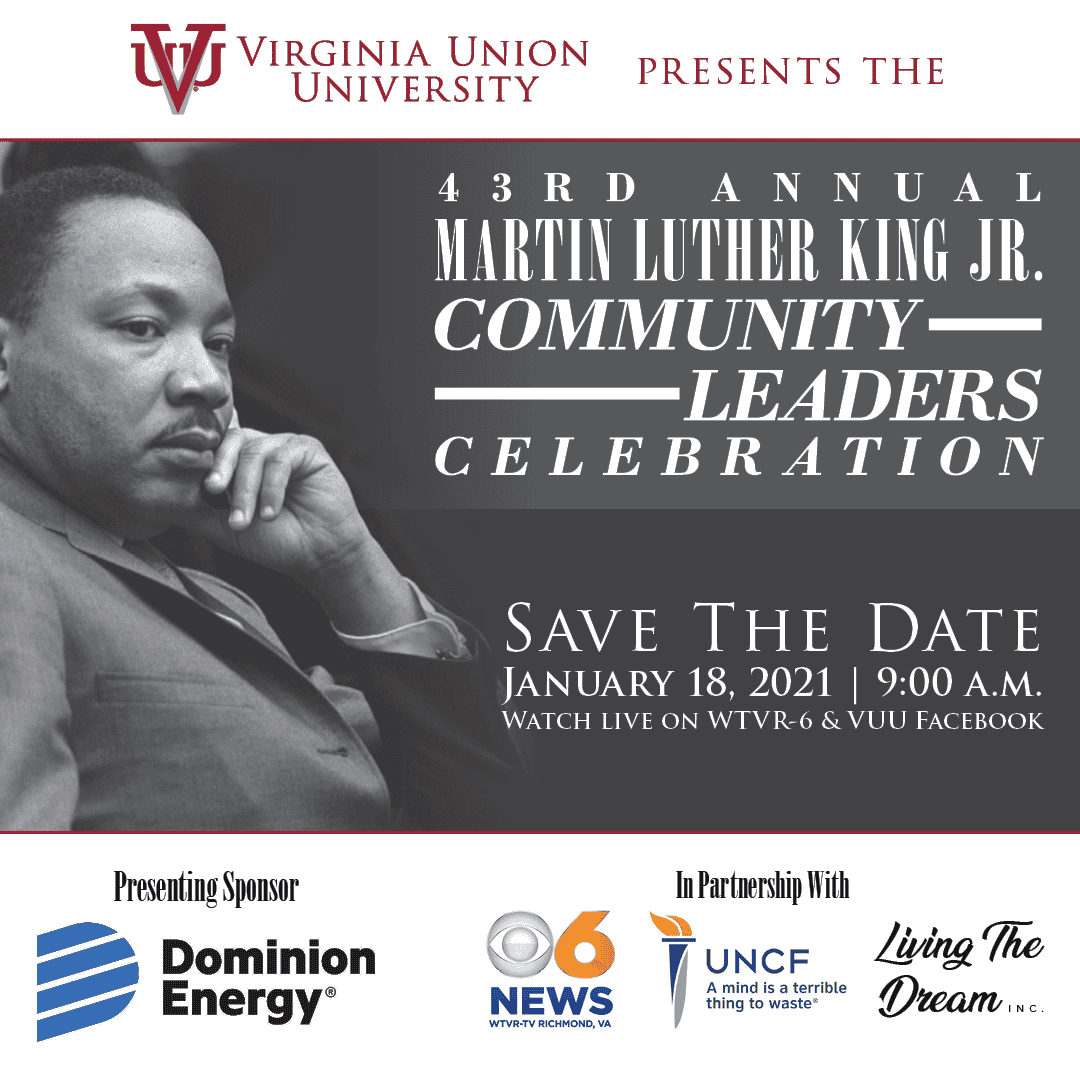 Richmond area Dr. Martin Luther King, Jr. Day commemorative and service events:
⭐️ Keep checking back as events are announced.
•The City of Richmond's annual Martin Luther King, Jr. remembrance ceremony takes place on 1/18/2021. This event can be seen live on the City of Richmond's Facebook page.
•Black History Museum – open Fri. & Sat. 10am-5pm
•Hands on Greater Richmond Weekend of Service, January 15-18, 2021
•Jan. 17-23, 2021 – Virginia Commonwealth University MLK Celebration – Reflections on the Fierce Urgency of Now. Martin Luther King Day is an opportunity for the VCU community to put principles of citizenship and service into action.
•Jan. 18, 2021 – Entrance to all national parks is free in honor of Dr. Martin Luther King, Jr. Day. Numerous National Parks are located in and around Richmond as well as within driving distance.
•Often there is an MLK Day of Service 2020 at East End Cemetery, 3820 Nine Mile Rd, Richmond, Virginia 23223
⭐️ James Madison's Montpelier is offering special tours January 16-18
During Martin Luther King, Jr. Weekend, Montpelier will be offering tours 10 AM-2 PM. The schedule is:
Saturday-Monday at 10:00 a.m. and 2:00 p.m.: "Montpelier Outdoor Walking Tour" – Guided outdoor tour
Saturday-Monday at 10:00 a.m., 11:00 a.m., 12:00 p.m., 1:00 p.m., and 2:00 p.m.: "Highlights of Montpelier Tour" – Guided indoor/outdoor tour
Be sure to subscribe to email updates, follow @rvacheap on Twitter or like RVA (Richmond) on the Cheap on Facebook to stay in the know about the latest freebies & deals.
More things to do in and around Richmond: