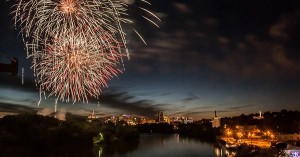 On Sunday, May 25, 2014, it's time for the third annual Rocketts Red Glare at Rocketts Landing.
The festivities get underway at 5:30 p.m. with live music by Colin Healy, followed by a performance by Kings of Swing at 6:30 p.m. And you'll want to stick around until 9:00 p.m. to watch a fireworks display over the James.
Want to watch the fireworks without going to Rocketts Landing? Try one of these viewing areas:
Libby Hill, 28th and E. Franklin Streets
Chimborazo Park, 3200 E. Broad Street
Gillies Creek Park, 4425 Williamsburg Avenue
Great Shiplock Park, Pear & Dock Streets
It's free to attend Rocketts Red Glare, and parking at Rocketts Landing is free, too.
–Jennifer Maciejewski