With so many offerings for train rides around the holidays, our family did not know which to choose! Ultimately, we chose to ride the Santa Express, leaving from Dillwyn Station, about an hour from Richmond. The Old Dominion Railroad Excursions appealed to us because of the affordability and also the proximity to Richmond. Compared to several other options, this seemed the most economical, at $25/person.
Our journey on the Santa Express and to Santa's Workshop was pure magic. We will share our review below, as we don't want readers to miss out on this touching, holiday event!
Why we loved the experience:
Ride duration: For my young children, ages 4 and 8, this was their first, real train ride. While they both love trains, the truth is, you just don't know how it will go once they're actually on board. Fortunately, this train ride is only 20 minutes. For young kids, this is ideal! The kids were exuberant to be on the train…it could have been 5 minutes, but 20 minutes was a gift. Perfect balance of enjoying the ride without needing snacks, bathroom, etc.! Further, the route is scenic, and peaceful. I was surprised at how calm both my children were!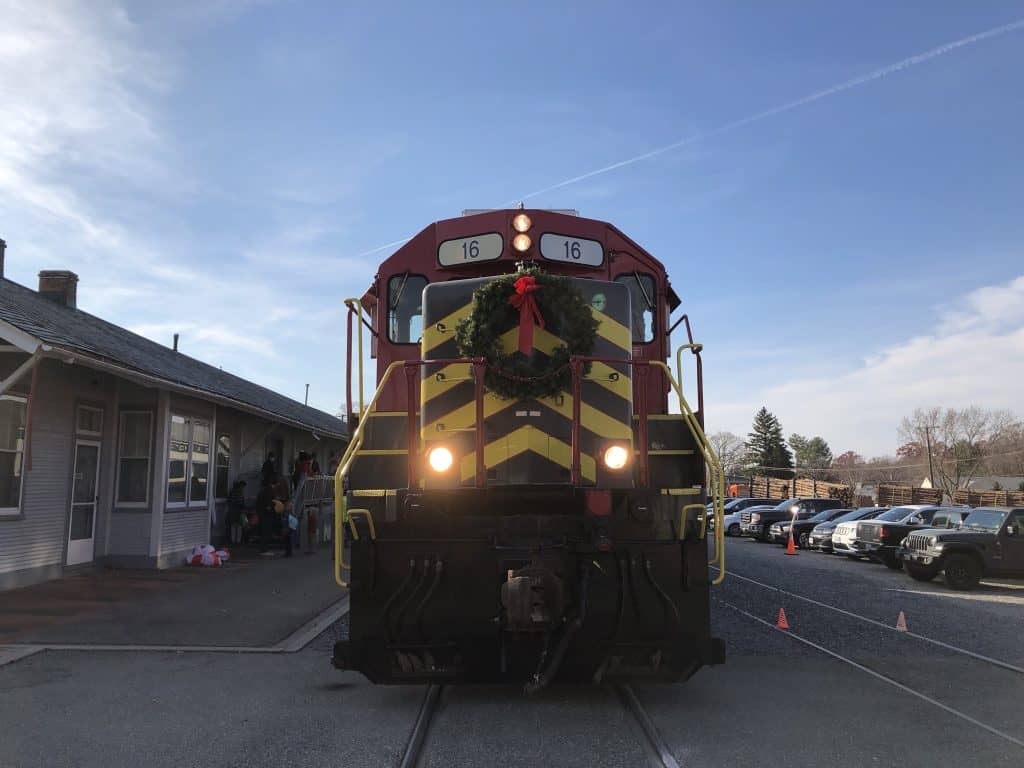 Train experience: Not only will you ride on a train, but if you arrive 30 minutes before your scheduled time, as directed, your family will be able to see another train departing and arriving. If you have trainiacs, you know that just seeing a train is a joy! Once on the train, "Hank" shares a bit of history about trains in general, and also passes out tickets to Santa's Workshop to each child on board. Additionally, my daughter's favorite part was Roger performing sing-a-longs, and including the passengers. Songs were about trains, and he included some holiday classics, too!
Santa's workshop: Once your ride is over, you will wait to visit Santa and Mrs. Claus in Santa's Workshop AKA the Dillwyn Train Station. It is decorated beautifully with two gorgeous Christmas trees, and Santa and Mrs. Claus are pros at social distancing, as they stay behind plexiglass for the photo. They will be sure to listen to your Christmas lists from a distance, too! Make sure to grab the free candy canes after sharing your holiday wish list with Santa!
No spending for extras: Santa's Express mentions onboard food and souvenir sales, but we did not see anyone make purchases while on the train. I also appreciated that the photos at Santa's Workshop are FREE (included with your admission ticket). The only, supplemental purchase we made was an ornament as a souvenir for this magic-filled day! There is a very small shop inside the workshop, but you could completely skip it, to save money.
Important information to know before you go:
There are no restrooms, other than on the train.
Masks are required on the train.
Allow 60-75 minutes for the entire experience.
Tickets must be purchased online in advance.
Tickets are $25/person, regardless of age.
Arrive 30 minutes before your scheduled departure.
As you plan your holiday outings for this year and the future, be sure to try the Santa Express in Dillwyn More details: https://olddominionchapter.com/Excursions
— By Lindsay Garrison
Richmond on the Cheap contributor Lindsay Garrison is a Richmond, Virginia based mom to two young children. A graduate from Chesterfield Schools and Randolph-Macon College, Lindsay is proud to call Richmond home. In the years prior to planning activities and outings with her own children, she was a French teacher. During her tenure she earned accolades for her creative teaching style and ability to connect with her students. Lindsay now applies the skills she learned when she was planning student trips to France, to her own family adventures. She can't wait to take her own children to France one day! Follow the Garrison's family adventures on Instagram: @rva.familyfun
Be sure to subscribe to email updates, follow @rvacheap on Twitter or like RVA (Richmond) on the Cheap on Facebook to stay in the know about the latest freebies & deals.