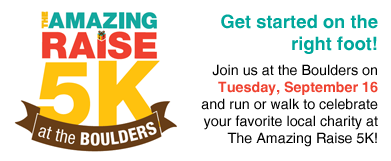 Support your favorite charity during the Amazing Raise in RVA September 17-18, 2014.
The Amazing Raise is our region's 36-hour online giving challenge that inspires and empowers our community to support Central Virginia nonprofit organizations in an amazing way, regardless of where you call home. It gets even better – when you give during The Amazing Raise, you also give your favorite nonprofits the chance to win additional incentive prizes ranging from $500 to $15,000!
More than 500 organizations are taking part in 2014 and they hope to raise $2 million in 2 days! But they can't do it without you.
It all started Wednesday, September 17 at 6am. There are lots of ways to get involved including the Amazing Rase 5k at the Boulders on September 16. Visit the website to learn more and see all of the participating nonprofits. Then help your favorite charity win the Amazing Raise!