Vegan Action and Richmond VegFest have joined forces to bring you 144 hours of Vegan Food at a variety of restaurants and locations from Jan. 26-31, 2021. While V72 will certainly look different this year, it will be just as delicious as years' past. However this year, it will be 6 days instead of 3, organizers are calling it "V72x2." This year V72 will not include an in-person speaker and vegan market portion, so you'll have more time to support our local restaurants and try delicious, unique plant-based dishes in Richmond. More than 25 restaurants have been confirmed throughout the Richmond area.
With vendors like Carytown Burgers and Fries, Hang Space, India K'Raja and WPA Bakery,
the full list of restaurants
spans cuisines and tastes.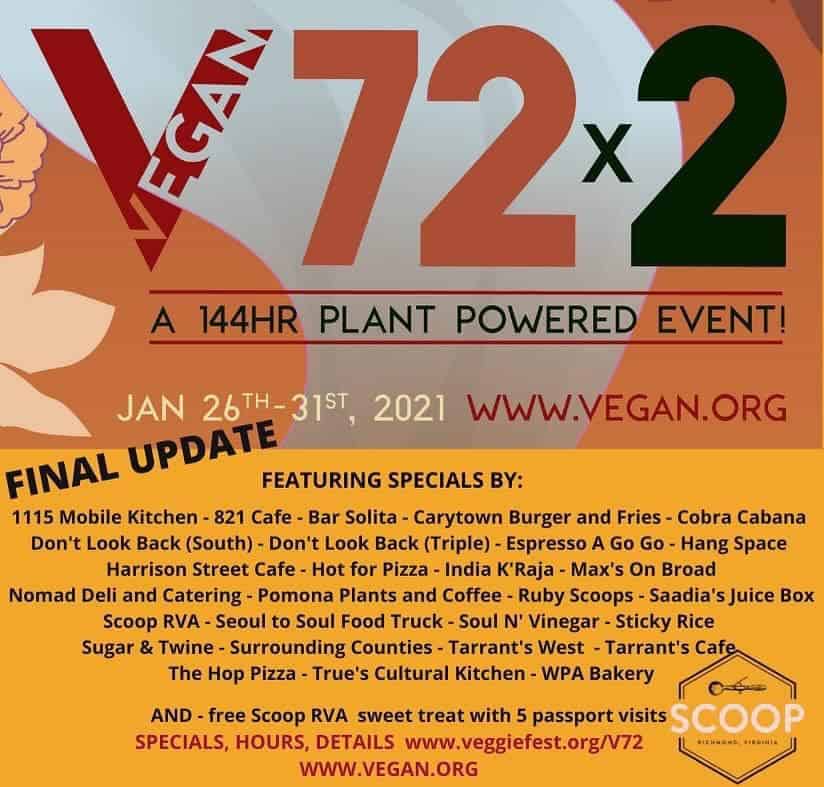 Participating local restaurants are offering unique, newly created vegan items on their menu especially for V72. Show your support for vegan items on the menu and for local restaurants during these tough times generally by getting out and ordering the items while they're available.
PASSPORT and DESSERT REWARD. You can track all of the V72 menu items you've tried on our digital passport. If you get 5 V72 items on your passport, you're entitled to a special treat from the dessert sponsor SCOOP.