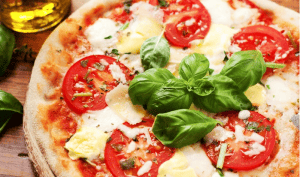 Calling all pizza lovers! The best two days of the year – aka National Cheese Pizza Day (9/5) and National Pepperoni Pizza Day (9/20) – are right around the corner and Marco's Pizza is here to satisfy all your savory cravings and deliver that extra cheesy pep you need with special offers:
Fans can celebrate National Cheese Pizza Day with a XL Big Cheese pizza, starting at $9.99*. Featuring three fresh signature cheeses, plus cheddar and shaved Parmesan, all topped with a Parmesan cheese crust topper.
In honor of National Pepperoni Pizza Day, customers can indulge in a Large Pepperoni Magnifico, featuring classic pepperoni, Old World Pepperoni® plus three fresh signature cheeses sprinkled with romesan seasoning.

Available now for a special price of just $9.99 with the code 'PEPMAG'**

First-time Marco's Pizza app users can receive 25% off their first menu-priced order through the app.
(From our friends at Living on the Cheap.)
Still hungry or want to save even more on good eats? See more Richmond on the Cheap food and drink posts.
Be sure to subscribe to email updates, follow @rvacheap on Twitter or like RVA (Richmond) on the Cheap on Facebook to stay in the know about the latest freebies & deals.
More things to do in and around Richmond: