With berries available for the picking in the summer and apples and pumpkins available in the fall, the Richmond, Virginia area has numerous opportunities to go to farms, patches, and orchards to pick-your-own produce. Whatever the season, there are opportunities to get close to the source of our food and enjoy beautiful vistas while appreciating the work that went into producing the bounty. Happy picking!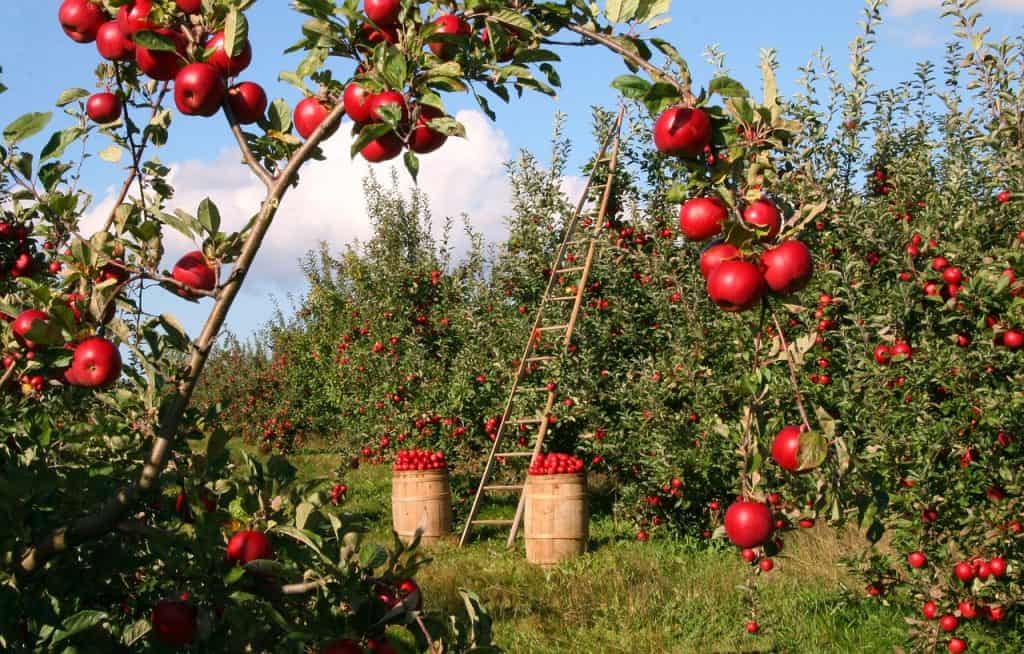 Be sure to subscribe to email updates, follow @rvacheap on Twitter or like RVA (Richmond) on the Cheap on Facebook to stay in the know about the latest freebies & deals.
Related post:Pumpkin patches, corn mazes and fun farms around Richmond
Agriberry. 6289 River Rd, Hanover, VA 23069. The Geyers produce perennial fruits, including raspberries, blackberries, blueberries, cherries, peaches, nectarines, plums and apples on 25 acres of land in Hanover, Virginia, about 30 minutes northeast of Richmond. The Geyers grow strawberries in Mosley, Virginia, which is south of Richmond.
Ashland Berry Farm Inc. Annuals, perennials, hanging baskets, trees, landscaping, pumpkins, haunted house, haunted woods, designers, nursery, bedding plants and more.
Carter Mountain Orchard and Chiles Orchard. Not RVA but almost! Pick your own apples and peaches or buy them them by the bag or basket! Pumpkins, cherries, nectarins, strawberries, and gourds in season. Apple cider donuts, homeade preserves and jams, pickles, wine, fresh cider, local crafts, and so much more!
Chesterfield Berry Farm. 26002 Pear Orchard Road Moseley, VA 23120. Children 2 and under always free! Seasonal events and produce. The Chesterfield Berry Farm offers pick your own strawberries in the Spring. They no longer charge admission fee for pick your own strawberries and pumpkins – there is an acitivits fee for children and adults who participate. Check out the free picnic area and enjoy a hay ride.
Chiles Peach Orchard. 1352 Greenwood Road, Crozet, VA. Yep, almost RVA! From springtime strawberries, summertime peaches, and autumn apples and pumpkins, there's usually something ripe and ready to pick at Chiles Peach Orchard. Visit our fruit availability page for more about our seasonal fruits.
Gallmeyer Farms Berry Patch. 3622 Darbytown Court, Richmond 23231. Free admission and free parking at Gallmeyer Farms! The Berry Patch in Richmond Virginia offers pick your own strawberries with NO COVER CHARGE and free containers!
Be sure to subscribe to email updates, follow @rvacheap on Twitter or like RVA (Richmond) on the Cheap on Facebook to stay in the know about the latest freebies & deals.
Hanover Vegetable Farm. 13580 Ashland Road, Ashland, VA 23005. Come explore The Market, where you'll find delicious produce and seasonal, locally-made products. Outside, you can visit with our goats, Sulley the turtle, chickens, cows and more or have a relaxing picnic in our picturesque fields.
Lloyd Family Farms. 12204 Pinhook Road, Rockville, VA 23246. With over 600 acres, it has always been our dream to share our farming experience and locally grown produce and meats with friends and neighbors. We are finally able to make our dream a reality. We opened Lloyd Family Farms to the public in the Fall of 2013 with our first pumpkin patch quickly followed by a new Christmas farm experience in December, 2013.
Mt. Olympus Berry Farm. 23298 Jefferson Davis Hwy, Ruther Glen, Virginia. Mount Olympus Farm is a family owned farm located between Richmond and Fredericksburg, VA. You can pick-your-own (PYO) strawberries, blueberries and blackberries.
Online store link: https://mt-olympus-berry-farm-inc.square.site/
Swift Creek Berry Farm. 17210 Genito Road, Moseley, VA 23120. As Clyde and Kathryn began their U-pick blueberry farm, their three children joined in the "fun" of planting thousands of blueberry plants by hand, pulling weeds, pruning each blueberry plant, and picking blueberry after blueberry. Somehow or other, each of their grown children have continued to be a part of the family farm. Kimberly helps with maintaining the mailing list. David began working full time in 1999 and helps manage the greenhouses. Jonathan started full time in 2000 and he too helps with the management of the farm.
The Berry Patch. 3622 Darbytown Court, Richmond, VA 23231. We're anticipating a wonderful strawberry season at The Berry Patch as Farmer Steve planted a new crop of seasonal favorites this spring that will be ready for picking in May. In June, The Veggie Stand will be open for business bringing you the best in spring and summer produce including our Gallmeyer Farms FAMOUS Sweet Corn and Gallmeyer Farms Honey.
The Pumpkin Patch. 4506 Millers Lane, Richmond, VA 23231. Take your family on an inexpensive outing this year. As the summer vegetable growing season winds down, our farm gears up for The Pumpkin Patch, where we offer a popular low-key "on the farm" family experience. Our long-standing customers bring the children out to enjoy free activities: hayrides, spooky house tours, the straw bale maze, and the romping pile. And pumpkins! Growing right in the fields are jack-o-lantern pumpkins for your pick-your-own pleasure. Our selected varieties grow from between 1 and 100+ pounds. Other popular fall offerings: pie pumpkins, winter squash, Indian corn, straw bales, corn shocks and gourds of many shapes, sizes and colors.
Be sure to subscribe to email updates, follow @rvacheap on Twitter or like RVA (Richmond) on the Cheap on Facebook to stay in the know about the latest freebies & deals.
More things to do in and around Richmond: