Known as "the birthplace of a nation", Virginia's rich history offers much to learn and see. However, as you trek through the history that built the US, don't miss out on the gorgeous backdrops throughout the state! From gorgeous mountain views to scenic beaches; there is truly something for everyone in "The Old Dominion"!
You needn't limit yourself to a summertime road trip, as Virginia offers appealing activities year round. Water fun at lakes and beaches, hiking through history and hands-on museums are only a few of the options to make memories and have fun. In fact, your biggest problem may be deciding where to go, so I've created a list of my favorite Virginia road trip destinations.
Charlottesville
As home to the University of Virginia, Charlottesville is known for its rich history, wineries, and mountainous hikes. "C-ville" makes for a good road trip any time of year.
Hiking The Blue Ridge Tunnel is an activity that blends recreation and history, as hikers (or cyclists!) traipse through a railroad tunnel created in the 1800s! The tunnel is dark, so flashlights and/or headlamps are required, making this an exciting experience for children.
A popular attraction is Monticello, home of Thomas Jefferson. Walking through the grounds and touring the home allows visitors to learn about the third President of the U.S. The tour includes information about the enslaved individuals who lived at Monticello, as well.
Eastwood Farm & Winery is a casual winery located along the Monticello Trail. As the winner of several Gold Medals in the 2022 Virginia Governor's Cup, the wine flights come highly recommended! Seating options include: The Tent & Terrace Bar, fully equipped with picnic tables and adirondack chairs, The Barn & Veranda, just outside the tasting room with both indoor and patio seating, and The Mountaintop, accessible via hiking trails.
Fairfax
My family fell in love with this charming city in Northern Virginia, as we were on our way to Washington D.C. and needed some activities to break up the trip and get us out of the car. Fairfax has restaurants, a walkable downtown area, museums and much more!
Smithsonian's National Air and Space Museum Steven F. Udvar-Hazy Center is filled with history and teaches so much about the evolution of aircraft. The museum is so large it could be a daytrip all its own! My family's favorite part is watching planes take off from the Donald D. Engen Observation Tower!
Frying Pan Park isn't just a fun spot for kids! With farm animals, hands-on programs, and trails this park is a hit for all ages. Did I mention the carousel and wagon rides?!?! Frying Pan Park is only about 10 minutes from The Udvar-Hazy Center making it a great spot for a picnic after the museum.
A trip to Northern Virginia wouldn't be complete without a visit to George Washington's Mount Vernon. Guided tours of the First President's Estate are held daily. For families, be sure to check out the grounds, including the farm animals!
Lexington
Both a college town and an official "Main Street" Town, Lexington boasts a plethora of activities. For both nature and history lovers, Natural Bridge State Park provides a look at one of the seven natural wonders of the modern world! Entirely kid-friendly, Natural Bridge State Park's hike is entirely paved with an outdoor classroom along the way. My kids loved exploring and creating in this nature playscape.
Another must-do is The Virginia Safari Park, where patrons can interact and feed animals from their vehicles. Tickets include the Village Walk-Thru, as well, where you can feed giraffes, birds and more!
Lastly, be sure to stroll through downtown Lexington. From quirky shops, like Just Games to delicious eateries like Sweet Things Ice Cream Shoppe and The Palms, the streets are simply lined with things to see and do!
Richmond
Dubbed "The River City", Virginia's capital is filled with a multitude of things to do! From history museums to hiking along the James River, RVA is an excellent place to enjoy your next road trip.
Belle Isle is a popular destination for outdoor enthusiasts of all ages. This 1.8 mile loop traverses a swinging pedestrian bridge and follows the James River nearly the entire route. If you're adventurous, pack water shoes and swim gear to take a dip in the James River.
Voted America's #4 public garden by USA Today, Lewis Ginter Botanical Garden is an attraction that appeals to everyone. There are a dozen themed gardens, Conservatory, library and Children's Garden complete with splash pad. Be sure to check out the Tree Trail, featuring fairy castles made from materials found in nature!
The Virginia Museum of Fine Arts has a gorgeous sculpture garden; a perfect spot for a picnic. The interior of the museum is just as beautiful, with everything from Impressionism to African Art. If traveling with children, don't miss the interactive children's area!
Staunton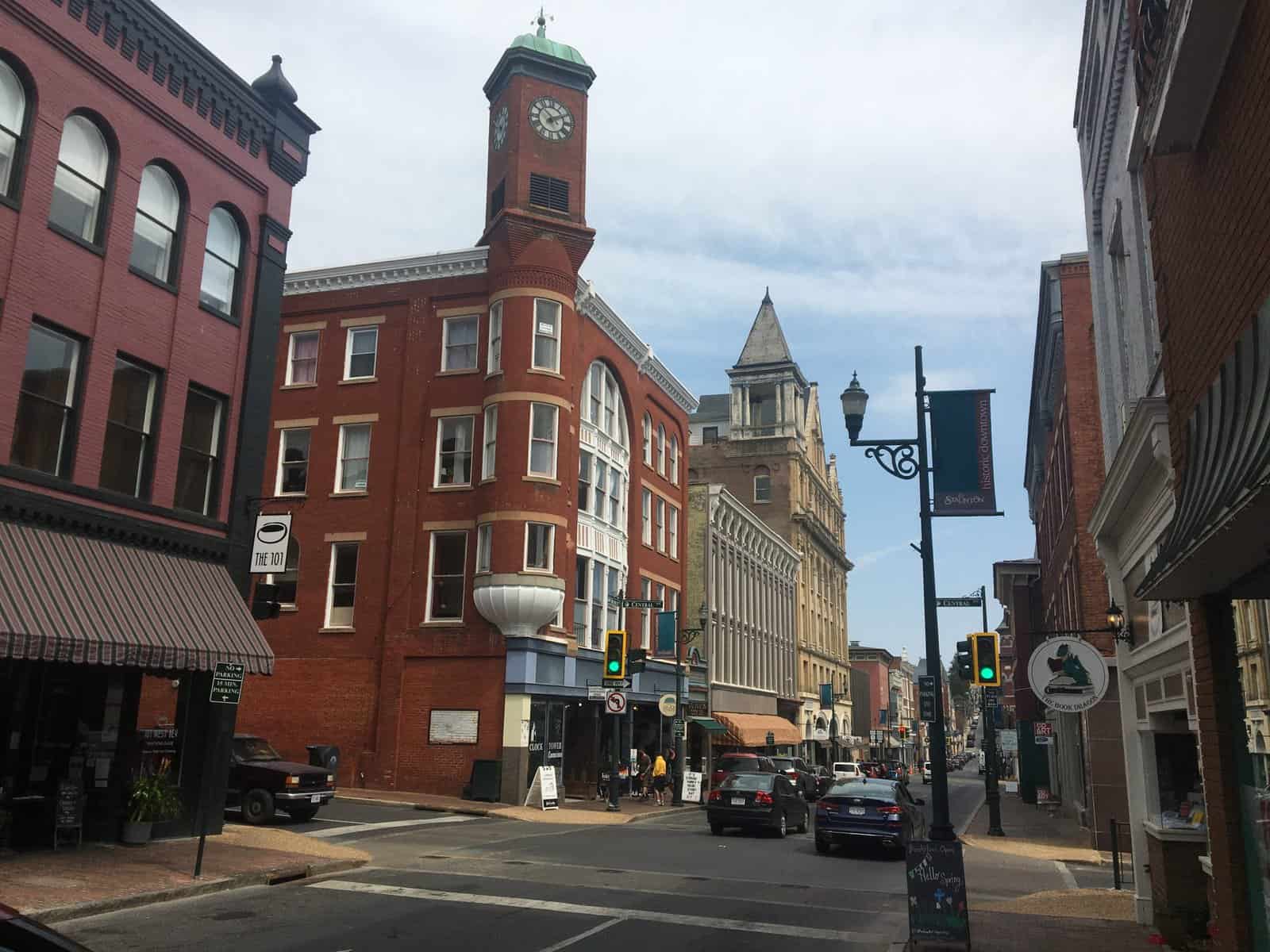 Staunton is a quaint town in the midst of the Shenandoah Valley. Not only is it known as the birthplace of the 28th President, Woodrow Wilson, it is also home to a celebrated music scene. While our family took this trip with young children, I would suggest Staunton as a road trip destination for anyone – from history buffs to outdoor enthusiasts!
The Woodrow Wilson Presidential Library & Museum does an impeccable job of relating Woodrow Wilson's successes but also shortcomings as president. Perhaps one of the most moving museum experiences is the World War I trench exhibit. This simulation allows patrons to experience what life was like for soldiers during battle. If traveling with little ones, take advantage of the garden to get the wiggles out, and then venture to Gypsy Hill Park, a large, picturesque park with a lake, two separate playgrounds and even a train ride!
Staunton's downtown area is filled with eclectic shops, like Pufferbellies Toys, as well as restaurants like The Depot Grille, a former train station turned eatery. Don't miss the many antique shops, and stop for a yummy treat at The Split Banana, a locally-owned gelato shop!
Another popular attraction in Staunton is the Frontier Culture Museum, a living history museum with 10 permanent exhibits, including a 1700s West African Farm, and an 1820s American Farm. The grounds are expansive; be sure to visit the farm animals and pack a picnic to enjoy along the way!
Virginia Beach
With such a beautiful beach and accompanying boardwalk, some may be surprised at the many other activities in Virginia Beach!
For those who love aviation and/or history, check out The Military Aviation Museum, which tells the aviation history of World War I and World War II. If you're up for it, consider taking an aircraft ride! The museum offers flights regularly.
Mount Trashmore Park boasts 165 acres, two lakes, a skate park, and two playgrounds. One of the playgrounds, Kid's Cove is an inclusive playground, with accessible swings and ramps for wheelchairs. Tip: If you hope to walk around the lake, park in the lot by the first playground, because if your kiddos see Kid's Cove, there's no getting them to walk around the lake! They'll love that playground!
The Virginia Aquarium & Marine Science Center is home to fish, turtles, sharks, reptiles, and even birds! My favorite exhibit, The Chesapeake Bay Aquarium, transports patrons straight to the Bay! You will feel just like you're actually walking along with fish all around you! My children love the adjacent Chesapeake Bay Touch Pool, where they touched the spines and shells of various animals!
Finally, you must visit the actual beach! There are many options of where to visit: Sandbridge is most popular with families, while Chick's is a spot known to many locals. Further, Oceanfront is our family's favorite, especially during the off-season. Alternatively, consider First Landing State Park where you can access the Chesapeake Bay. With small waves and smaller crowds, this is a great option if traveling with little ones.
Williamsburg
The World's Largest Living History Museum, Colonial Williamsburg, is a field trip everyone can appreciate. While you can purchase tickets for access to various museums and programs, you can enjoy Colonial Williamsburg for free. Walking on Duke of Gloucester Street allows you to feel like you're truly a part of history! The reenactors, carriages, and architecture create a picturesque and educational experience.
Two unique playgrounds in Williamsburg: Kidsburg and Kiwanis Park are only 10 minutes apart. We actually visited both on the same day! Kidsburg is massive, with a 17th century replica ship, where children can play! Both Kidsburg and Kiwanis Park have ziplines!
If you have a music fan with you, the Virginia Musical Museum is a must. This museum has a trove of instruments, a gallery of famous Virginia musicians, and offers field trips for students and scouts!
Lastly, York River State Park is another place we love in Williamsburg. Boasting two playgrounds, a Nature Center, trails and Fossil Beach, this is a perfect place to recreate in Williamsburg! Pack shovels and sifters to help find those fossils!
–By Lindsay Garrison
Richmond on the Cheap publisher Lindsay Garrison is a Richmond, Virginia based mom to two young children. A graduate from Chesterfield Schools and Randolph-Macon College, Lindsay is proud to call Richmond home. In the years prior to planning activities and outings with her own children, she was a French teacher. During her tenure she earned accolades for her creative teaching style and ability to connect with her students. Lindsay now applies the skills she learned when she was planning student trips to France, to her own family adventures. She can't wait to take her own children to France one day! Follow the Garrison's family adventures on Instagram: @rva.familyfun