Modern Tabletop Gaming
Modern Tabletop Gaming is a hub for trading card game fans. For many board game stores,
trading card games are their financial lifeblood. Modern Tabletop Gaming has daily events for Magic the
Gathering, the most popular trading card game, as well as events for the Digimon and Pokémon Trading
Card game. If roleplaying games are more your speed, they also host D&D nights every weekday.
The large storefront is most dedicated to table for people to freely play their favorite games.
When I went, there were over ten people playing trading card games, even though it was a weekday,
right after work. They have a large stock of trading card game products and role playing game products
for sale, though admittedly their traditional board game selection is a little smaller than average. If
you're more interested in traditional board games, the tables are still open, as long as they're not
running an event.
Unplugged Games Café
Unplugged is the odd one out here, since it's not a board game store, it's a board game café.
Instead of purchasing a board game to play at home, instead you pay a flat fee to access their massive
library of board games for an afternoon. There's food, coffee, and alcoholic beverages that you can
order as you play, café style. Board games can be expensive. While a copy of a mass-produced game like
Monopoly is only $30 at most, more niche games can be much more. It can also feel particularly bad to
buy an expensive board game and then not enjoy it or never play it (which I have done several times). By
contrast, a board game café like Unplugged offers a way to try new games and enjoy an afternoon
without committing to a big board game purchase. If you go (and you should), I recommend either the
Dune board game or "Clank!".
Waterloo Games
When I walked into Waterloo Games, the first thing I noticed was no Magic the Gathering.
Waterloo is mostly dedicated to wargames, like Warhammer 40K. Personally, I don't know these games
as I do others, but they have an undeniable charm. I have spent enough time in hobbies adjacent to
these games to have picked up some of the details by osmosis. These tabletop games tend to be
expensive. Some of them require you to buy expensive miniatures and paint. However, they tend to
much deeper and more engaging than standard board games, rewarding the time and money you spend
to put in. The staff at Waterloo are very friendly. I spoke to one at length about his favorite tabletop
games and what games are good for new players to start with. While these games are admittedly niche,
it's incredible that they can have a dedicated space right here in Richmond. Plus, I bought a magazine
there about a war game based on the Napoleonic Wars, where else can you do that?
One Eyed Jacques
One Eyed Jacques might be Richmond's most iconic local game store. After all, it's right on Cary
Street, which is probably the trendiest street in Richmond. It's smaller than you might think. The way the
shelves are set up makes the store feels like one long hallway, and the way the games are pristinely
displayed makes it feel like a museum. They have a wide stock of traditional board games, as well as products for trading card games and role playing games. There's not much for tabletop games, but to be
honest, the store probably doesn't have enough space for them anyways. The store is large enough
though to have a few tables in the back where people are usually either playing Dungeons & Dragons or
Magic the Gathering. When you find yourself in Carytown (and we all find ourselves in Carytown sooner
or later), give them a visit!
Battlegrounds
Battlegrounds is the largest local game store I could find in the area. It has just about everything.
Trading card games, role playing games, traditional board games. It even has some of the most popular
tabletop games, though you'd have to go to Waterloo for the really niche ones. The store has lots of
space, the entire left side is dedicated for people to play trading card games, there's arenas in the back
for war games, and you can usually find a group of role playing game players on the right side tables.
There are even concessions there, so you can grab a snack if you feel peckish mid-session. On Friday
nights, their Magic the Gathering player base is absolutely massive, which is either a massive pro or con
depending on how interested you are in the game.
Related Content:
By: Arkaj Chavan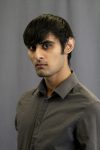 Arkaj Chavan is a writer and musician from Richmond, Virginia. He graduated from James Madison University with a degree in technical writing before moving back to his hometown. He's a huge fan of Donna Tartt, and wants to emulate her one day by becoming an enigmatic figure who only publishes a book every ten years.