BEFORE YOU GO
You must make a timed reservation on
Wildrock's website
. Reservations are for a "carload' or up to 6 people and cost $20. Each reservation is for 2.5 hours. If the cost is prohibitive, there's a code on the website for you to put in at check out. You don't have to "prove" the cost is too much for your family, you just put in the code – no questions asked.
Be aware that Wildrock is way out in Crozet, and the drive to get there is beautiful, BUT it is SO windy. If you have anyone in your crew who gets carsick, you will need to pack sea-bands, mints, and be prepared to pull over.
There is no internet access out here, so screenshot the directions from the website in case your Maps App won't work. (Ours did not work on the way back for the first ~15 minutes.)
You will need: snacks, water bottles, hand sanitizer, wipes, change of clothes.
DURING YOUR VISIT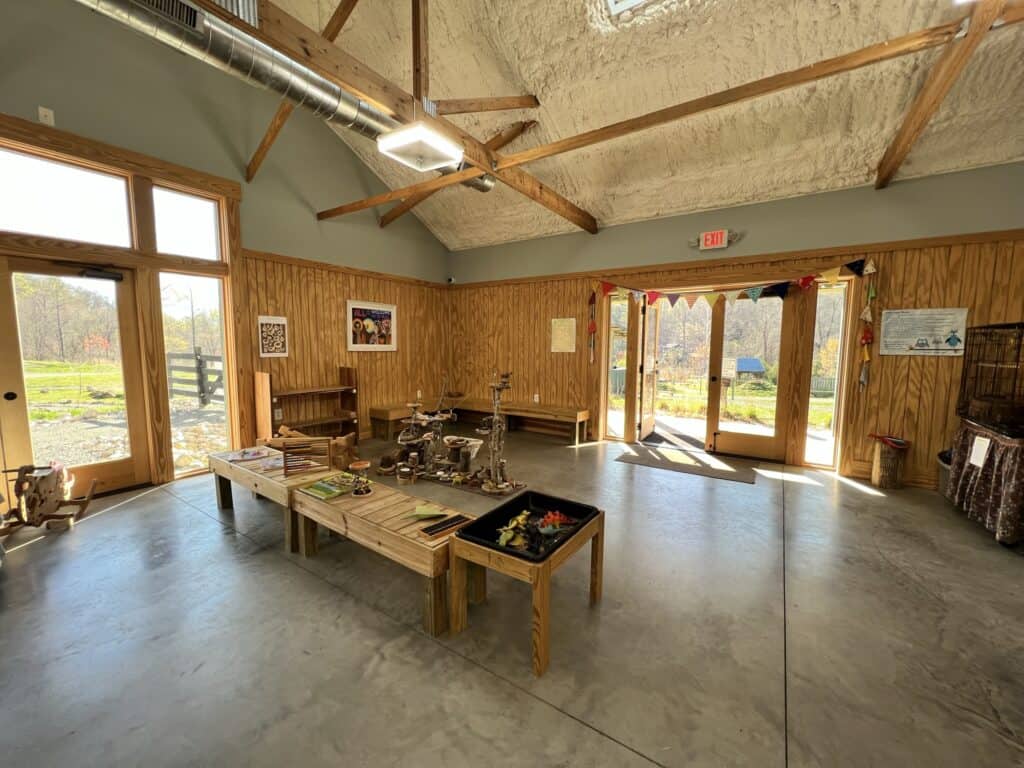 The Barn
The indoor area, located in the barn, is basically a nature-based children's museum. There are animals – turtle, rabbit, snake, various sensory bins/activities, campfire setup with tent + books, doll houses, train table, kitchen, blocks and much more.
You can actually borrow rain boots, a net, and a Nature Nook Adventure Bag (filled with binoculars, journal, scavenger hunt + more) here, before your outdoor adventure begins. (How thorough is this!!!)
Eating is permitted at the picnic tables just outside the barn.
Discovery Loop Trail
This hike is about 3/4 miles and absolutely beautiful. Starting at the barn, my kids loved the labyrinth, playing in the stream along Heart Rock Grove, and climbing the rocks around Wishing Willow.
There is a picnic pavilion along the way, as well as hammocks. Since there are so many fun stops – it feels like a very short stroll to make it to THE WILDROCK.
PLAYSCAPE
Save this for last, because once your kids get here they will not want to leave. There are about 15 different stations for kids to play, create, imagine and explore. My children loved weaving in the Art House, dancing on the Creation Stage, and the Log Obstacle Course.
But, their favorite was the Mud Kitchen and Discovery Stream. With little recipes printed, they made "Luck Potion," "Fire Breathing Potion." They loved being able to walk back and forth from the stream to scoop more water, and play between making their mud masterpieces.
At the end of the 2.5 hour session, a bell rings for everyone to come in.
This is a place for kids AND caregivers. So many learning opportunities woven throughout this experience – fine/gross motor skills, cooperation, patience and many more.
I love the sense of community here. My little boy busted his lip and everyone was so sweet to him, and the way the kids shared and supported each other at the mud kitchen was really so uplifting.
I recommend this for 18 months – 12 years old. My kids (5 & 9) were in that sweet spot, where they could do pretty much everything without an adult but were still challenged in different ways.
If making this a daytrip, head into Charlottesville after this and enjoy walking the Downtown Mall, or around UVA's campus.
–By Lindsay Garrison