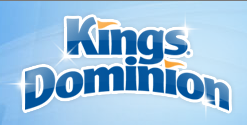 Planning to play at Kings Dominion this season? You've got a few options for discount tickets, most with no coupon code required:
For a limited time, everyone pays kid's price for tickets to Kings Dominion, dropping the price to $41/ticket.
2014′s Military Days will take place on May 24-26 & July 4-5. Any active, inactive or retired United States Service men and women with a valid military I.D. will get free admission to Kings Dominion.
And season passholders can get friends in on the cheap on Bring-A-Friend Days. Most days, the Bring-A-Friend deal lets you save $25 on a one-day admission ticket for a friend (limit six per passholder). Admission for one friend drops to $24.99 on May 27, July 3-5, August 30-September 2, and September 14-15 & 22, 2014. And on Mother's Day (May 12) & Father's Day (June 16), the Bring-A-Friend ticket price drops to $15.99 each. Plus Gold & Platinum season passes include parking as well as admission to Halloween Haunt & Dinosaurs Alive!, saving you even more.
–Jennifer Maciejewski