It's strawberry season! In Richmond, we are lucky to have several farms from which to choose for berry picking fun! Whether you decide to stay close to RVA or drive an hour or two, there is much fun to be had on these farms.
There's nothing quite like picking your own fruit off the vine. Being able to choose it, see where it's grown and choose your own is a novel experience that all ages enjoy. There are several berry picking options to check out this spring; several around Richmond and others a bit farther down the road.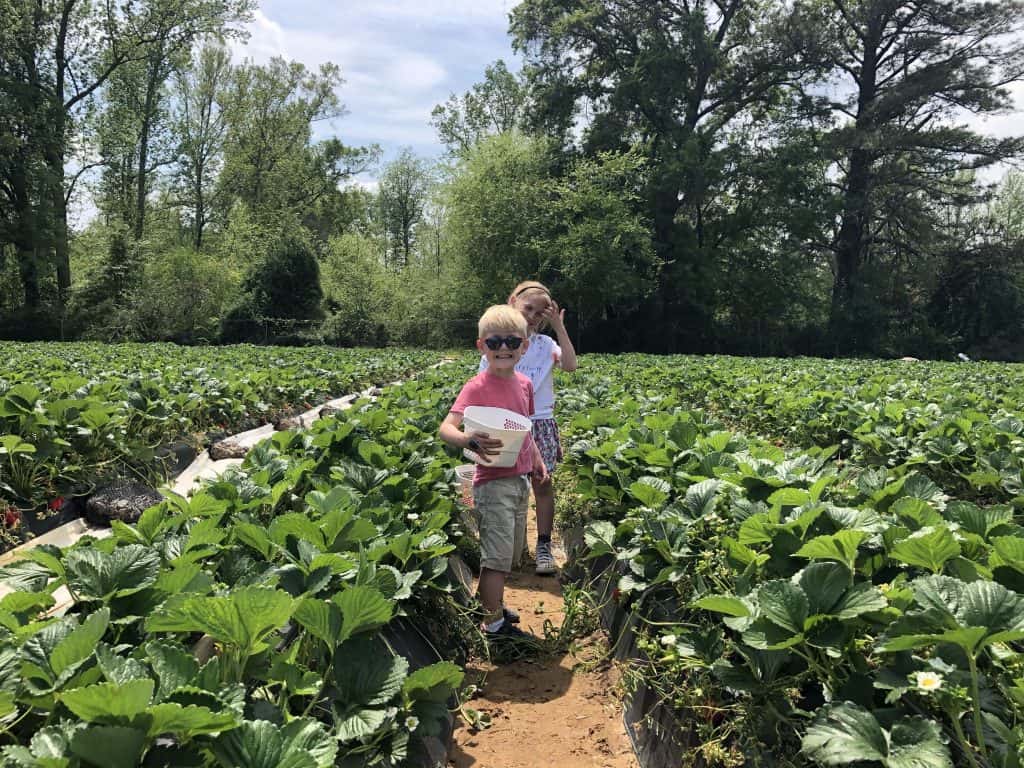 Gus and Eloise Garrison pluck strawberries in the fields at Skinquarter Farm Market: (20800 Hull Street Rd. Moseley, VA, 23120). Photo credit: Lindsay Garrison
See the big picture:Pick-Your-Own Orchards and Farms in the Richmond area
Berry Picking Options in RVA and Beyond
⭐️=open
⭐️ 1. Blue Eden Farm (2172 Piping Tree Ferry Rd., Mechanicsville, VA, 23111) is known for its plentiful blueberry farm; however, in 2021, the farm had strawberries for $4.00/pound. Blueberry season has not yet been announced;. Should you choose to make a day of it, ice cream and light food will most probably available for purchase at the farm as well. Field report: Open Saturday & Sunday this weekend for strawberry picking. 9am-3pm. Berries are $5.00 a pound.
⭐️ 2. Braehead Farm: (1130 Tyler St., Fredericksburg, VA, 22401) is a popular farm for picking berries and vegetables of all kinds. In addition to berry picking, there is a play area including a sand pit, play tractors and farm animals. In 2021 admission was $5.00 for the play area; ages 2 and under are free. Aside from playing and berry picking, the farm also offers a market and the Braehead Farm Lunch Kitchen so you can grab lunch at the farm. Price of pick your own produce varies; check the website for details. STRAWBERRIES available for picking. Purchase Pre-picked berries in the Market for $4.99 a pound. OR You can pick-your own -$3.99 a pound, the aerated picking "buskets" are $1.00, and we take the weight of the busket off at checkout. Take your berries home and put them in the fridge in the busket. Bring back your busket for Strawberries through May, and then blackberries, raspberries and blueberries in June through summer. Stay for lunch and ice cream. Shop in the market. Kids can play in the Family Playgrounds-this area has an admission of $5.00 per person age 2 and under free. Hours are: Daily: 9:00 AM – 6:00 PM
Field report: Open daily 9am-6pm including Memorial Day. Strawberry update: The strawberries have hit peak and are now starting on the decline over the next few weeks. Asparagus is done for the season. Produce available: arugula, kale, collards, mustard greens, lettuces, broccoli, cauliflower. Stop in for strawberry picking, shopping, lunch and dairy fresh ice cream. Stay and Play in the Family Playgrounds! Visit the farm animals! This area has a fee of $5.00 per person age 2 and under free.
⭐️ 3. Chesterfield Berry Farm: (26002 Pear Orchard Rd., Moseley, VA, 23120). Field report: Open Saturday May 28th 9am-4pm & Monday May 30th 9am-4pm. Might open Sunday. The farm will post Saturday evening if they decide to open Sunday. There are tons of strawberries in the field ready to be picked! This is the most strawberries we've had in the field all season! They are super big & sweet.
PYO Strawberries
$5.95 per LB.
Pre-picked Strawberries
$6 per quart $48 per flat (8 quarts)
⭐️ 4. Critzer Family Farm: (9388 Critzer Shop Rd., Afton, VA, 22920) has a variety of berries and cherries for picking. A highlight of this family farm is the home-churned ice cream made with farm grown fruit! Make it a fun road trip by stopping at Blue Mountain Brewery just across the street from the farm. (Monday – Saturday 8:00 AM – 7:00 PM, Sunday: 12:00 PM – 6:00 PM) Field report: Open Sat. 8am-7pm, Sunday 12p-6p, Mon. 8am-7pm. Strawberry ice cream too.
⭐️ 5. Skinquarter Farm Market: (20800 Hull Street Rd. Moseley, VA, 23120) During the season expect be sure to check out the local produce in the market and Jimer's Frozen Custard on the way out. There are also picnic tables and a sand pit for kids to enjoy. Hours vary, check Facebook for updates. Field report: Sunday 5/22, Times: 10am-2pm or sold out, Price:$4.89lb
⭐️ 6. The Strawberry Patch at Quail Hill Orchard (10543 Gould Hill Rd Hanover, VA 23069) Field report: Saturday the 28th & Sunday the 29th we will be open for pick your own 10am-2pm. MEMORIAL DAY SALE All Plants 40% OFF this weekend
⭐️ 7. The Berry Patch at 3622 Darbytown Court Richmond VA 23231 Field report: The Berry Patch is open Sat. 10am until 2pm.
Soon, it will be blueberry, raspberry and black raspberry season. So keep checking back for updates on where to get fresh from the farm berries around Richmond. Before setting out, check these farms' social media for weather updates.
— By Lindsay Garrison
Richmond on the Cheap contributor Lindsay Garrison is a Richmond, Virginia based mom to two young children. A graduate from Chesterfield Schools and Randolph-Macon College, Lindsay is proud to call Richmond home. In the years prior to planning activities and outings with her own children, she was a French teacher. During her tenure she earned accolades for her creative teaching style and ability to connect with her students. Lindsay now applies the skills she learned when she was planning student trips to France, to her own family adventures. She can't wait to take her own children to France one day! Follow the Garrison's family adventures on Instagram: @thegarrisonsrva
Be sure to subscribe to email updates, follow @rvacheap on Twitter or like RVA (Richmond) on the Cheap on Facebook to stay in the know about the latest freebies & deals.