It's almost strawberry season! In Richmond, we are lucky to have several farms from which to choose for berry picking fun! Whether you decide to stay close to RVA or drive an hour or two, there is much fun to be had on these farms.
There's nothing quite like picking your own fruit off the vine.
Being able to choose it, see where it's grown and choose your own is a novel experience that all ages enjoy. There are several berry picking options to check out this spring; several around Richmond and others a bit farther down the road.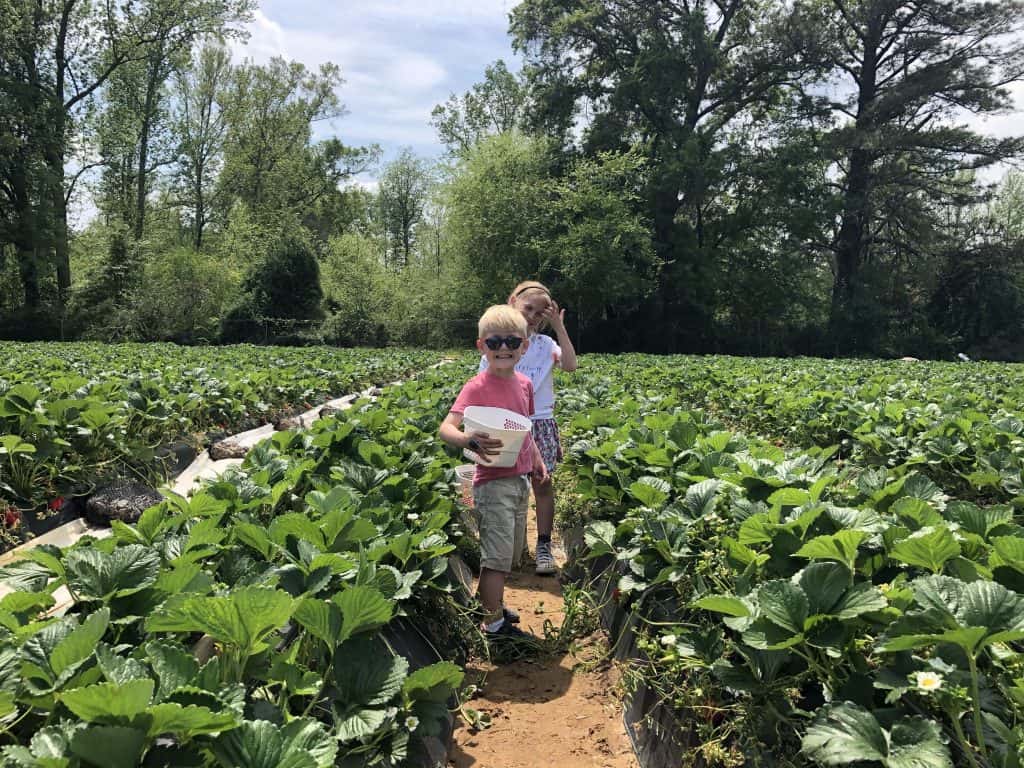 Nothing better than to pluck strawberries in the fields at Skinquarter Farm Market: (20800 Hull Street Rd. Moseley, VA, 23120). Photo credit: Lindsay Garrison
See the big picture:Pick-Your-Own Orchards and Farms in the Richmond area
Berry Picking Options in RVA and Beyond
(1130 Tyler St., Fredericksburg, VA, 22401) is a popular farm for picking berries and vegetables of all kinds. In addition to berry picking, there is a play area including a sand pit, play tractors and farm animals. In 2021 admission was $5.00 for the play area; ages 2 and under are free.
Aside from playing and berry picking, the farm also offers a market and the Braehead Farm Lunch Kitchen so you can grab lunch at the farm. Price of pick your own produce varies; check the website for details.
(26002 Pear Orchard Rd., Moseley, VA, 23120).
(9388 Critzer Shop Rd., Afton, VA, 22920) has a variety of berries and cherries for picking. A highlight of this family farm is the home-churned ice cream made with farm grown fruit! Make it a fun road trip by stopping at Blue Mountain Brewery just across the street from the farm.
(20800 Hull Street Rd. Moseley, VA, 23120) During the season expect be sure to check out the local produce in the market and Jimer's Frozen Custard on the way out. There are also picnic tables and a sand pit for kids to enjoy. Hours vary, check Facebook for updates.
Keep checking back as we add to this list!
Soon, it will be blueberry, raspberry and black raspberry season. So keep checking back for updates on where to get fresh from the farm berries around Richmond. Before setting out, check these farms' social media for weather updates.
Be sure to subscribe to email updates, follow @rvacheap on Twitter or like RVA (Richmond) on the Cheap on Facebook to stay in the know about the latest freebies & deals.