Father's Day takes place the third Sunday in June. This year it falls on Sunday, June 19, 2022. Many will give dad a gift, buy him a hometown t-shirt, or give him a homemade card with a photo, a message, a doodle and your name. The most important thing is to show dad you care. It's traditional to spend the day to honor dad with a cook out, a ball game, songs, and special thoughts.
Keep checking this growing list of events around Richmond: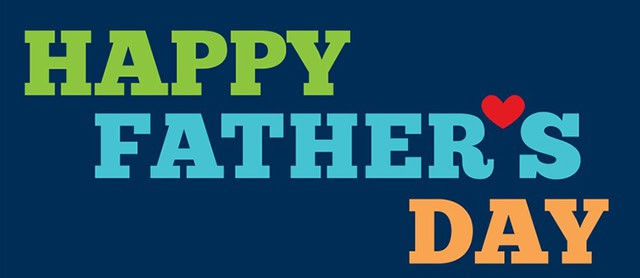 ⭐️Sat. June 18 & Sun. June 19 at 11am Father's Day Brunch at Midlothian Chef's Kitchen Special Menu, and $10 Bourbon Cocktails for the Dads
⭐️Sun., June 19 at 11 am – Father's Day at Brambly Park, 1708 Belleville St, Richmond, VA 23230 Choose from brunch at Bari hang with us outside in the park and listen to music, play yard games and order up some food and drinks brought straight to your park picnic table.
⭐️Sun., June 19 at 1:30 PM – 3 PM Father's Day Tour and Tasting at Virago Spirits, 1727 Rhoadmiller Rd., Richmond
⭐️Sun., June 19 at 1 – 6 PM – Father's Day Special at All Fired Up Come in and paint something special with Dad on Sunday, June 19th! Dad will enjoy 20% off
Give dad some traditional and off beat gifts:
if your dad's birthday is close to father's day, gift a dual purpose gift, like a pair of sox and a pair of gloves, one item for each special day.
a pair of sox, a pair of cozy slippers
a t-shirt from his favorite ball team
Recruit the family to that show you care:
Make him a special pancake brunch with all the fixing including a "Dad' mug, with a gift of coffee beans, and his own coffee mill
Play touch football or frisbee in the back yard.
For food, organize a cook out, classic hot dogs, in a bun with relish, and mustard on his own gift wrapped grill -be sure to include the utensils, a spatula, a fork and prongs
Call your grandfather-be sure to make that home make card with photographs, a doodle and a message from all the kids arrived.
Send cards to all your uncles.
Start and help with the garden, a gift certificate to the neighborhood garden shop, include a •Tune up for the lawn mower, tomato flats and tomato cages,
Do a few tasks and chores (or hire someone to do those challenging items on the list) plant and water the garden, rake, mow the lawn, put out the trash without being asked, hire the plumber, •Call and make appointments with the electrician, the carpenter for the tasks on the "honey do" list.
Arrange a surprise party-or a zoom call for his birthday with his old high school buddies.
Re-purpose that Easter basket to a "dads basket" include a copy of GQ, a MAD magazine, a photo album, a new winter scarf (think a season ahead), an ice scraper for the car,
Or make an original statement and make a homemade banner with dad's nickname and favorite expressions.
GIFT IDEAS FOR DAD:
a photo album from dad's boyhood
a formal photograph for the office, den, or desk
a funky gift of matching t-shirts and baseball for the whole family and photos all around.
a fishing rod and gift certificate to a fishing tackle shop with a family fishing outing included, as well as a fishing license.
gift certificates to his favorite store, activities, or events.
a coupon book of gifts as a family bike ride, a family hike, a day of fishing, a sleep late day.
No matter what you decide to do today, be sure to wish Dad a "Happy Father's Day" from Richmond on the Cheap!
Sunday, June 19, 2022
Be sure to subscribe to email updates, follow @rvacheap on Twitter or like RVA (Richmond) on the Cheap on Facebook to stay in the know about the latest freebies & deals.