It is time to begin your spring gardening and home projects. As you design your spaces, consider adding a composting site. Composting is an easy way to recycle nutrients back into your soil and to reduce the amount of waste your home produces. It offers an inexpensive option to improve the health of the plants you choose to grow.
Successful composting requires a mix of brown materials (dead leaves, newspaper) as a carbon source, green materials (fruit and vegetable scraps, coffee grounds, grass clippings) as a nitrogen source, and moisture. Can I Compost This? gives a breakdown of items that can and cannot be composted.
Composting can be done in very small spaces with varied levels of effort and costs required.
There are several options of this waste reduction method, to fit every lifestyle, from apartment living to acreage.
Bokashi
What it is: Bokashi is a unique composting method that uses microorganisms to ferment kitchen scraps (including animal products). Fill the container, mix in the inoculated bran, and let the organisms go to work.
What lifestyle is Bokashi suited for: indoor spaces, looser budget
Vermicomposting
What it is: The vermicomposting method enlists the help of worms to breakdown materials. Commercial kits are available or you can make a budget friendly one using a plastic storage bin (instructions here or here). The worm castings will provide additional benefits to your garden.
What lifestyle it's suited for: indoor spaces, on a budget
Container Composting
What it is: Compost materials are added to a container that is then rolled or rotated to mix materials and encourage breakdown. Containers can be purchased or made from barrels or trash cans.
What lifestyle it's suited for: small outdoor spaces, on a budget, minimal physical labor
Three Bin Method
What it is: Three stationary bins are used to separate materials during different stages of breakdown, enabling a usable product to be available quicker than composting in a single pile. Materials are added to the first bin, where they remain until they begin to decompose. The compost is then moved to the second bin where it finishes the process. The finished compost is moved to the third bin for easy access when it is needed. Kits are available, or a budget version can be made from scrap materials like pallets. The Children's Garden at Lewis Ginter Botanical Garden has a three bin system on display.
What lifestyle it's suited for: outdoor spaces, on a budget, physical labor required
Compost Piles
What it is: This is the simplest method, requiring only a dedicated space for piling materials and an occasional turn to aerate it.
What lifestyle it's suited for: larger outdoor spaces, on a budget, physical labor required
Compost Pail
What it is: Compost pails are an accompaniment to the above composting methods. They are simply a small container, usually metal, placed on a countertop or under the sink, to collect materials to be composted. Once full, the pail is emptied into a larger vessel or location where the waste can break down.
Whatever method you choose to best fit your needs, composting is an environmentally friendly way enhance your garden.
⭐️ More resources: Backyard Composting PDF from Virginia Cooperative Extension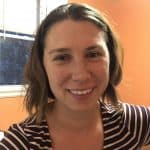 Richmond on the Cheap contributor Denise Levitskiy is a Richmond, Virginia based thrifty mama and gardening enthusiast. She is a Virginia Commonwealth University graduate, had a writing stint as a Marine Corps civilian, and then switched professions to attend Bon Secours Memorial College of Nursing. She recently paused her nursing career to be home with her boys and focus on her family's homesteading dreams. You can follow her gardening and home improvement adventures on her Instagram account: @thisoldhouseishome.
Want to get out more and enjoy the fresh air in natural places around Richmond? Check out other posts about ways to explore the outdoors.
Be sure to subscribe to email updates, follow @rvacheap on Twitter or like RVA (Richmond) on the Cheap on Facebook to stay in the know about the latest freebies & deals.
More things to do in and around Richmond: