The Childrens' Museum of Richmond has always encouraged learning through play. The interactive and engaging exhibits allow children to do just that; and, with the new harvest exhibit at the Chesterfield location, CMoR's young patrons are learning about farm life without actually setting foot on farmland.
Located in the large space at the rear of the museum, the harvest exhibit immediately attracted my 3 year old as he made a beeline straight for it. Organized, clean and bright, the exhibit appeals to both parents and children alike.
As we have come to expect from CMoR, the newest exhibit is hands-on, immersive and, thanks to the variety, spans a wide range of ages. Because my son loves anything with wheels, he was immediately drawn to the red tractor that he "drove" straight to gather red balls…err, I mean vegetables. The Children's Museum has an incredible way of stimulating kids' imaginations!
Upon sorting his "vegetables", he headed straight to load them up, using a wheel where he cranked them all the way up through a tube and watched them go down again. While Gus thought he was just playing, I was delighted that he was utilizing gross motor skills, imagination and making predictions and observations all at once!
A large cow (for looking only) by the tractor led to a discussion about other farm animals and why the roles different animals play in helping people live healthy lives.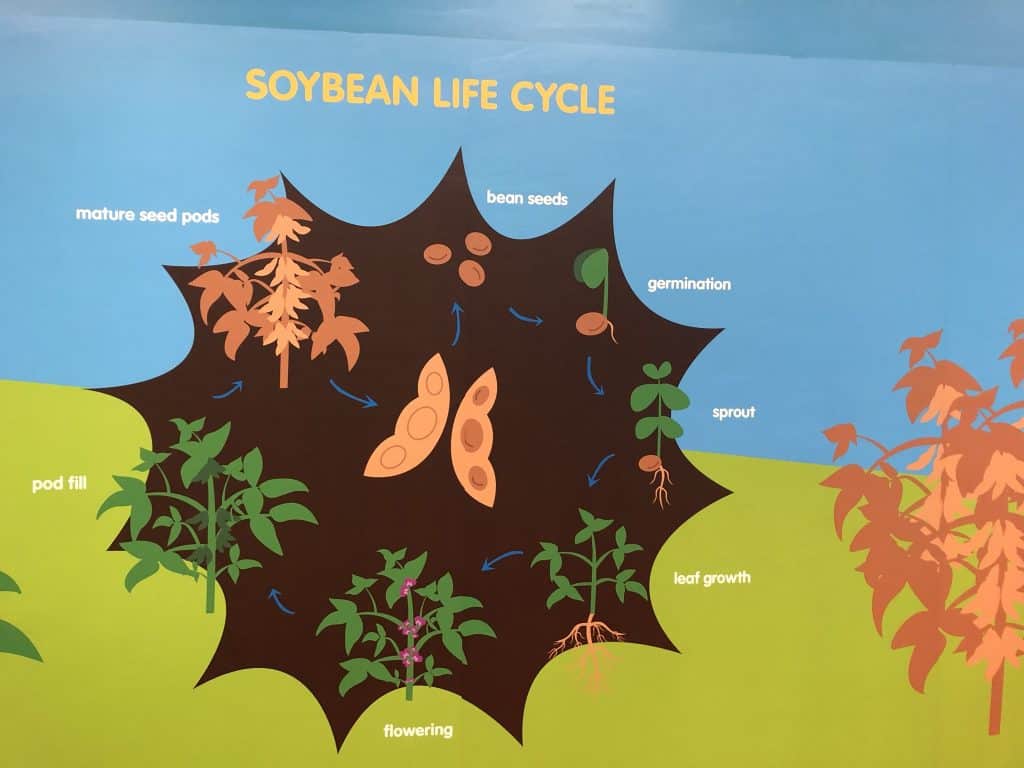 The vibrant paintings on the wall allowed for productive conversation starters: Why do you think that sunflower grew so tall? What does a plant need to grow? Let's check out the soy bean life cycle; do you know about any other plant or animal life cycles? All these chats are deepening Gus's scientific knowledge and understanding; keeping in mind life cycles are a Kindergarten Standard of Learning, I am so thankful fo the opportunity to expose him to it now!
Although only a piece of the expansive Chesterfield Childrens' Museum, the Harvest Exhibit is one that both parents and children will appreciate. At your next visit, be sure to head back and to learn, play and discuss. Thank you to CMoR for an innovative way to help children make connections while simply being kids!
The Harvest Exhibit at CMoR Chesterfield is included with daily admission, or membership. Daily admission is $9 for adults and children; children under 1 are free; discounts for seniors and military personnel. CMoR participates in Museums for All; admission is $2. Consider a membership if your family will visit the museum more than twice in a calendar year. The Children's Museum of Richmond Chesterfield location is located at 6629 Lake Harbour Drive, in the Winterpock Crossing Shopping Center and is open Thursday – Sunday; 9:30 AM – 5:00 PM.
— By Lindsay Garrison
Richmond on the Cheap contributor Lindsay Garrison is a Richmond, Virginia based mom to two young children. A graduate of Chesterfield Schools and Randolph-Macon College, Lindsay is proud to call Richmond home. In the years prior to planning activities and outings with her own children, she was a French teacher. During her tenure she earned accolades for her creative teaching style and ability to connect with her students. Lindsay now applies the skills she learned when she was planning student trips to France, to her own family adventures. She can't wait to take her own children to France one day! You can follow her adventures at: @thegarrisonsrva
Check out more family friendly things to do in Richmond while saving money and having fun.
Be sure to subscribe to email updates, follow @rvacheap on Twitter or like RVA (Richmond) on the Cheap on Facebook to stay in the know about the latest freebies & deals.