Is it safe to visit a museum? What are the cleaning protocols? Will my kids like it? These are the burning questions swirling around in these unique times. Richmond on the Cheap sent writer Lindsay Garrison to review the Children's Museum of Richmond downtown location to report what it's like to visit the popular and engaging attraction at this time.
The Children's Museum of Richmond provides families with an indoor play space to learn, imagine and enrich. With offerings like artistic creation, water play and driving an ambulance, The Children's Museum acts as a blank canvas for children to fill through their play.
Thanks to the variety of options, visiting the museum with multiple children in tow is made easier. During our visit to the downtown location, the needs of both my high energy three year old, and inquisitive seven year old were met, which is not an easy feat.
Upon arrival we headed straight for the three and younger farm exhibit. This is an ideal area for toddlers with age appropriate slides, a tent for a "camp out" and farm animals that make sounds. Parents with little ones will appreciate the gate on this exhibit to keep those quick toddlers from straying into the museum without their grownups.
Allowing my kids to take turns choosing which exhibits we would do, we next headed for the art studio per my daughter, Eloise. The art studio is clean and organized. Activity bags full of materials are packed individually for each child, so there is no scrambling to find supplies. While Eloise worked on her creation, a new version of checkers where the gameboard would include partial egg cartons, Gus practiced his scissor skills happily. When Eloise and Matisse, err, Gus were done we simply saved the masterpieces in the large activity bags provided. Parents of children who love to invent and create will undoubtedly appreciate this exhibit, for letting your child express themselves, but also for the supplies being ready to use and clean up a breeze.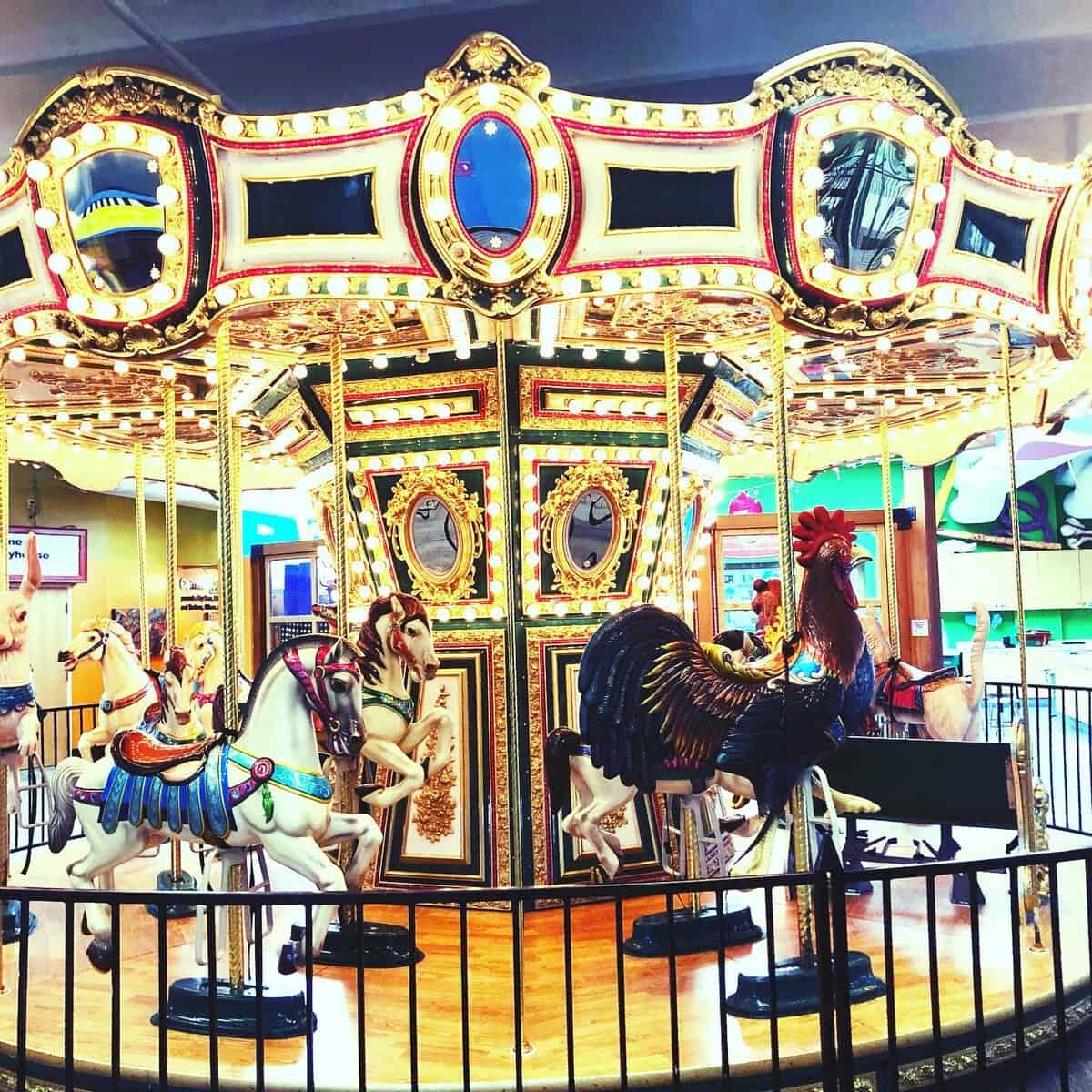 We spent the duration of our visit rotating through each exhibit. Highlights were taking turns reporting the news, hatching from a dinosaur egg, climbing a tower outside, riding the carousel, and the caboose of every CMoR trip: water play. Perfectly saved for last because it usually necessitates a dry shirt and also gives parents an opportunity to reward children for outstanding behavior. In our family, water play is saved for friends who have made good choices during the whole visit, a good way to ensure behavior throughout the visit.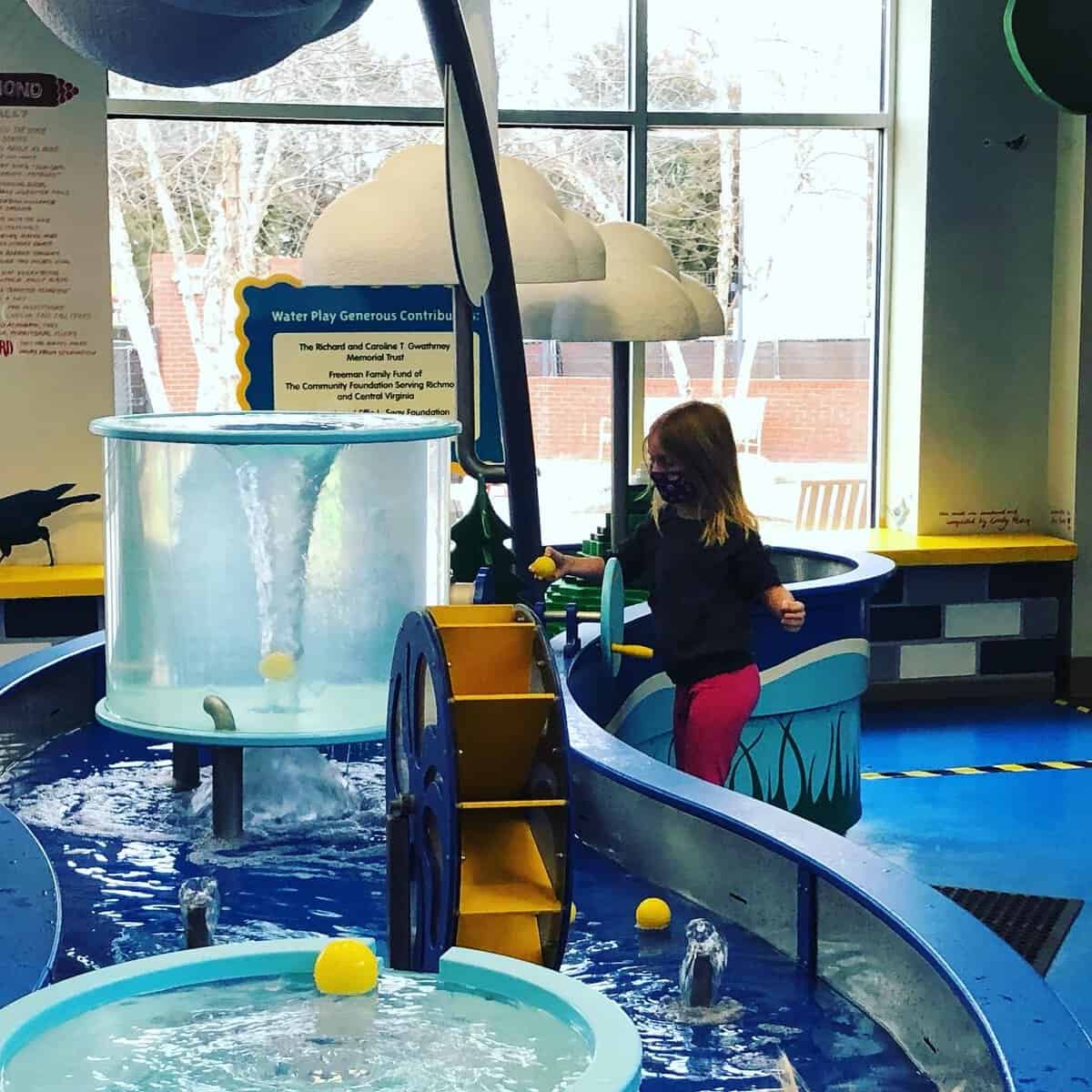 Safety protocols are evident at every turn when visiting Children's Museum. The carousel is wiped down after each use, masks are required, several exhibits are marked for one family at a time, play toys, like pretend food are individually bagged and placed in bins labeled clean. After use, reusable toys are immediately put into a bin labeled dirty that will be washed prior to next use. Hand sanitizer is abundant and there is even a periodic announcement reminding patrons to wash hands. Eating is not permitted inside nor outside of the museum at this time, and exhibits have been altered to maintain visitor safety. Tickets must be purchased in advance and are for a 90 minute time frame.
It can be difficult to fill your child's day with engaging activities, but fortunately for local families, the Children's Museum of Richmond offers a myriad of options for play in a safe venue.
The Downtown and Chesterfield locations are open Thursday-Sunday with rolling admission hours from 9:30 AM to 5:00 PM. All guests are encouraged to reserve tickets in advance. Plan your visit here on their website: http://CMoRVA.org/reserve-tickets.
•CMoR Central: 2626 West Broad St. • Richmond, VA 23220 • (804) 474-7063
•CMoR Chesterfield: 6629 Lake Harbour Dr. • Midlothian, VA 23112 • (804) 474-7075
To plan your visit, learn more about the Children's Museum of Richmond reopening by visiting https://www.childrensmuseumofrichmond.org/news-updates/covid-19-updates
⭐️ Related post: Review: New Mental Health: Mind Matters Exhibit at Science Museum of Virginia Educates, Engages Families
SAVE ON ENTRY:
The Children's Museum participates in Museums for All. Guests who present their SNAP EBT card, EBT App, or WIC card will receive $2 admission for up to 4 individuals. Museums for All cannot be combined with any other offer, discount, or membership.
•Military Personnel (and their guests) always receive $1 off of daily admission price.
Children's Museum of Richmond Members can access the museum all year for the cost of a membership fee. Scholarships are available.
⭐️ Check out more things to do with kids in Richmond.
Richmond on the Cheap contributor Lindsay Garrison is a Richmond, Virginia based mom to two young children. A graduate from Chesterfield Schools and Randolph-Macon College, Lindsay is proud to call Richmond home. In the years prior to planning activities and outings with her own children, she was a French teacher. During her tenure she earned accolades for her creative teaching style and ability to connect with her students. Lindsay now applies the skills she learned when she was planning student trips to France, to her own family adventures. She can't wait to take her own children to France one day! Follow the Garrison's family adventures on Instagram: @thegarrisonsrva
Related post: Richmond museum highlight art, history, science and more
Be sure to subscribe to email updates, follow @rvacheap on Twitter or like RVA (Richmond) on the Cheap on Facebook to stay in the know about the latest freebies & deals.