Is it safe to visit area attractions? What are the cleaning and social distancing protocols? Will my kids like it? These are the burning questions swirling around in these unique times. Richmond on the Cheap sent writer Lindsay Garrison to the Richmond Metro Zoo to report on the experience.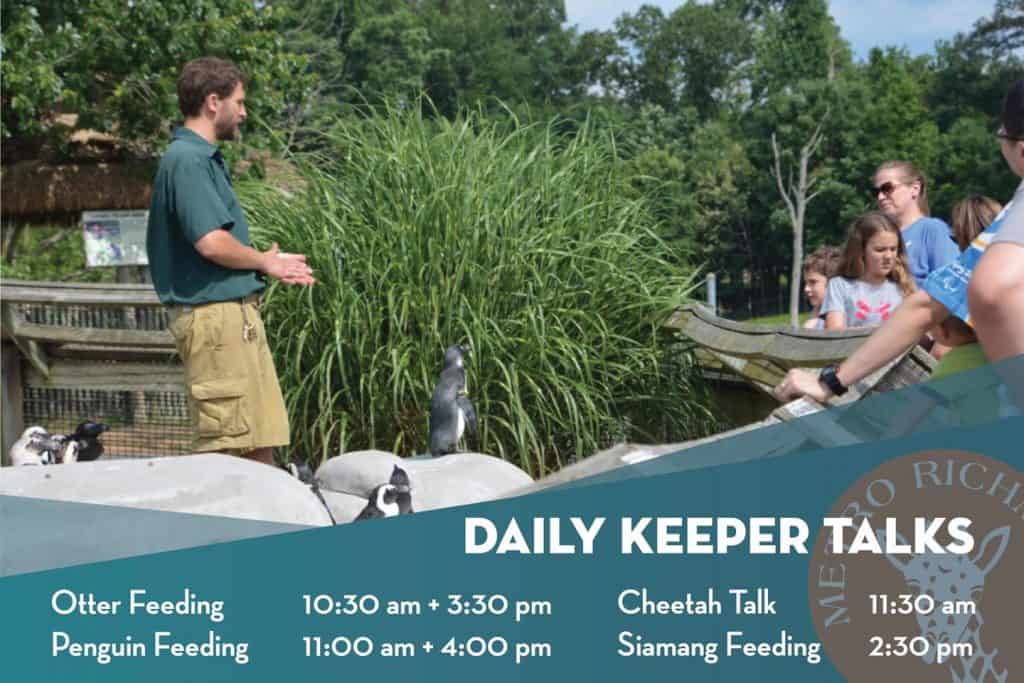 Animals, carousel rides, train tours through animal habitats and feeding birds in the bird aviary are just a few reasons why The Metro Richmond Zoo has long been a family favorite for locals. Like many families, mine had not visited the zoo in over a year, and we were desperately missing this enjoyable attraction, loved by all members of our family. A recent sunny, March morning excursion filled with creatures of all kinds revived our enthusiasm for the zoo; and has us looking forward to our next trip. Here is what you can expect when visiting Metro Richmond Zoo:
Safety: Unsure of if The Metro Richmond Zoo would meet our expectations over a year after our last visit, we were surprised and impressed at how the zoo surpassed any expectations we had. Personally, our family felt reassured by the many steps the zoo has taken to ensure patron safety. Safety precautions include: the zoo operating at 50% capacity. Additionally, daily tickets must be purchased online for a specified time slot. Other safety precautions include cleaning the train ride between patrons, sanitizing stations, partitions in the ticketing booths. Signage encouraging distance using animal analogies and keeping the play area closed are other ways The Richmond Metro Zoo aims to keep families safe.
Cost: An adult daily ticket is $19.75, Children 2-11, $13.75. Seniors and military: discounts available. To save, consider purchasing a yearly membership. Families who plan to visit the zoo more than three times in a year will find this option cost-effective. Additional expenses incurred during a zoo visit: carousel, Zoo treat cup to feed animals, budgie stick to feed birds and train ride. All of these add-ons help to make the day more exciting and we enjoyed each of them, but if tight on money, your zoo trip can still be magical, even without these extras.
A day at the zoo: The Metro Richmond Zoo is an adventure. Packing snacks and waters is essential because there is a lot of trekking around the massive space. Should you forget to pack, or prefer to purchase, the zoo sells drinks, ice cream, hot dogs and other small refreshments at the concession stand near the penguins. There are picnic tables and benches in several shaded areas around the zoo to make taking pit stops easier. Upon arrival, the carousel is directly in front of the entrance, but rides do not start until 10:30, so if your zoo trip starts early, make the carousel the grand finale of the day, as you will pass it to exit.
The zoo train is a 15 minute narrated tour through the zoo's African savannah. The train ride is a great chance to give your legs a break while taking in the tapirs, huge ostrich eggs and more. Not to miss is the 11:00 penguin feeding at their habitat, located next to the train entrance line. Watching the penguins waddle over to get their fish was a highlight of our day Feeding giraffes and farm animals food from the zoo treat cup is a must; but, don't use all of your food on those creatures, as you can also send it to camels and warthogs via chute.
Our family spent three and a half hours watching, learning, feeding and taking in The Richmond Metro Zoo; and yes, the carousel was the ultimate ending of our outstanding experience.
The Richmond Metro Zoo is a fabulous opportunity for families to spend their day together. With many options to save, thoughtful safety precautions and a unique experience; the zoo is not an attraction to miss.
The Richmond Metro Zoo: 8300 Beaver Bridge Rd. Moseley, VA 23120 – http://metrorichmondzoo.com/ – tel: (804) 739-5666 – Hours: Monday – Saturday: 9:30AM – 5:00 PM
Upcoming events at the Metro Richmond Zoo:
•Animal loving children will enjoy the Summer Safari day camps to complete activities about zoo animals, a peek behind the scenes and a photo with their favorite animal.
•Miracle of Christmas live Nativity takes place annually at the Metro Richmond Zoo. While the event was held virtually in 2020, it is a most popular holiday event for Richmond families.
Richmond on the Cheap contributor Lindsay Garrison is a Richmond, Virginia based mom to two young children. A graduate of Chesterfield Schools and Randolph-Macon College, Lindsay is proud to call Richmond home. In the years prior to planning activities and outings with her own children, she was a French teacher. During her tenure she earned accolades for her creative teaching style and ability to connect with her students. Lindsay now applies the skills she learned when she was planning student trips to France, to her own family adventures. She can't wait to take her own children to France one day! You can follow her adventures at: @thegarrisonsrva
Need to get out of town or entertain the kids? Check out more posts that focus on travel in our region or fun with kids around Richmond.
Be sure to subscribe to email updates, follow @rvacheap on Twitter or like RVA (Richmond) on the Cheap on Facebook to stay in the know about the latest freebies & deals.