The 2021 Virginia General Assembly convenes January 13, 2021. The Governor of Virginia says he is launching plans to expand early childhood education for at-risk 3 and 4-year-olds, legalize marijuana equitably, automatically restore Virginians' civil rights and ensure tuition-free community college. Many issues are discussed and decided during the GA session that affect our lives including Virginia's living wage, housing, education, health care and public transportation. Citizen involvement is a key part of the state government through lobbying, tracking legislation, testifying before committees, volunteering or interning with a legislator, or getting involved with advocacy groups. You can find out who are your legislators here: https://whosmy.virginiageneralassembly.gov/
Although this year, all meetings will be virtual, Virginia's General Assembly session will continue to provide opportunities to advocate, learn, and lobby. Below is a listing of informational and advocacy events with groups that better the lives of Virginians as a way to get involved in in the political process.
American Civil Liberties Union ACLU of Virginia – Legalize Marijuana Right panel-Thurs. Jan. 14. 2021 at 6pm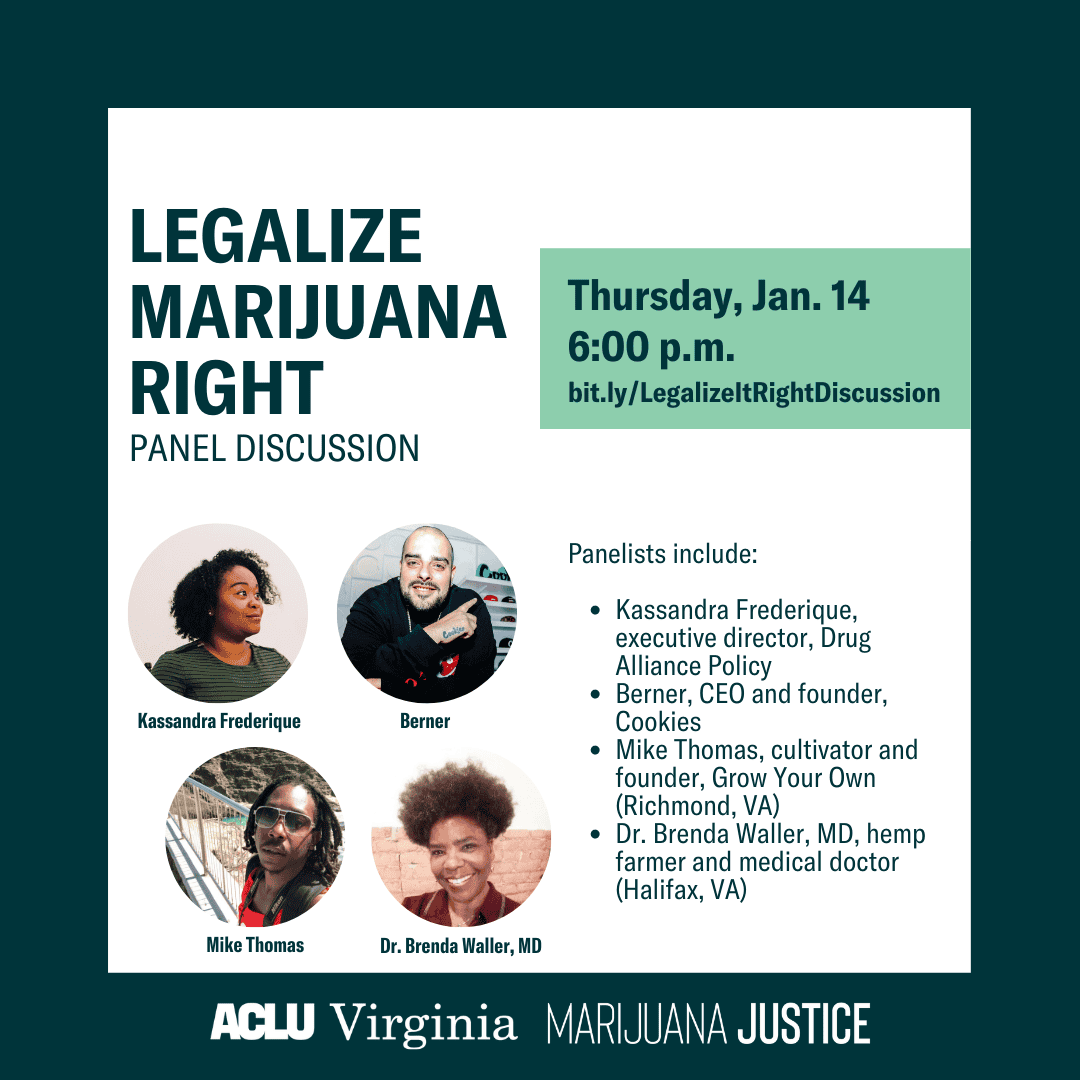 Virginia is on the verge of legalizing marijuana. It's important that lawmakers center racial justice and social equity as they debate the ins and outs of legislation to legalize marijuana in Virginia. In partnership with Marijuana Justice, ACLU of Virginia is hosting a panel on Thursday, Jan. 14 at 6:00 p.m., to discuss ways to repair the harm done to Black and Brown communities through equitable marijuana reform in the Commonwealth. RSVP here: https://action.aclu.org/…/va-legalize-It-right-discussion As legislators consider marijuana legalization in the upcoming General Assembly, knowing how to center racial equity is imperative.
⭐️ Equality Virginia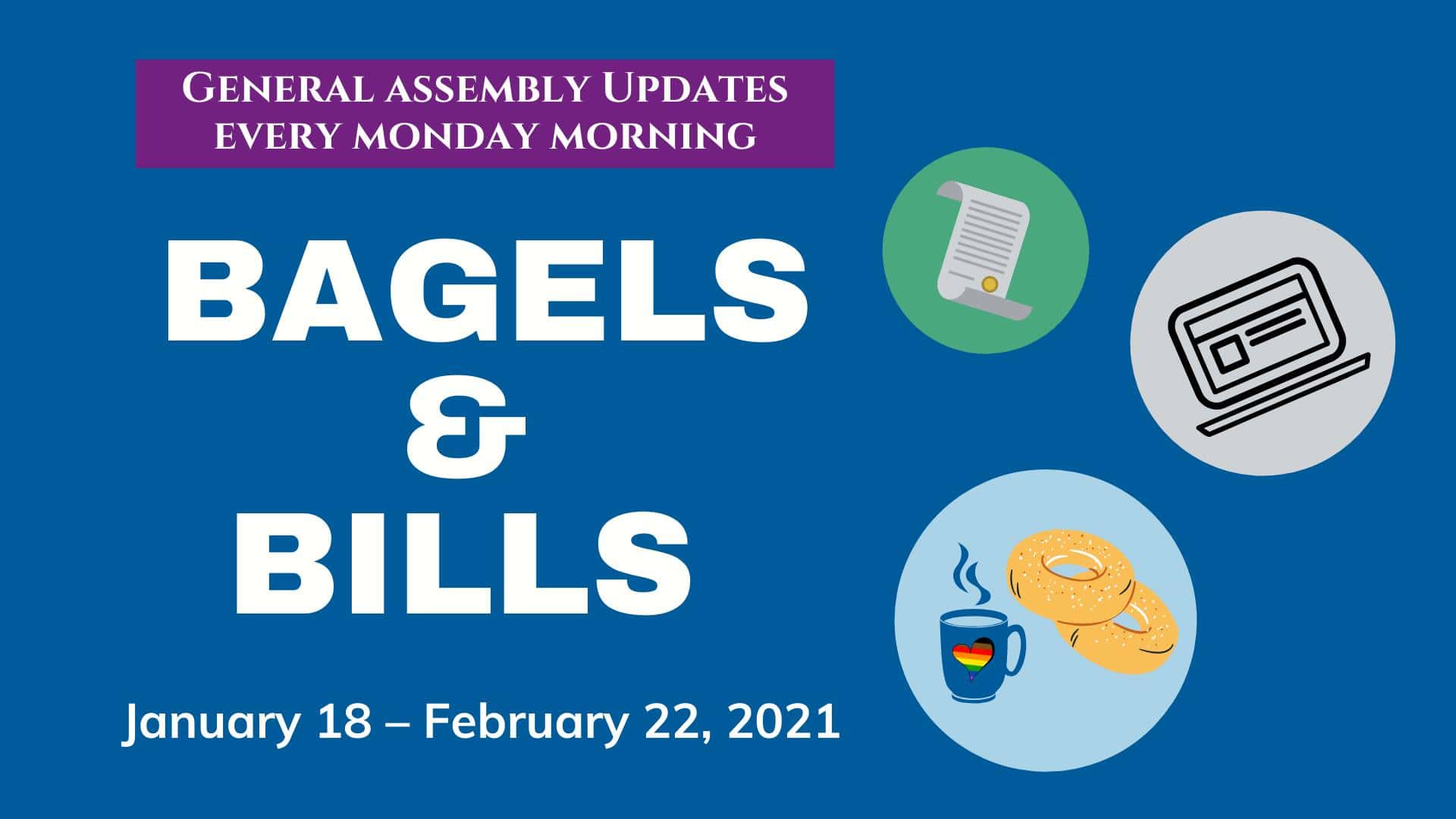 Despite the General Assembly going virtual, we will come together in new ways to defend our community's victories and move equality forward. Let's stay hungry for full LGBTQ+ equality. Start your day off right by joining EV every Monday morning from January 18 through February 22 for our scrumptious Bagels & Bills digital series. At each event, you will find out how to support legislation that impacts LGBTQ+ Virginians, learn how to connect with legislators virtually, and stay up to date on the fight for LGBTQ+ equality at the 2021 General Assembly session. Save some room for Bagels & Bills every Monday morning! Use the links below to register for each individual event date. Upon registration, you will receive an email with a Zoom link to access the event on the day of:
January 18, 2021 https://bit.ly/BagelsBillsJan18
January 25, 2021 https://bit.ly/BagelsBillsJan25
February 1, 2021 https://bit.ly/BagelsBillsFeb1
February 8, 2021 https://bit.ly/BagelsBillsFeb8
February 15, 2021 https://bit.ly/BagelsBillsFeb15
February 22, 2021 https://bit.ly/BagelsBillsFeb25
We will be joined by grassroots community advocates and experts moving equality forward who will educate us about pro-equality bills in 2021 and the best ways to support these important pieces of legislation. Each virtual event will have a different focus in terms of the bills we discuss, the actions you can take, and the advocates who will speak. After every event, we will randomly select one lucky winner to receive a Panera gift card, so make sure you register today for your chance to have breakfast on us. So, grab a bagel (or your favorite breakfast food) and let's talk about bills every Monday morning during session.
⭐️ The Fund Our Schools campaign is a statewide advocacy effort that envisions a Virginia where every student has the opportunity to attain a high-quality public education. ALERT: The proposed School Equity and Staffing (SES) Act — which would go a long way in improving school funding for Virginia's students — has officially been posted to Virginia's Legislative Information System! This will be a critical bill to watch this legislative session. Thank you to champions Del. Aird and Sen. McClellan! Check it out: https://lis.virginia.gov/cgi-bin/legp604.exe?211+sum+HB1929
⭐️ New Virginia Majority – New Virginia Majority organizes & builds power in working-class communities of color throughout the commonwealth through large-scale political education, advocacy & strategic communication to build a just, sustainable, & progressive Virginia.
Housing, Democracy, and Healthcare for All – Picket – January 13th 11am Science Museum, Richmond. As the Virginia legislature gavels in, join New Virginia Majority members and supporters in a demonstration to let lawmakers know what we need. Hundreds of thousands of Virginians face eviction, are being denied the right to vote, or have little access to healthcare during a pandemic. So we are letting our legislators know: Restore voting rights to formerly incarcerated people. Extend eviction protections! Help tenants pay the rent. End barriers to immigrants accessing healthcare.
⭐️ Virginia PTA-The Virginia Congress of Parents and Teachers, better known as the Virginia PTA, is a volunteer child advocacy association working for ALL children and youth in the Commonwealth of Virginia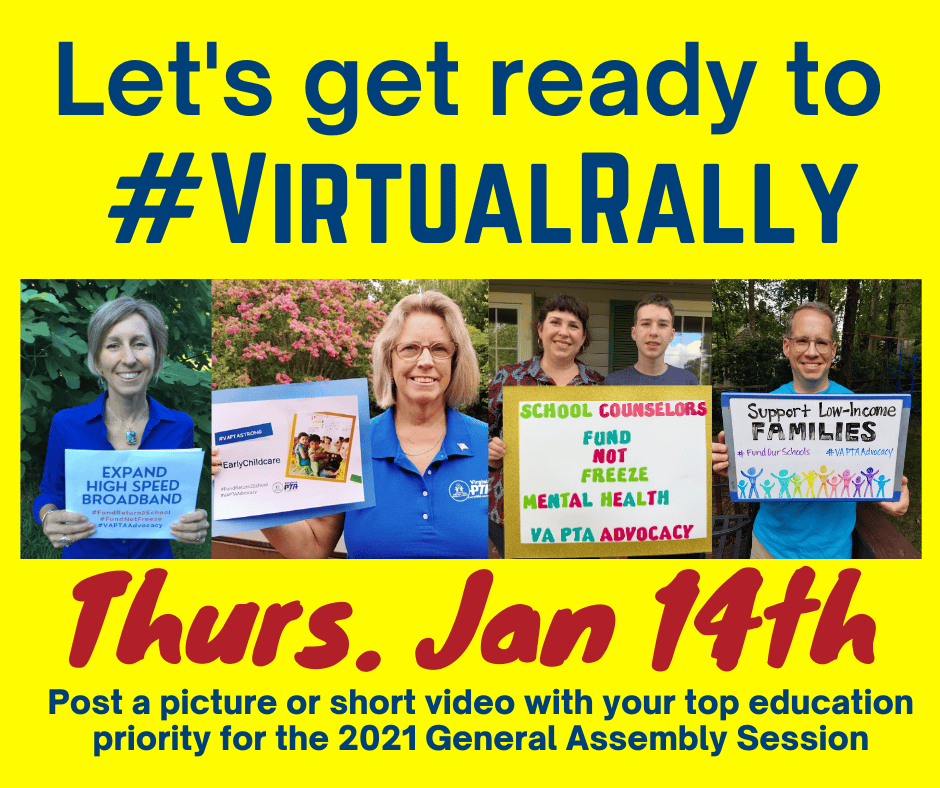 The 2021 General Assembly Session starts this Wednesday. Get your pictures and videos ready!! We're going to #VirtualRally for education THIS THURSDAY, January 14th to ask the General Assembly to Fund Our Schools. When we raise our voices together, we can raise the bar for every student in Virginia. See the Virginia PTA's legislative priorities here: https://vapta.org/advocacy/adv1/take-action
⭐️ the Virginia Poverty Law Center protects the rights of low-income Virginians and ensure they have fair and equal access to civil courts and government policy makers.
REMINDER: Va's General Assembly convenes Wednesday. Join VPLC for virtual happy hour or your morning coffee to discuss our legislative priorities for the 2021 session! Each event lasts 30 minutes—we'll briefly review our agenda and save time for questions. http://ow.ly/lcfE50D1trU
If you know of an advocacy event to include in this list, email: news@rvaonthecheap.com
Be sure to subscribe to email updates, follow @rvacheap on Twitter or like RVA (Richmond) on the Cheap on Facebook to stay in the know about the latest freebies & deals.
More things to do in and around Richmond: