These are the little everyday holidays you can celebrate with your family to just make life a little more fun. Pick one, two, or go crazy and select a bunch to celebrate!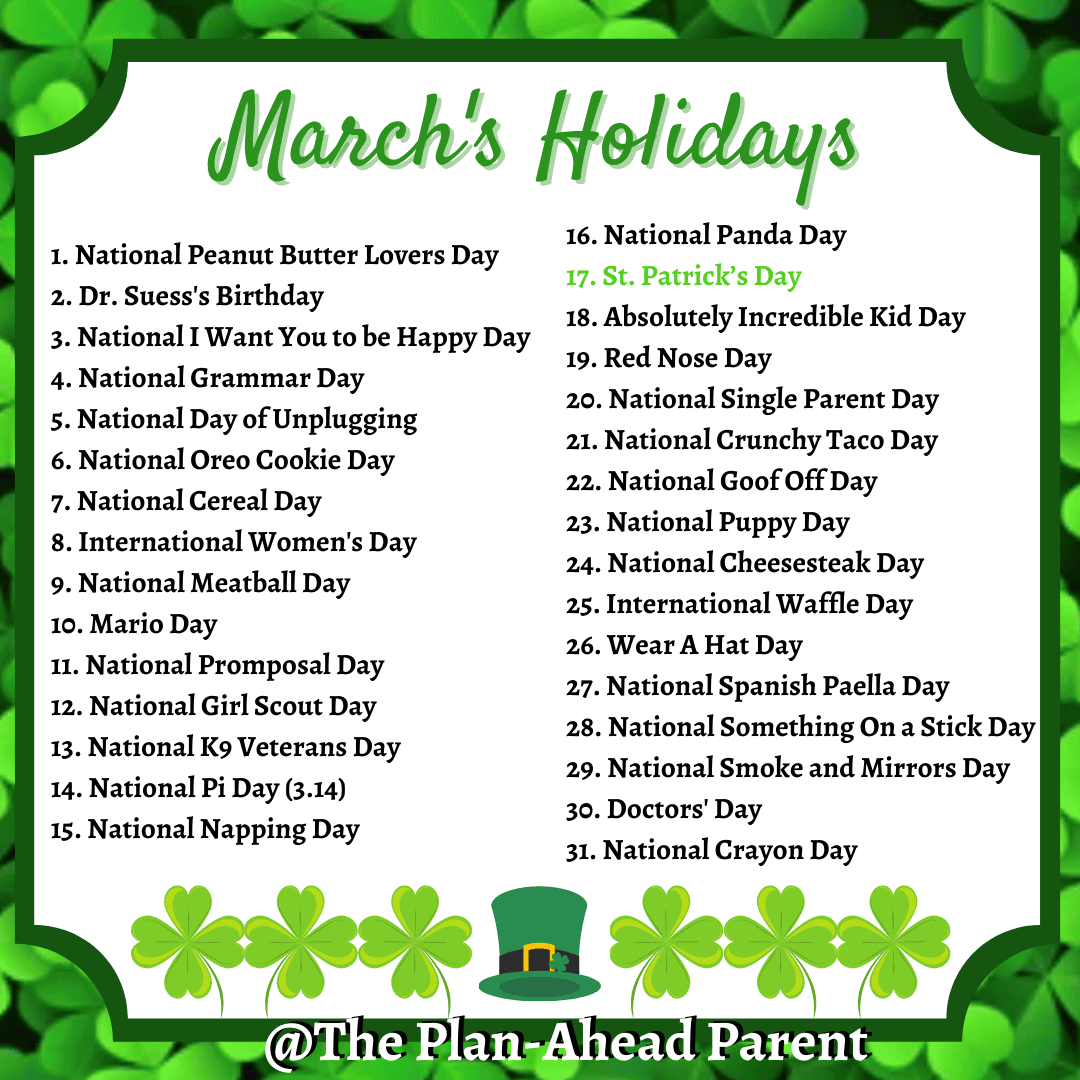 March 1st – National Peanut Butter Lover's Day-We LOOOVE Peanut Butter!! So, we will be having this fabulous spread today at lunch! That's right, I will be going crazy and making Peanut Butter and Jelly Sandwiches! Sometimes being a cool parent is so rough! 😉
March 5th – National Day of Unplugging-Turn off the TV, videogames, computers, tablets, and cell phones! (obviously, this does not apply to work/school) Spend time playing card games, board games, or getting outside! Whatever you do, just be unplugged so you can focus on spending time together!
March 6th – Happy National Oreo Cookie Day-There are so many good order cookie recipes out there! Make something special with Oreos or just eat them plain! Here

are some interesting ideas for Oreo Cookie Recipes.
March 10th – Mario Day-It's-a-Me, Mario! We will be celebrating tonight by breaking out some old-school videogames after dinner! What is your favorite Mario Game?
March 14th – National Pi Day (3.14) We have been celebrating this day for years in our home. We usually make either Sheppard's Pie or Chicken Pot Pie for dinner and I totally cheat by buying a Pie for dessert from the grocery store.
March 18th – Happy Absolutely Incredible Kid Day-Who has an Absolutely Incredible Kid?! (you better all be raising your hand! 😉 ) Use today to make sure your child knows just how absolutely incredible s/he is! You can simply tell them verbally or show them through an act of kindness. Nobody knows your kid better than you so use today to do something special for them and let them know just how incredible they are!
March 19th – Red Nose Day-Red Nose Day is a campaign with the mission to end child poverty by funding programs that keep children safe, healthy, and educated. Through the power of entertainment, we bring people together to laugh and have fun, all while raising life-changing cash for the children that need it the most. Click here

to learn more about how you can help or even to order your own Red Nose .
March 20th – National Single Parent Day! Hats off to all you single parents out there! You are AMAZING! You are both Mom and Dad in one and your kids are lucky to have someone as wonderful as you in their lives! Celebrate today however you can! Just know that you are a true HERO! Take a bath, enjoy a glass of wine or go all out by literally getting out! Get a babysitter and go enjoy a few hours pampering yourself!
March 21st – National Crunchy Taco Day!!!!! Tacos are a staple in our home, so this will definitely be dinner!
March 22nd – National Goof Off Day!!! Do you want to be the COOLEST parent ever?! Pick your kids up early from school and take them somewhere to just GOOF OFF! ~or~ let them skip the entire day!!
March 24th – National Cheesesteak Day! Speaking as a native Philadelphian we will 100% be making cheesesteaks for dinner!
March 25th – International Waffle Day! Waffles are one of my absolute FAVORITE breakfasts! We like to mash up some strawberries and cook them for a few minutes to make a little compote for on top or even just put some chocolate chips in the little pockets instead of using syrup! What is your favorite way to eat waffles?
March 26th – Wear A Hat Day! This one is super easy to celebrate! Just wear a hat today. Your favorite ball cap, a beanie, a cowboy hat, or go crazy and wear a silly hat! Just have fun with it!
March 27th – National Spanish Paella Day! I LOOOVE Paella, especially seafood paella, so we will be having this for dinner! Here is a great recipe

if you want to try making one yourself!
March 28th – National Something on a Stick Day! Corn dogs are the obvious here but what will you be making? Bonus points for the most creative idea!
March 31st – National Crayon Day! Break out those crayons and spend a little time coloring together with your kids!
– By Deni Schiren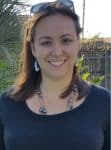 Deni Schiren is a Midlothian, VA based mom to two young girls. Before becoming a stay-at-home mom she lived in central Florida and graduated from Daytona Beach College with a degree in Sign Language Interpretation. She worked in Florida's public school system for a few years before relocating to the Richmond Area with her family. She is now a homeschool mom and runs the 'Plan-Ahead Parent' Facebook group and documents her efforts visually on Instagram at the.plan.ahead.parent.
See more posts focusing on cheap fun with kids around Richmond.
Be sure to subscribe to email updates, follow @rvacheap on Twitter or like RVA (Richmond) on the Cheap on Facebook to stay in the know about the latest freebies & deals.