Sunday, January 22, 2023 is the first day of the Chinese/Lunar New Year! This celebration lasts for 16 days, although typically only the first 7 days are usually celebrated. Get acquainted with the many customs, symbols, zodiac meaning and traditions of the Lunar New Year that is celebrated throughout many cultures in Asia. Here are some fun ways through customs, gift giving, decorating, crafting, cooking, shopping and cleaning you can celebrate at home!
Ways to Celebrate the Chinese New Year At Home
Catch up with family and friends – of course with the pandemic this wont look like typical get togethers of the past, but you can still set up a skype/zoom party or even just individual one-on-one calls with your nearest and dearest.
Make some red packets and share the wealth – it is traditional to give red envelopes or satchels, and usually monetary gifts accompanied by encouraging messages and blessings of good luck for the new year. Read more about the specific tradition on how to give this present.
Embrace the Red Décor – red decorations are hung to ward off Nian, a lion-like monster that is afraid of the color red, not to mention it is the color associated with wealth and good fortune. Create specific decorations for the Lunar New Year with these craft resources for kids

& these Chinese New Year

craft activities for kids

.
Watch a traditional Chinese dragon dance or even some fireworks – common folk-lore states that fireworks were set off in order scare off Nian when he rose from the sea for his feast of human flesh (ok ewww) but he was frightened by the loud noise fled into the dark night! This myth is also played out in many cultural lion dances . https://www.chineseamericanfamily.com/dragon-and-lion-dances/
Clean out last year's clutter making room for good fortune in the new year – In the days leading up to the new year, it is common to clean windows, scrub floors and dust the furniture. Just make sure you do not finish before the holiday begins. It is believed that any cleaning after the new year being will lead to your good fortune being 'swept' away!
Enjoy some traditional food enjoyed during the Chinese New Year – Because what holiday wouldn't be complete without some delicious food! – Fish, dumplings, spring rolls, tangyuan (sweet rice balls), good fortune fruit (oranges and mandarins), Niangao (glutinous rice cakes) and longevity noodles are all considered good luck and are typically enjoyed during the new year. Try some of Richmond's favorite Chinese restaurants for an expert preparation of these delicacies.
To learn more about the Chinese New Year celebration check out Scholastic's resources as well.
⭐️ Related post: Chinese restaurants in the Richmond area to enjoy and savor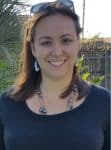 Richmond on the Cheap contributor Deni Schiren is a Midlothian, VA based mom to two young girls. Before becoming a stay-at-home mom she lived in central Florida and graduated from Daytona Beach College with a degree in Sign Language Interpretation. She worked in Florida's public school system for a few years before relocating to the Richmond Area with her family. She is now a homeschool mom and runs the 'Plan-Ahead Parent' Facebook group.
Be sure to subscribe to email updates, follow @rvacheap on Twitter or like RVA (Richmond) on the Cheap on Facebook to stay in the know about the latest freebies & deals.
More things to do in and around Richmond:
Related content: Free and Cheap Date Ideas in Richmond, Virginia
Related post: Document your love at LOVEworks signs around Richmond
Celebrate Valentine's Day through cuisine by exploring: The French Connection in Richmond
Do It Yourself Valentine's Day Fun At Home
⭐️ Richmond institutions celebrate Black History