Do you want to be that crazy fun parent that makes your kid's childhood memorable? One surefire way to accomplish that is to embrace the holidays!
I'm not talking about just the major holidays like Christmas, Halloween, Easter and Valentine's Day. Those are important too, but I am talking about the little miniature holidays that occur every other day of the year. For example: Did you know that the first Saturday in February is National Eat Ice Cream for Breakfast Day? Or that October 4th is National Taco Day?
There is something for just about every day of the year and they are so easy to celebrate! Take, March 31st for example. March 31st is National Crayon Day. Set out a new (or old) pack of crayons with some paper or a coloring book and spend some time with your kids coloring. Make sure you tell them it's National Crayon Day and they will surely get into it! Make it more fun by turning it into a contest to see who can color the prettiest picture or finish coloring the fastest. Play Pictionary. Melt crayon art. Whatever you choose to do, just do it together. Spending time with them is the important part!
Here are a few of the little holidays coming up in February, or feel free to click on this link to see more minor February holidays and select your own to celebrate with your kids, family, friends or sweetheart.
February 02 – National Tater Tot Day
February 05 – Give Kids a Smile Day
February 06 – National Eat Ice Cream for Breakfast Day
February 07 – National Kite Flying Day
February 08 – National Pizza Day
February 16 – National Pancake Day
February 17 – Random Act of Kindness Day
February 20 – National Love Your Pet Day
February 22 – National Walking the Dog Day
February 25 – National Chili Day
February 28 – National Pokémon Day
Selecting 1 or 2 a month is all it takes to become that cool fun parent. Your kids will love the extra holidays, especially when it's a surprise and they get a special or fancy treat!
– By Deni Schiren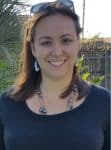 Richmond on the Cheap contributor Deni Schiren is a Midlothian, Virginia based mom to two young girls. Before becoming a stay-at-home mom she lived in central Florida and graduated from Daytona Beach College with a degree in Sign Language Interpretation. She worked in Florida's public school system for a few years before relocating to the Richmond Area with her family. She is now a homeschool mom and runs the 'Plan-Ahead Parent' Facebook group.
Be sure to subscribe to email updates, follow @rvacheap on Twitter or like RVA (Richmond) on the Cheap on Facebook to stay in the know about the latest freebies & deals.