ALL Virginians 5 and older are eligible for the COVID19 vaccine. Numerous COVID-19 vaccines are available in Virginia and numerous organizations are clearly presenting information about how to get the protection. Find a provider near you and make a vaccination appointment at http://vaccinate.virginia.gov or by calling 877-VAX-IN-VA (877-829-4682). You can learn more at the Richmond City/Henrico Virginia Department of Health District: vdh.virginia.gov/richmond-city
Richmond City Health District is running COVID-19 testing events. And they also sharing some of our supply with community orgs.
Need a tasty treat to convince you to get vaccinated? Krispy Kreme donuts 🍩 is showing sweet support to those who have received the COVID-19 Vaccine. Bring your Vaccine Card to a Krispy Kreme shop and get 1 FREE Original Glazed doughnut. This will run thru end of 2021. (Tantalizing photo at the bottom of this post.) Info at https://bit.ly/3141hMi
⭐️ To register for a COVID-19 Vaccine, go to Virginia Department of Health COVID-19 Vaccination Response page. Virginia has a COVID-19 Vaccine Pre-Registration System. You can go to https://vaccinate.virginia.gov or call 877-VAX-IN-VA to pre-register for the vaccine and get clear, updated information. Language translation available TTY users dial 7-1-1. For more information visit : https://www.vdh.virginia.gov/covid-19-vaccine/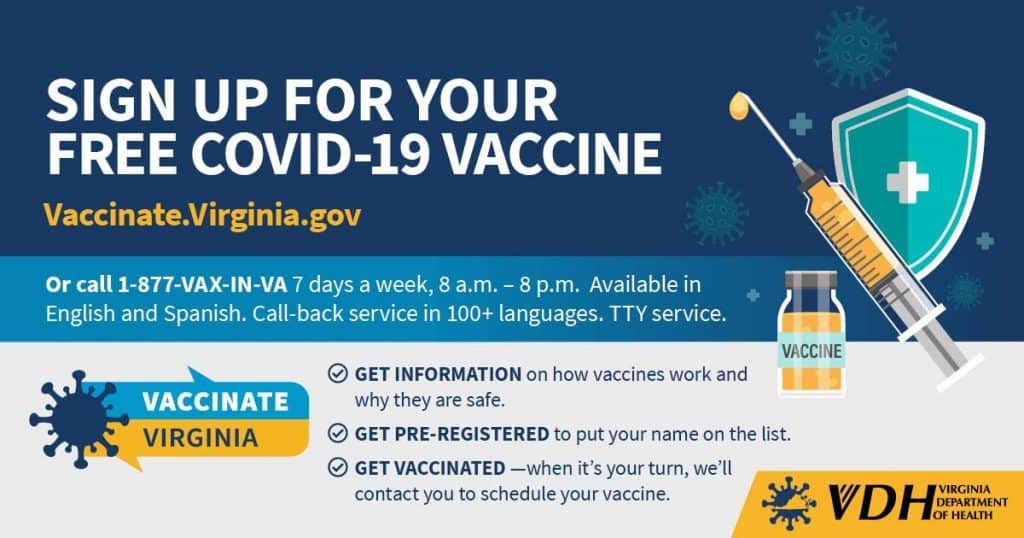 Vaccination Information for Virginians
There are multiple umbrella websites where you can find out where vaccines are being distributed and how to register.
•The Center for Disease Control has an information page about the vaccines in general.
•The Center for Disease Control CDC Vaccine finder provides overall information about how to get the vaccine no matter where you are: https://vaccinefinder.org/
•National Public Radio has a webpage that explains How To Sign Up For A COVID-19 Vaccine In Your State
You can make a difference in many people's lives by becoming a Virginia Medical Reserve Corps volunteer at COVID-19 vaccination clinics. Volunteers often get vaccines.
⭐️ For a lively and informative current discussion on how to navigate vaccine sites and protocols, check out the advice from Facebook group RVA Vaccination Hunters.
Read more Richmond on the Cheap health and wellness posts.
Be sure to subscribe to email updates, follow @rvacheap on Twitter or like RVA (Richmond) on the Cheap on Facebook to stay in the know about the latest freebies & deals.