Kings Dominion is open! In addition to the familiar favorites, a new ride, Tumbili is open. KD patrons will find an exciting ride in the Jungle Expedition area of the park, where Tumbili riders will enjoy spinning over the rainforest canopy.
The ride is Virginia's first 4D spin coaster and reaches 34 MPH! This new roller coaster is only one of the ways to enjoy one of Virginia's most beloved amusement parks. Follow our guide below to make the most of your visit to Kings Dominion this year.
HOW TO SAVE:
Children 2 & under are free, and children ages 3-5 are also free! Children ages 3-5 must have a Preschool Pass to receive free admission. Simply fill out the registration, and bring your child and proof of age to the park by Sept. 5.
Save on daily tickets with "Bring a Friend" tickets. If your friend has a season pass, you can save on your daily ticket. You will need the numbers on the back of your friend's season pass in order to complete the transaction.
Select "regular" versus "preferred" parking. To save money, park in the regular parking lot versus preferred parking. The two lots are so close, you will only walk a few steps further.
Run the numbers. If you plan to visit the park several times this year, purchasing the Season Pass may be worth it for you. The passes include special events, like WinterFest and Haunt, too.
Create a dining plan. If you and your family can't resist the yummy pizza or delicious pretzels at the park, consider purchasing the Season Pass Dining Plan.
TIPS FOR FAMILIES:
For children, most rides are in "Snoopy Planet". This entire area is full of family-friendly rides, as well as a picnic pavilion, picnic tables and extraordinarily friendly staff.
The Family Care Center, located within Snoopy Planet has a refrigerator, microwave, and family restrooms (there are stools for little ones to reach the sink!).
Candy Apple Grove is another area with kid-friendly rides, including the carousel. This space is also home to Rita's Italian Ice and a singing frog! There's a family restroom in this area, as well, and it's a very short walk from Snoopy Planet.
Kings Dominion is entirely stroller-friendly. If your children are very young, consider using a wagon to haul them as well as backpacks, diaper bags and everything else!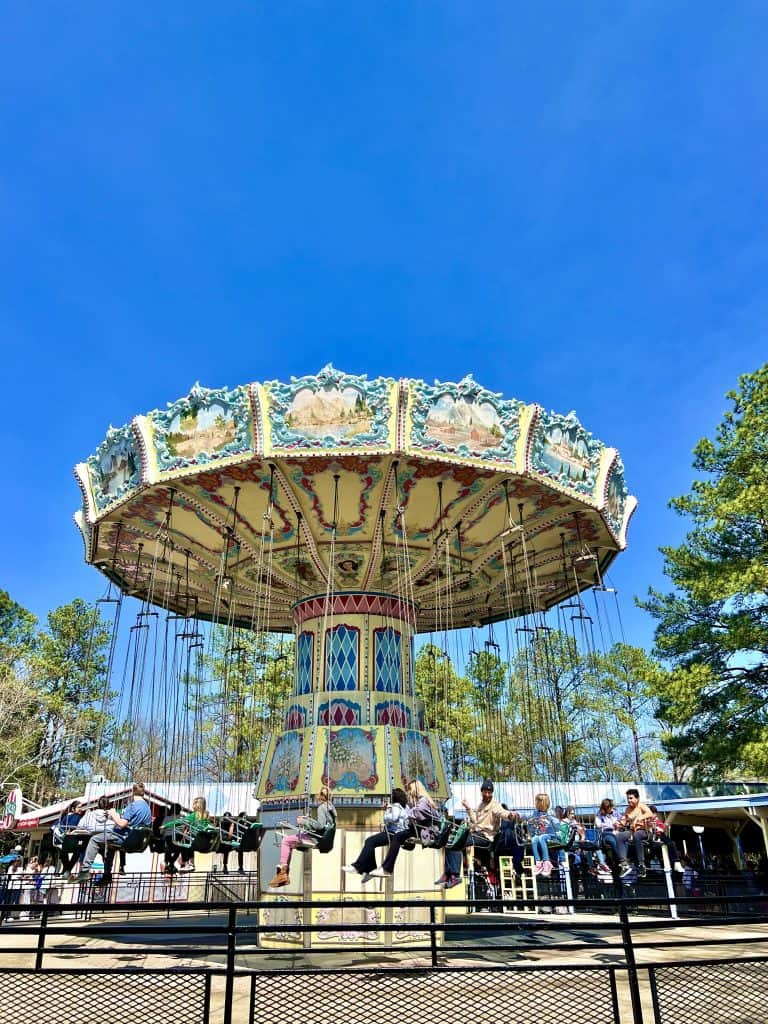 Richmonders are fortunate to have Kings Dominion so close. The options at this family-friendly amusement park are plenty, so be sure to take advantage of them in 2022! Kings Dominion is located at 16000 Theme Park Way Doswell, VA 23047 http://www.kingsdominion.com/
Lindsay Garrison is a Richmond, Virginia based Mom to two young children. A graduate from Chesterfield Schools and Randolph-Macon College, Lindsay is proud to call Richmond home. In the years prior to planning activities and outings with her own children, she was a French teacher. During her tenure she earned accolades for her creative teaching style and ability to connect with her students. Lindsay now applies the skills she learned when she was planning student trips to France, to her own family adventures. She can't wait to take her own children to France one day! Follow the Garrison's family adventures on Instagram: @rva.familyfun
Check out more family friendly things to do in Richmond while saving money and having fun.
Be sure to subscribe to email updates, follow @rvacheap on Twitter or like RVA (Richmond) on the Cheap on Facebook to stay in the know about the latest freebies & deals.