Day trips with young children can be trying, which is why if I am going to pack all the snacks, sticker books, extra clothes, the list goes on – I want to fit in as much fun, learning and adventure as I can into one trip.
With two massive, and very different museums, the Hampton Roads area proved to be an ideal day trip for my Richmond family. If you are searching for a trip for your family, I cannot recommend this trip enough. Here is how it went:
Leaving Richmond around 8:30, we arrived at the Virginia Air Space and Science Center as it was opening at 10:00. The Virginia Air & Space Center is the official visitor center for the National Aeronautics and Space Administration (NASA) Langley Research Center, so the displays were incredible. From the second we entered, both of my children (ages 3 and 7) were completely agog at all the planes on the ceiling. The museum is interactive, nearly everything is hands-on, and completely engaging for all visitors. The museum is huge, allowing plenty of space for my three year old to dart from plane to plane.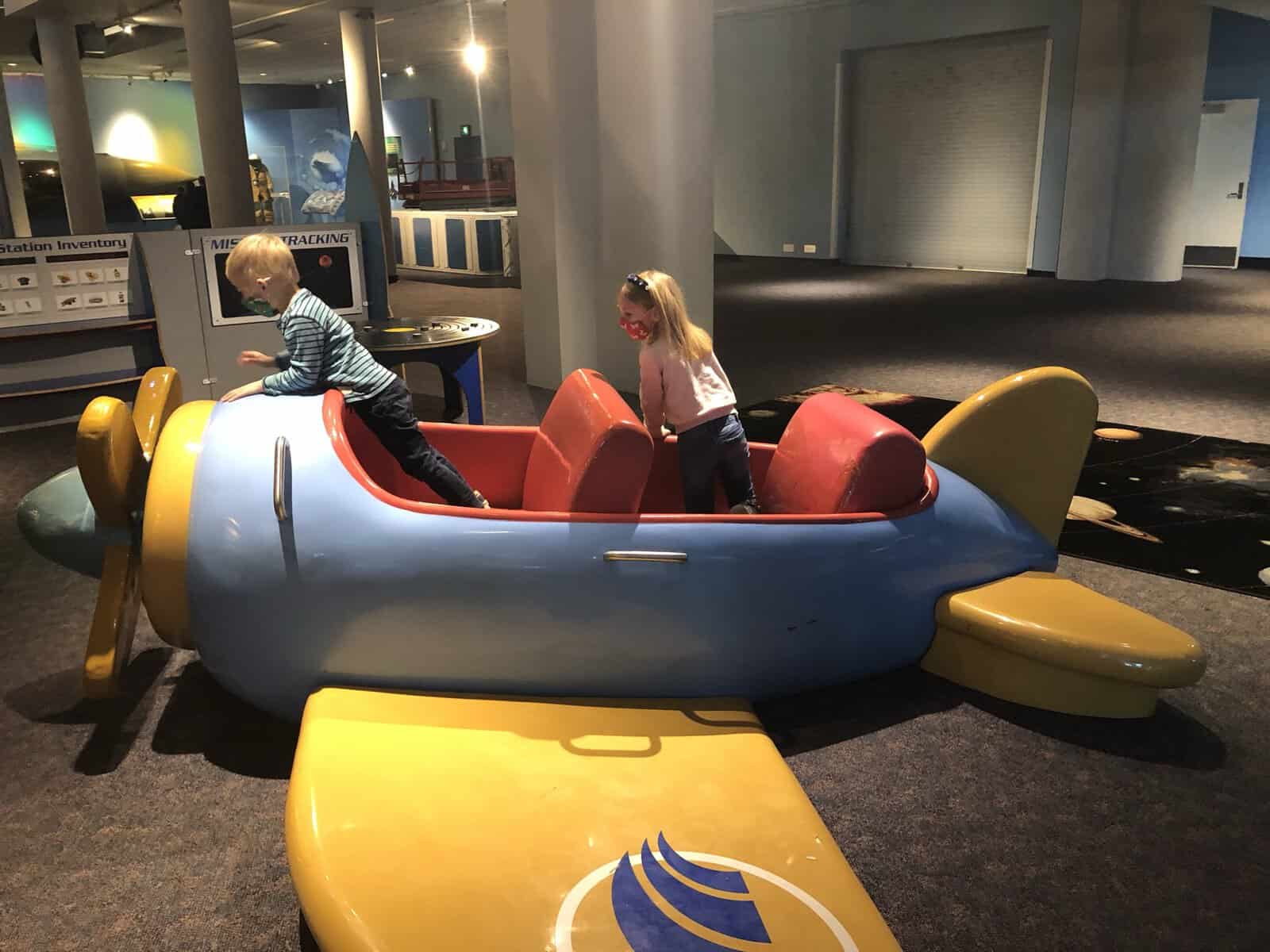 Downstairs, my daughter was enamored with the Space Explorer Gallery. Finding out how much she would weigh on the sun, and learning about gravity was her biggest takeaway from the day. A children's area on the first floor is perfect for little ones to get their wiggles out. There are mats, a plane to sit in, and pretend space food.
While we never stopped moving during our visit, if your family needs a break, the museum has an IMAX Theater, and tickets for the IMAX are included in admission. Popcorn and other snacks may be purchased at the museum's Cosmic Cafe. Families should plan to spend at least two hours at this museum.
Part II: Animal Exploration
After leaving the Virginia Air Space and Science Center, we headed down the road, less than 10 miles to the Virginia Living Museum. There is so much to explore here; we walked both the indoor and outdoor exhibits twice. This particular museum is home to Virginia animals. Alligators, turtles, sea horses, catfish and snakes are just a few of the animals we saw up close in the indoor galleries.
Another highlight inside were the fossils, especially the shark teeth. My animal-loving kids loved playing at the Wild & Well exhibit.
For my family, the outdoor area of the Virginia Living Museum was completely incomparable. We were fortunate to see a bald eagle, a coyote, wolves, a fox; but, the peak of the trip for my three year old was the Dino Discovery Trail. There are 16 different, huge dinosaurs to see. Any dino enthusiast will love this part of the museum. Between the indoor and outdoor exhibits, it is easy to spend more than two hours here.
As both a mom and an educator, I could not be more pleased with the educational value of both these museums. My STEM-loving 1st grader is excited to do more experiments with gravity, and my curious three year old wants to explore and find animal tracks and predict which animal they belong to. Always looking for an avenue to make learning fun and exciting, this was an unbeatable day.
By going to the Virginia Living Museum second, we were about 15 minutes closer to home, and our drive home was a mere hour and twenty minutes, so we made it back for dinner, and in time to FaceTime grandparents and share all about our day. Families looking for an educational day trip: this one will not disappoint.
Tips to save at both museums: consider memberships. For an additional discount, at Virginia Living Museum memberships are discounted for active military, students and seniors. Virginia Air & Space Science Center membership includes membership to more than 300 reciprocal science museums internationally.
⭐️ Virginia Air and Space Science Center, 600 Settlers Landing, Hampton, VA 23669 – tel: (757) 727-0900 – vasc.org
⭐️ Virginia Living Museum, 524 J. Clyde Morris Blvd. Newport News, VA 23601 – 757-534-7432 – thevlm.org
Need to get out of town or entertain the kids? Check out more posts that focus on travel in our region or fun with kids around Richmond.
Lindsay Garrison loves Richmond and is proud to raise her own family here. As a teacher for 12 years, she learned how to save, budget and stretch every penny. Additionally, she led groups of students to Europe annually, and took great pride in planning affordable, fun-filled trips. She transferred those skills to her daily life and shares them with readers of RVA on the Cheap. Lindsay utilizes RVA on the Cheap to make enriching life experiences accessible to all. Check her instagram: rva.familyfun for more affordable family adventures!
Be sure to subscribe to email updates, follow @rvacheap on Twitter or like RVA (Richmond) on the Cheap on Facebook to stay in the know about the latest freebies & deals.