The Jewish holiday of Purim is right around the corner beginning at sunset on Thurs. Feb. 25, 2021 and
and ends in the evening of
Fri.,
Feb. 26, 2021
. The festival of Purim commemorates the salvation of the Jewish people in the ancient Persian Empire from

Haman

's plot "to destroy, kill and annihilate all the Jews, young and old, infants and women, in a single day." It is celebrated with

Megillah

readings from the Book of Esther, gifts of food, charity, feasting, and merriment.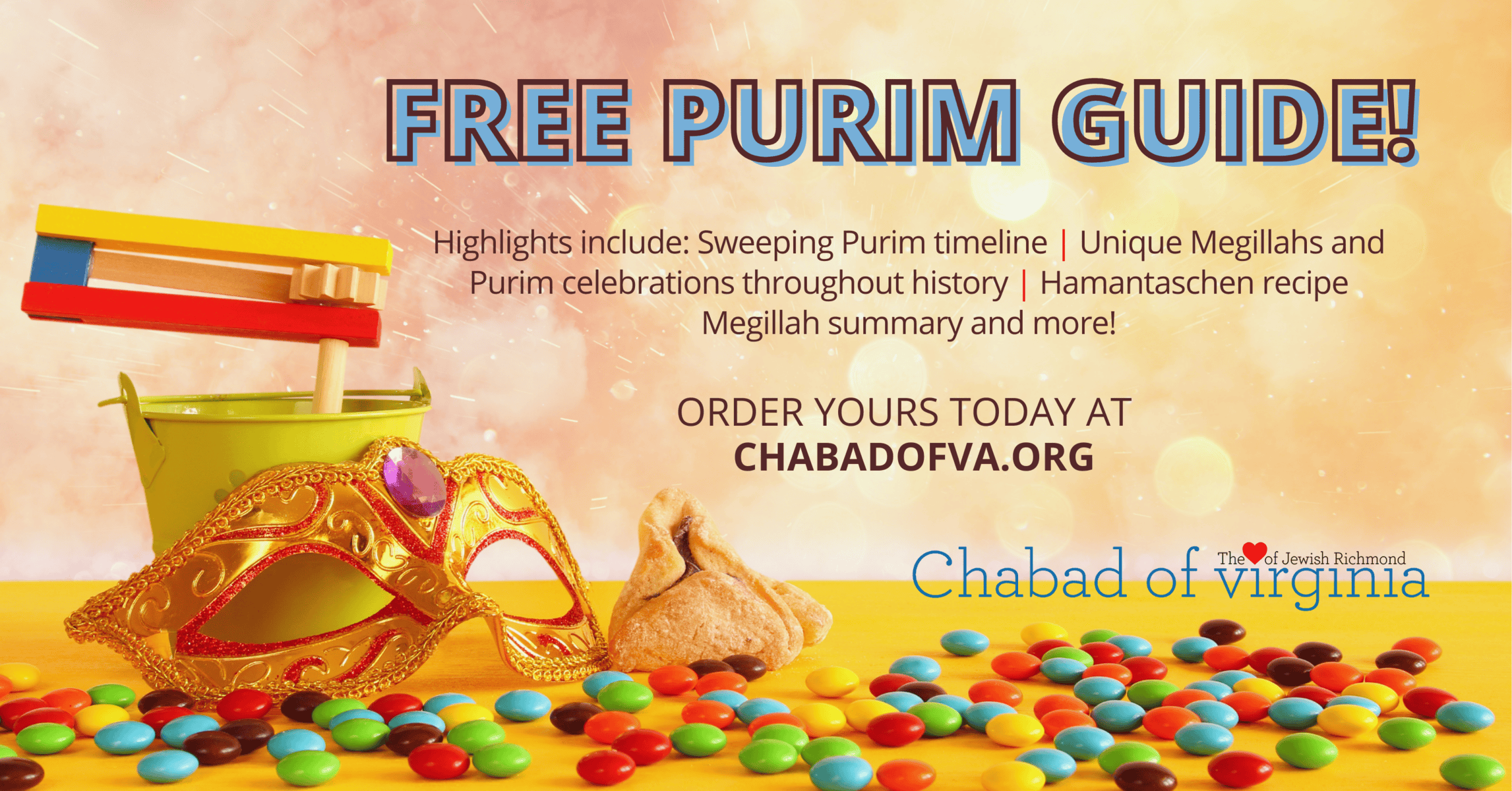 The Chabad of Virginia invites you to celebrate safely at home with a free Purim handbook from Chabad of Virginia. Highlights include: Sweeping Purim timeline, unique Megillahs (scrolls that tell the Purim story) and Purim celebrations throughout history, Hamantaschen pastry recipe,
Megillah summary and more.
ORDER YOURS TODAY AT Chabadofva.org.
Contact Rabbi Yossel Kranz,
Chabad of
Virginia,
212 N Gaskins Rd,
Richmond, VA 23238 –
email:
ykranz@chabadofva.org
–
tel: (804) 740-2000
Chabad-Lubavitch is a philosophy, a movement, and an organization. It is considered to be a very dynamic force in Jewish life today.The word "Chabad" is a Hebrew acronym for the three intellectual faculties of chochmah—wisdom, binah—comprehension and da'at—knowledge. The movement's system of Jewish religious philosophy, the deepest dimension of G‑d's Torah, teaches understanding and recognition of the Creator, the role and purpose of creation, and the importance and unique mission of each creature. This philosophy guides a person to refine and govern his or her every act and feeling through wisdom, comprehension and knowledge.
The word "Lubavitch" is the name of the town in White Russia where the movement was based for more than a century. Appropriately, the word Lubavitch in Russian means the "city of brotherly love." The name Lubavitch conveys the essence of the responsibility and love engendered by the Chabad philosophy toward every single Jew.
Be sure to subscribe to email updates, follow @rvacheap on Twitter or like RVA (Richmond) on the Cheap on Facebook to stay in the know about the latest freebies & deals.
More things to do in and around Richmond: