Country Food and Furniture is a great Powhatan shop that very few people know about, and I want to change that. The food is extremely inexpensive, freshly made, and delicious. The lack of a proper menu can make the wait times a bit longer than some may like, but in exchange, it offers incredible customizability. You can pick and choose what you want on your sandwich, and they will whip it up for you right away. On top of all of this, almost everything in the shop, down to the sandwich ingredients and the snacks, are locally made.
The menu (if you can call it that) is diverse and offers whatever you want. You can pick your bread, condiments, meat, and more! There is a wide variety of options for everything, so you should always be able to get something you enjoy! You could get a regular white bread cheddar cheese sandwich with mayonnaise and turkey, or a Swiss grilled cheese sandwich with wheat bread, ham, and roast beef. The meat options are particularly interesting, as by default you are given a pile of meat on your sandwich, and you can choose up to four different types of meat to make it up. You can get any type of sandwich with double meat if you'd like, or a grilled cheese with less meat. Any sandwich will usually be around $4 or $5, give or take, making them a steal.
Alongside the amazing sandwiches, you can get soup and salad, which are also customizable, though they have less options than the sandwiches. They also have fantastic milkshakes and ice cream, with a few flavors to choose from.
The shop itself isn't very big. There are a couple places to sit, a few small tables outside and two bigger ones in the furniture section you can eat on, but its mostly takeout. There are also aisles of mostly local drinks, snacks, and desserts you can buy. I personally really like their brownies.
The furniture they sell isn't the focus of this article, but it's still worth consideration. Their furniture is all handcrafted and very well-made. I have never bought any of their furniture myself, but it all seems sturdy and very aesthetically pleasing.
With all of this, from phenomenal sandwiches, delicious milkshakes, ice cream, and snacks, Country Food and Furniture is extremely underrated. If you ever find yourself in Powhatan, you should try to visit. You can find the shop at 1901 Anderson Hwy, Powhatan VA. If you ever do go, I hope you enjoy your visit!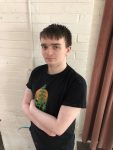 – By Kaleb Stone. Kaleb Stone is 17-years-old and enjoys stories of all kinds. He likes to read, play video games and watch TV in his free time. He lives in Powhatan, Virginia, and therefore has an outsiders perspective on Richmond City. He hopes to later go into creative writing and literature. Kaleb produced this article as a part of the Richmond Young Writers Teen Summer Guide writing workshop.
Do you love to be in the know? Be sure to subscribe to email updates, follow @rvacheap on Twitter or like RVA (Richmond) on the Cheap on Facebook to stay in the know about the latest freebies & deals.
More things to do in and around Richmond this summer: