Tuesday March 2nd is the birthday of whimsical children's author Theodor Seuss Geisel, better known as Dr. Seuss. The prolific author is famous for whimsical children's books The Cat In The Hat, Green Eggs and Ham and One Fish, Two Fish, Red Fish, Blue Fish.
Every year Dr. Seuss Day is celebrated across America, by fans by reading books, dressing up, making crafts, and playing games in his fun and fanciful style.
Here are some fun ideas to help you celebrate Dr. Seuss Day, making the date a festive occasion at home with your kids:
Start your day with a nutritious breakfast of Green Eggs & Ham!
Be Kind to the environment like the Lorax – take an hour out of your day to pick up litter, plant a garden or even just conserve energy by turning off electronics and going outside to play!
Pick a Dr. Suess quote as your Mantra for the day. Here is a list of quotes you can select from.
Read a book together. Of course, you can read a Dr. Suess book, but ANY book will do. Pick something you all enjoy and snuggle in to read to each other!
Dress in crazy-fun clothes a-la Dr. Suess! Glue some pom-poms to your socks, feathers to your shirt or googley eyes to… anything! Go crazy and have just have fun with it!
Unleash your inner 'Who' and don some crazy hair! Click here if are in need of inspiration.
Slice up some Bananas and Strawberries, then layer them for a 'Cat in the Hat' inspired treat!
Make oobleck from Bartholomew and the Oobleck
Print out this Grinch and play a few rounds of Pin the Heart on the Grinch
Make One fish, two fish, red fish, blue Jell-O! Fill cups with blue Jell-O, and then put some Swedish fish in to create the perfect Seussical snack!
Do tree pose, cat stretch, and other Dr Suess inspired yoga
Check out https://www.seussville.com/ for some online games and play.
Visit this Inspiration Laboratories website for more educational ideas, such as science experiments, writing prompts and more fun tips for how you can celebrate this fanciful day!
– By Deni Schiren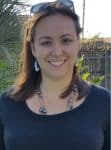 Deni Schiren is a Midlothian, VA based mom to two young girls. Before becoming a stay-at-home mom she lived in central Florida and graduated from Daytona Beach College with a degree in Sign Language Interpretation. She worked in Florida's public school system for a few years before relocating to the Richmond Area with her family. She is now a homeschool mom and runs the 'Plan-Ahead Parent' Facebook group and documents her efforts visually on Instagram at the.plan.ahead.parent.
See more posts focusing on cheap fun with kids around Richmond.
Be sure to subscribe to email updates, follow @rvacheap on Twitter or like RVA (Richmond) on the Cheap on Facebook to stay in the know about the latest freebies & deals.