If you're looking for a fun activity for the whole family this holiday season, Busch Gardens Christmas Town is a great place to spend your day. With the whole park decked out for Christmas, multiple holiday-themed shows, and plenty of snacks to keep you going, there's no way you'll leave the park without being lit up with holiday cheer!
Around this time of year, many of the big-name rides like the Griffon or Apollo's Chariot were closed due to the weather, but other smaller rides were still going like the Peppermint Twist (a festive re-naming of the classic Teacup ride) for ride enthusiasts and kids alike.
Even though it was raining at the start of our visit, there was still so much to do around the park! We took our time taking in all of the sights and checking out all of the themed decorations in each section of the park. We took pictures with a Clydesdale named Dakota at the Highland Stables in Scotland, Cookie Monster at Sesame Street, and even met a Bald Eagle! Actually obtaining character meet and greet pictures costs a little extra, so just keep that in mind! We were serenaded by Carolers in Europe, as well as the Kilarney Village Band in Ireland as we strolled through the park. The live entertainment really kept the holiday ambiance going the entire time we were there.
The park really comes alive after sunset and the over 10 million lights in the park turn on. We had a chance to take the Skyride around the park after the lights turned on, and the views were absolutely breathtaking. After doing our first walk of the whole park, we checked out the outdoor show "Elmo's Christmas Wish" at the Sesame Street Forest of Fun, as it was a wonderful time for adults and children alike, with the stage being set up on an elevated castle parapet to allow children to get as close as they liked. We even got to see Elmo before the show!
It was around this time that things started to get really chilly, so we decided to check out some of the indoor shows. First we saw "Scrooge No More!", a musical retelling of the Charles Dickens classic, "A Christmas Carol" at the Globe Theater in England. It was full of spectacle and classic Christmas magic, with striking projections and special effects, it'll definitely wow you. Right after that we went to see "Celtic Fyre: A Christmas Celebration" in Ireland. This show combined traditional Irish dancing with a cute holiday story to create a delightful Christmas celebration for everyone. Lastly, we took the famed Christmas Town Express for a ride around the park. This train takes you for a 15 minute trip around the park where you find lights and displays you usually wouldn't be able to see. It was definitely the highlight of our trip.
Overall, Busch Gardens Christmas Town greatly exceeded expectations. We expected to be disappointed since it was rainy and dreary on the day we went, but instead we stayed for 8 hours and walked the entire park several times. If you're looking for a great way to spend your time and indulge in holiday cheer, this is it!
Busch Gardens, 1 Busch Gardens Boulevard, Williamsburg, VA 23185 – buschgardens.com/wiliamsburg
Tickets to Christmas Town start at $40 with various packages.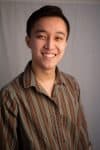 Written by Quan Chau. Quan is a local actor and research technician at the University of Richmond, as well as a recent graduate from William & Mary who studied in biology and theatre. Quan likes to spend his time playing mahjong with his family or spending time with his girlfriend, Megan. Cheap credentials: extremely proficient in making red beans and rice in a slow cooker for meals that cost less than a dollar per bowl.
Be sure to subscribe to email updates, follow @rvacheap on Twitter or like RVA (Richmond) on the Cheap on Facebook to stay in the know about the latest freebies & deals.
More things to do in and around Richmond:
•Places to take photos with Santa in the Richmond area
•Christmas dinner available to pre-order and pick up from Richmond-area markets, restaurants and caterers
•Ice skating and roller skating rinks in Richmond
•Best Christmas Lights in RVA
•December Craft and Holiday Fairs in Richmond
•Winter Vacation Activities for Kids
•Chinese restaurants in the Richmond area to enjoy and savor
•Capital City Kwanzaa Festival Dec. 30
Busch Gardens
1 Busch Gardens Blvd.
Williamsburg, VA 23185
(757) 229-4386