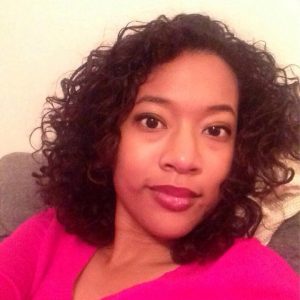 Francesca Lyn teaches comics and gender studies to university studets by day, but on selected nights she performs at open mics stand-up comedy nights around Richmond.
"I focus on observational humor and talk about my life," says Lyn. "I talk about what's going on. I'm not overtly political.
She MCs the FREE Late Night Snack Comedy Show at Sticky Rice (2232 W. Main St. in Richmond) on Sunday, October 13, 2019 at 10pm with Mike Engle.
"I really think doing stand-up at Open Mics is the best way to practice comedy and the only way to know if jokes are working," says Lyn.
Lyn sees more women doing stand-up here in Richmond, which she describes as an exciting Do It Yourself kind of scene. "Richmond is a cool comedy scene because everyone is different and unique. It's a supportive community."
Lyn got her start taking Improvisation Comedy Classes at the Coalition Theater. There are numerous comedy showcases around Richmond to offer laughs in a variety of locations.
Francesca Lyn's List of Comedy Around Richmond: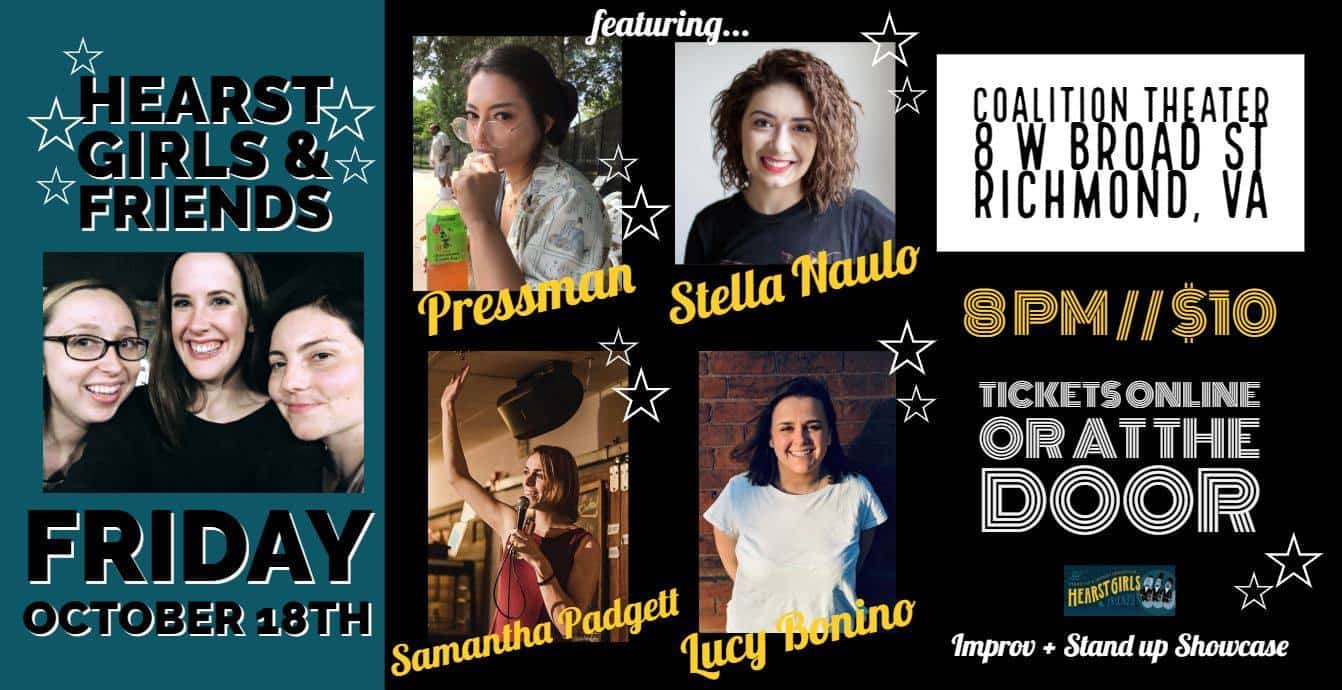 Hearst Girls "is always a great show." An all-female improve comedy and stand-up showcase at the Coalition Theater, 8 W Broad St. Richmond, VA 23220 – October 18, 2019
Lyn ranks Jesse Jervis, who does the open mic night on Wednesdays at McCormack's Irish Pub at 12 N 18th Street, Richmond, as one of the nicest hosts.
Sarah Ahmed, who hosts Beans, Bits & Brews at Crossroads RVA, 3600 Forest Hill Ave. Richmond, is well worth seeing.
Lyn has also performed her comedy at Burlesque shows, which she likes because it goes back to comedy's roots: "They do a good job. It's like a variety show."
She aspires to perform at a comedy festival and at venues out of town like in Hopewell.
I'm trying to do different things," says Lyn. "I like to do my materials but I work pretty clean. I love listening to my friends who do stuff that's dirty. Richmond has people doing things that are super out there. Performance is a lot like teaching. It's about challenging people. I like getting people to talk about stuff. The goal is laughter. That's what's important and laughter often comes from recognition."
You can laugh with Francesca Lyn at many stand-up and open mic comedy shows around town.
Catch more comedy at these venues:
Coalition Theater, 8 W. Broad St. Richmond, VA – (804) 332-5857 – Live Comedy Shows and Improv Classes
CSZ Richmond – Home of ComedySportz, 8906 W. Broad St. Ste H, Richmond, VA – (804) 266-9377
Do sign up for deals through Goldstar to learn about discounted events and shows in Richmond.
Be sure to subscribe to email updates, follow @rvacheap on Twitter or like RVA (Richmond) on the Cheap on Facebook to stay in the know about the latest freebies & deals.
More things to do in and around Richmond: