For the past 45 years the month of February has been officially dedicated to celebrating and honoring members of the Black community and their contributions to society. It is celebrated across the globe by schools, tv stations, new agencies and more. By honoring them and teaching inclusion we are helping to ensure a better future for our children.
Here are some ways you can help celebrate Black History at home with kids.
Experiment with some cultural African American recipes – One of the best ways to learn about a culture is to make their food. Let your child pick one recipe a week from SoulfoodandSouthernCooking.com or from a cookbook from the library and spend time cooking in the kitchen together.
Study prominent African Americans based on your child's personal interests – What does your child like to do? Does he/she love music? Reading? Art? Sports? Teach your child about an influential African American who made a difference in an topic they are passionate about. TheUndefeated.com has an accessible collection of stories with vibrant graphics.
Read a book written by a black author or featuring a black protagonist. Lots of great books at AALBC.com a vendor that specializes in books by and about the African-American experience… or your local library.
Teach your children about the freedom movement here in Richmond and around the country that was often enacted by students like Barbara Johns in Farmville, Virginia or the Richmond 34 featured in the video above. Teach historic events such as the Montgomery Bus Boycott's, Sit-in movements of the 60s, Brown vs. the Board of Education, and the Civil Rights Act. History.com also has resources at your fingertips.
Check out more ways to celebrate Black History Month with your kids.
– By Deni Schiren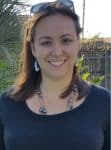 Deni Schiren is a Midlothian, VA based mom to two young girls. Before becoming a stay-at-home mom she lived in central Florida and graduated from Daytona Beach College with a degree in Sign Language Interpretation. She worked in Florida's public school system for a few years before relocating to the Richmond Area with her family. She is now a homeschool mom and runs the 'Plan-Ahead Parent' Facebook group and documents her efforts visually on Instagram at the.plan.ahead.parent.
Be sure to subscribe to email updates, follow @rvacheap on Twitter or like RVA (Richmond) on the Cheap on Facebook to stay in the know about the latest freebies & deals.