February is Black History Month, which is a chance to celebrate achievements of Black Americans. Richmond offers a myriad of opportunities for families to celebrate these notable individuals' accomplishments. As schools continue to make Black History studies a priority, connecting what children are learning in school to actual sites makes learning meaningful. Here is a roundup of local places and activities to foster discussion and learning with your family this month:
Black History Month Activities for Richmond Families
The Valentine Museum: (1015 East Clay St., Richmond, VA, 23219) Admission is free for children. Reserve tickets in advance. One terrific way to learn about the Black history of Richmond is to go out on one of the Valentine Museum's FREE self-guided city tours. specifically Shockoe Bottom, Richmond Cemeteries and Jackson Ward – Self-Guided Murals Walking Tour.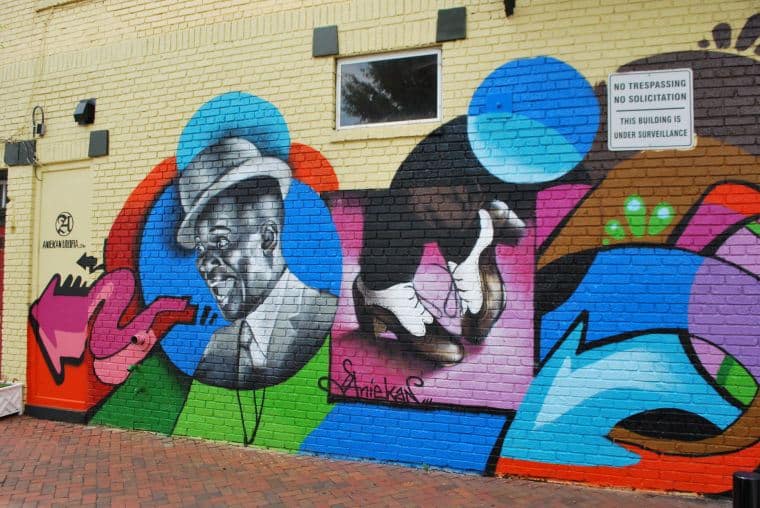 The performer Bojangles is depicted in this mural by Aniekan at 205 East Marshall Street. Bojangles official name was Bill Robinson (born in Richmond in 1878). He was an American tap dancer, actor, and singer, the best known and the most highly paid Black American entertainer in America during the first half of the 20th century. His long career mirrored changes in American entertainment tastes and technology. Photo credit: Richmond Mural Project.
Black History Museum & Cultural Center (122 W. Leigh Street Richmond, VA 23220) – The Museum seeks to become a permanent repository for visual, oral and written records and artifacts commemorating the lives and accomplishments of Blacks in Virginia and the many facets of Black history through exhibitions, discussions and celebrations.
Arthur Ashe mural (2803 Dupont Circle): leads to conversation about the world tennis champion and human rights activist's life and legacy. While you are in Battery Park, take the opportunity to play tennis where Ashe (1943-1993) actually learned to play. Then, head to Monument Avenue to check out the Arthur Ashe statue at the intersection of Roseneath Ave.
Maggie L. Walker historic site (3215 East Broad St., Richmond, VA, 23223): Walker (1864-1934) was a businesswoman, teacher and the first African-American woman to charter a bank and serve as its president in the United States. As a leader, Walker achieved successes with the vision to make tangible improvements in the way of life for African Americans has a Junior Ranger program for children to complete virtually. After completion, children receive a Junior Ranger badge. The National Historic Site offers a podcast, so families can take a walking tour of Jackson Ward while listening. Be sure to see Maggie's statue as part of your tour. Free.
Robert Russa Moton Museum (900 Griffin Blvd., Farmville, VA, 23901): is outside of Richmond, in Farmville, but worth the drive. This National Historic Site was where a group of courageous students led by Barbara Johns fought for equal rights. Ultimately, their case was one of the five to make up Brown v. Board of Education of Topeka, which ruled segregation in public education unconstitutional. .
Taking the time to celebrate Black Americans' contributions is easy for Richmond families; for, our local museums and historic sites provide a variety of opportunities for the entire family to engage in learning and honoring.
⭐️ More Ways To Celebrate Black History In Richmond, Virginia:
⭐️ Celebrate Black History by touring Richmond's FREE Outdoor Murals
⭐️ Richmond Institutions Celebrate Black History Month
⭐️ Celebrating Black History at Home
⭐️ Presidential Landmarks in Virginia Offer a Stark Lesson in Black History
Lindsay Garrison loves Richmond and is proud to raise her own family here. As a teacher for 12 years, she learned how to save, budget and stretch every penny. Additionally, she led groups of students to Europe annually, and took great pride in planning affordable, fun-filled trips. She transferred those skills to her daily life and shares them with readers of RVA on the Cheap. Lindsay utilizes RVA on the Cheap to make enriching life experiences accessible to all. Check her instagram: rva.familyfun for more affordable family adventures!
Be sure to subscribe to email updates, follow @rvacheap on Twitter or like RVA (Richmond) on the Cheap on Facebook to stay in the know about the latest freebies & deals.