With minimal supplies, it is possible to create an endless number of new herb plants from an existing one. As the weather warms with the approach of summer, these plants are expending their energy to create new green growth. This new spring growth is ideal for propagation.
What Is Propagation? Propagation creates new plants from existing ones. This low cost, often free, method enables you to increase herb yield and build your garden collection.
What Herbs Can Be Propagated?
Propagation works well to multiply many types of herbs. There are a few exceptions, as some of the more delicate annuals are best grown from seed (for example, dill and cilantro). The following list is not all inclusive; these are some commonly grown herbs that are easy to propagate from cuttings.
Mints
Sage
Rosemary
Thyme
Basil
Oregano
Lavender
What Supplies Are Needed to Propagate?
If you have the herbs on hand, or have friends or family members willing to share a snippet of their plant, that and a few common household items are all that is needed to begin.
Cutting of the herb you wish to propagate
Scissors or knife
Small jar or container
Water or soil
Optional: rooting powder, sometimes labeled as rooting hormone
How Do I Propagate?
There are two primary methods of propagation: via water or via soil. Both methods work best with soft stemmed herbs or on the newer, greener growth of woody herbs. Older, harder stems are more difficult to grow new roots from. Ideally, the cuttings are from plants that are not currently flowering. If they are, remove the flowers prior to rooting so the plant directs its energy towards the new root growth.
Cut a stem several inches long from the parent plant. A 45-degree angle cut will provide sufficient surface area for roots to grow.
Remove any leaves near the base of the cut stem, as leaves should not be submerged in the water or growing substrate (soil).
If using rooting powder, dip or roll the end of the stem in it.
4. Place the base of the stem in water or plant it in a soil or potting substrate. Water propagation tends to work best with softer stemmed plants, like basil.
5. For water propagation, change the water in the jar every few days.
6. For soil propagation, ensure the soil stays moist while new roots establish.
New root growth will appear in one or more weeks, depending on the type of plant. Once new roots are present, the cutting can be transplanted to a garden or a larger pot with soil.
Using these methods, you can grow an infinite supply of herbs, saving you money on new plants and in the grocery store. Your new limitless herb supply will also make a great free gift for your friends and neighbors.
— By Denise Levitskiy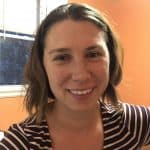 Richmond on the Cheap contributor Denise Levitskiy is a Richmond, Virginia based thrifty mama and gardening enthusiast. She is a Virginia Commonwealth University graduate, had a writing stint as a Marine Corps civilian, and then switched professions to attend Bon Secours Memorial College of Nursing. She recently paused her nursing career to be home with her boys and focus on her family's homesteading dreams. You can follow her gardening and home improvement adventures on her Instagram account: @thisoldhouseishome.
Be sure to subscribe to email updates, follow @rvacheap on Twitter or like RVA (Richmond) on the Cheap on Facebook to stay in the know about the latest freebies & deals.
More things to do in and around Richmond: