Enjoying Cherry Blossoms now at their peak is a memorable way to enjoy Spring in Richmond. Whether you are doing spring chores around your home like taking out the patio furniture, opening windows and finding your sandals or visiting garden shops to buy flats or seeds, make sure you also find the time to enjoy Cherry Blossom trees around Richmond which create a stunning pink or white spray to marvel or stage a photo shoot. Richmond's Cherry Blossom Festival has been postponed in 2021, but there are multiple places to enjoy the cheerful white to pink blooms in the Richmond area.
Cherry blossoms come from Japan and are a symbolic flower of the spring, a time of renewal, and the fleeting nature of life. Their life is very short. After their beauty peaks around two weeks, the blossoms start to fall. People enjoy eating, drinking, and barbecuing underneath the cherry blossoms. The national park service details the many varieties.
Be sure to subscribe to email updates, follow @rvacheap on Twitter or like RVA (Richmond) on the Cheap on Facebook to stay in the know about the latest freebies & deals.
The most famous place in the U.S. to see the blossoms are around the Tidal Basin in Washington, DC, and they have an annual Cherry Blossom Festival to celebrate the natural beauty and friendship between Japan and the United States as well as cultural exchange. There will be no Cherry Blossom Parade or Kite Festival in 2021, but the National Cherry Blossom Festival organizers in Washington D.C. are in the process of creating a safe and pandemic-appropriate schedule of events. The dates of the festival are March 20 to April 11, although it will look quite different to a pre-COVID festival schedule. Instead of in-person events, they've put together some virtual events.
On March 1, The National Park Service predicted this year's peak bloom period as April 2 – April 5, 2021. The peak bloom date for DC's cherry blossoms is defined as the day on which 70 percent of the blossoms of the Yoshino cherry trees that surround the Tidal Basin in Washington D.C. are open. So the best time of the year to see the pink or white blooms in the nation's capital will be starting around mid-March. You can keep track of the trees' progress through the Cherry Blossom Bloomcam.
Seven Spots to Enjoy Cherry Blossoms in the Richmond Area
#1: Virginia Commonwealth University campus (at 907 Floyd Ave, Richmond, VA 23284) There is a plaza with a big rams horn statue which is lined with cherry blossom trees. Cherry blossom trees are also found around Monroe Park.
#2: Fountain Lake at Byrd Park, 600 South Arthur Ashe Blvd, Richmond, VA (23220) A sidewalk trail encircles this small, scenic lake with a central fountain spray & pedal boats.
#3: Lewis Ginter Botanical Garden, 1800 Lakeside Avenue, Richmond, Virginia 23228 Lewis Ginter Botanical Garden is a 50 acres, botanical garden in Richmond, Virginia's Lakeside neighborhood. It features a conservatory, library cafe and tea house restaurant. Cherry tree walk is located along Lake Sydnor.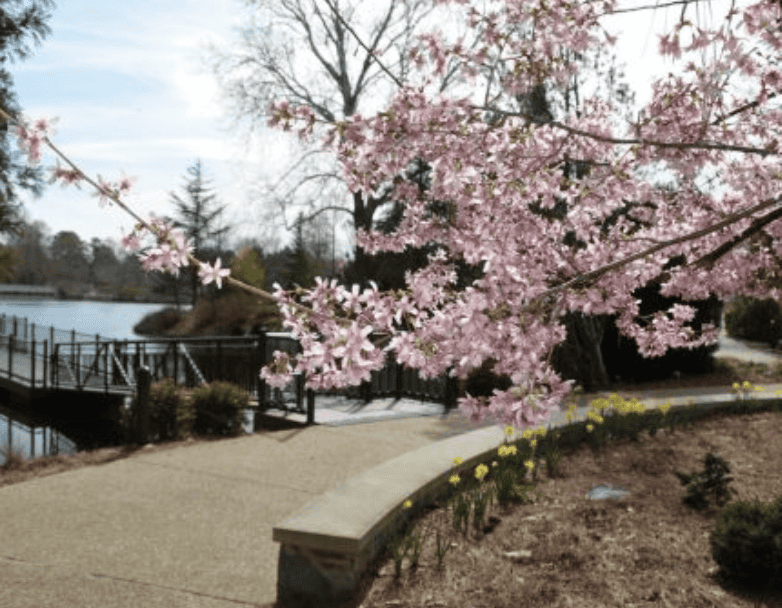 #4: Maymont, 1000 Westover Rd., Richmond, VA 23220 Maymont is a 100-acre Victorian estate and public park in Richmond, Virginia. It contains Maymont Mansion, now a historic house museum, an arboretum, formal gardens, a carriage collection, native wildlife exhibits, a nature center, and Children's Farm. Maymont has three types of flowering cherries – weeping Higan, Yoshino and Okame. Yoshino cherry trees are intermingled with Kwanzan cherries along the Tidal Basin in Washington DC. Weeping Higan Cherry or Prunus subhirtella 'Pendula', The beautiful weeping habit of this cherry tree softens any landscape. This fast growing tree is usually grafted; care must be given to remove all shoots below the 6-foot graft. Location: Maymont Mansion Lawn and east of Italian Garden. You can see what's in bloom at Maymont. FREE admission.
#5: Mid-Lothian Mines Park, 13301 N Woolridge Rd, Midlothian, VA 23114 One of the first major industrial sites in the United States became a 44-acre preserve when Mid-Lothian Mines Park opened in 2004. Now dedicated to the citizens of Chesterfield County, past and present, the cut stone ruins of the mines surrounded by the beautiful woodland testifies to the courage, innovation and sacrifice of those who started the U.S. industrial revolution. The park is free and open to the public 6:00AM to 8:30PM.
#6: Brown's Island is an artificial continental island on the James River in Richmond, Virginia, formed by the Haxall Canal located at the bottom of 12th Street (on the James River)
#7: Windsor Way is an elegant residential street in the Windsor Farms area (off of Cary Street near Mary Munford Elementary School) with a grassy median lined with cherry blossom trees with white blossoms.
You can bring the beautiful blooms to you. If you would like a tree in your yard read up on how to choose which variety is best for you.
Organizations that support trees:
•Capital Trees is a Richmond based nonprofit that creates urban green spaces for our community. We work with public and private partners to restore and beautify the city's green spaces to promote public health and foster community building.
•Reforest Richmond supports urban forestry efforts across Richmond, VA to ensure we achieve 60% tree canopy citywide by 2037.
•Richmond Tree Stewards promote & improve the health of city trees to assure the city's forest will survive & thrive.
☀️ If you like plants and nature, see these posts on more great activities to do outside around Richmond.
See more amazing springtime flowers by taking a road trip: March 29-April 3, 2021-Cut Your Own TULIPS at Greenbriar Farms, 225 Sign Pine Rd Chesapeake, VA 23322
Be sure to subscribe to email updates, follow @rvacheap on Twitter or like RVA (Richmond) on the Cheap on Facebook to stay in the know about the latest freebies & deals.
More things to do in and around Richmond: