Light up the dark winter with illumination and holiday tree lighting events around Richmond to usher in the festivities of the season. Tree lighting events are a festive way to bring community together. Families build traditions around annual tree lightings, and they are especially fun for children who expect them. It is so fun to gather with friends, neighbors outdoors, and celebrate the beginning of a season that unifies all of us. Not to mention, these events are typically free, safe and fun for the entire family. Keep checking back as more events are announced.
Related post: Nutcracker dance performances around Richmond
Related post: Places to take photos with Santa in the Richmond area
Related post: Holiday performances, FREE events, and December fun in Richmond
Fri., Nov. 19, 2021
⭐️Sat., Nov. 20, 2021 from 5-7pm – The Stony Point Fashion Park Holiday Tree Lighting, 9200 Stony Point Pkwy Richmond, VA 23235. Kick-off the holiday season in Triangle Park. Enjoy festive music, a snow show, and ice skating.
⭐️ Fri., Nov. 26, 2021 – Tree Lighting Ceremony Merchants Square – Williamsburg, Virginia
Fri. Dec. 3-5, 10-12, 17-19, 2021 – Grand Illumination Weekends, Colonial Williamsburg
•Sun., Nov. 28, 2021 – Collington Grand Illumination, 10000 Collington Drive, Midlothian, Virginia
🌟Sun., Nov. 28, 2021 at 3 – 6 pm New Kent County's 8th Annual Grand Illumination, 12007 Courthouse Cir, New Kent, VA 23124
•RVA Illuminates – Fri., Dec. 3, 5:45 pm AT KANAWHA PLAZA, 801 E. CANAL ST. RICHMOND A time-honored Richmond tradition will continue in 2021. See RVA shine when the switch is flipped ON to light up downtown's skyline for the 2021 holiday season at 6:00pm. RVA Illuminates is back in-person this year with ABC8 News airing live complete coverage of performances, uplifting stories, and the official lighting. This event is coordinated by the City of Richmond Parks, Recreation and Community Facilities. Free event.
•Dec. 4, 2021 – Annual Tree Lighting and Illumination Event at the Cultural Arts Center at Glen Allen, 2880 Mountain Road Glen Allen, VA 23060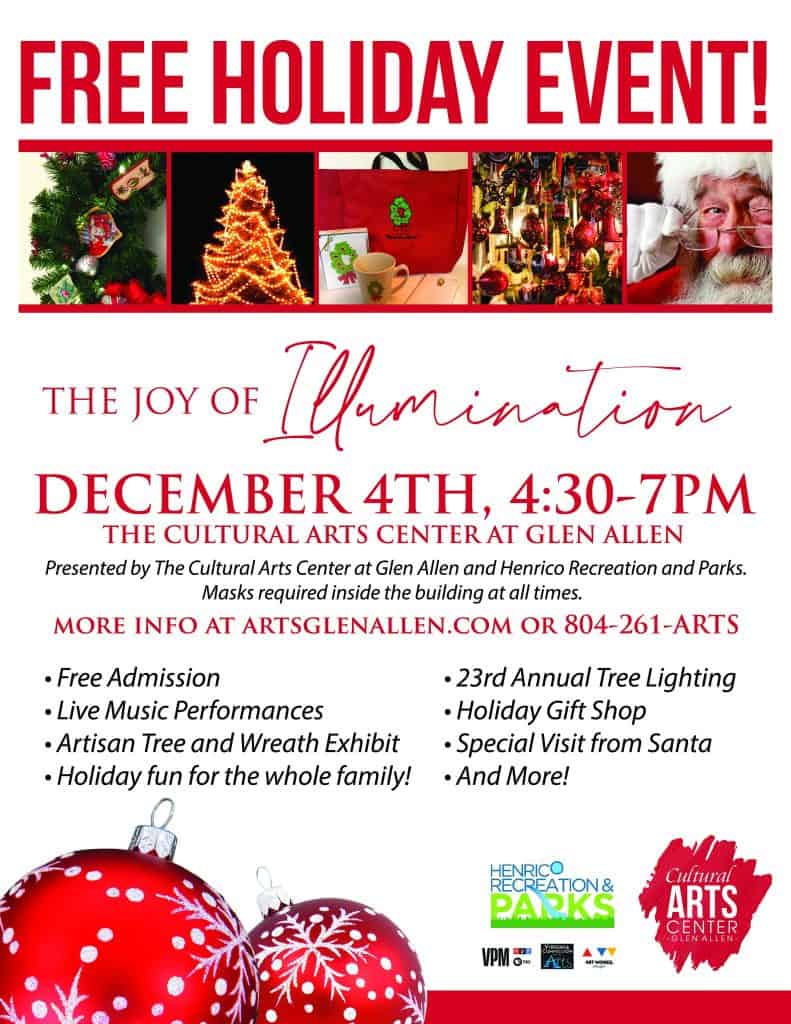 •Dec. 10, 2021 – Annual RounTrey Lights Fest
Be sure to subscribe to email updates, follow @rvacheap on Twitter or like RVA (Richmond) on the Cheap on Facebook to stay in the know about the latest freebies & deals.